CAA Night at CitiField: Mets vs Cubs
Save the Date: Tuesday, June 13, 2017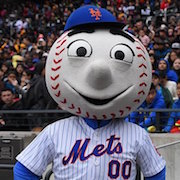 We've ordered 50 tickets for the June 13, 2017 game in Flushing, when the Mets will meet the World Series Champions, the Chicago Cubs.
Seats are in the Field Box and discounted to $71 apiece.
You must be a dues-paying CAA member to place an order and can buy up to four seats.
Registration will open in April 2017.