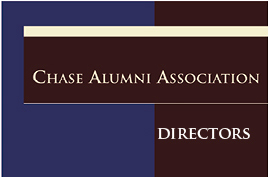 Officers
John A. Ward, III, President

John Ward was previously Chairman of the Board and CEO of the American Express Bank, President of the American Travelers Cheque Group, and a Member of the Planning and Policy Committee of the American Express Company. Prior to joining American Express, Ward spent 27 years at the Chase Manhattan Bank, where his last position was CEO of the Chase BankCard Services and an Executive Vice President of the Bank. In addition, he was the President and CEO of Chase Personal Financial Services, a retail mortgage and home equity lender that he led to become a Malcolm Baldrige National Quality Award financial institution finalist. He also held the position of the Senior Credit Executive for the Individual Bank (small business, middle market, private banking and consumer globally) and the Area Credit Executive for Europe, Middle East and Africa. As one of the five Credit Policy Officers, he had the Legal Lending Limit of the bank for all credits. Ward worked and lived in London and Japan for 15 years.
Since leaving AmEx, Ward has been serving on the boards of a diverse group of public, private and not-for-profit organizations. Currently, he serves on the board of KCAP Financial (NASDAQ) and Lambro Industries, Inc.
He was formerly Chairman and CEO of Doral Financial Corporation (NYSE), a commercial bank based in Puerto Rico, and Innovative Card Technologies (NASDAQ), which provides secured powered cards for payment and identification. He has served on several boards including: Primus Guaranty, LTD. (NYSE), credit defaults swaps; Rewards Network (AMEX), dining rewards programs; "mkt Inc.," (NASDAQ), advertising and sales promotion, and Industrial Enterprises of America, supplier of automotive additives and fluids. He has served on the boards of St. Peter's Preparatory School, Alexander Proudfoot US, the American Lyme Disease Foundation, Big Brothers, Big Sisters of NYC and New York Downtown Hospital. Ward majored in Economics & Finance at Boston College (Valedictorian) and in Finance and International Business at the Wharton Graduate School of Business of the University of Pennsylvania (Joseph Wharton Fellow).
Wolfgang Fenkart-Fröschl, Vice President and Vienna Chapter Coordinator


Wolfgang Fenkart-Fröschl has worked as an international banker in Europe, the United States and Central & Latin America for over 40 years. He now acts as an Executive Advisor to Western Union Financial Services after retiring in 2008 as Chairman of the Management Board of Western Union International Bank, Vienna. Besides Western Union, he spent almost 20 years with Chase Manhattan Bank in different positions in Frankfurt, New York, Mexico, São Paulo/Rio, Vienna and Santiago. He subsequently spent over 10 years with the Raiffeisen Group, Vienna, mostly as Chairman of Kathrein & Co Bank. He holds a doctorate in law from the University of Graz, an MBA from INSEAD, Fontainebleau, and a Diplôme du Droit Comparé from the University of Strasbourg.
Ottho Heldring, Vice President & Treasurer
A

Dutch native, Ottho Heldring studied economics at Erasmus University, Rotterdam and earned his MBA in finance at the Columbia University School of Business. He was at Chase from 1972 to 1998. Following credit training, he served in Corporate, International, Treasury, Global Markets, Global Trading. From 1998 to 2001, he was Senior Director, Counterparty Risk Management/Global Training at American Express Bank. Since 2001, he has been in sales and relationship management at Lek Securities for Lek Securities Corp. Since April 2015, he has been on a cross-country U.S. road trip, with daily postings on Facebook. In addition to his work for the CAA, he serves on the board of the Netherland-America Foundation and on the nominating committee of the Netherland Club of New York.

Ken Jablon, Vice President and NYC/Tri-State Chapter Coordinator
Ken

Jablon worked at the Chase Manhattan Bank for 22 years in various senior positions. He was Director of Marketing and Product Management for the New York branch system, headed a branch division of more than 50 branches, led an International Consumer Banking team; directed planning for the consumer part of the bank during a major expansion of Consumer Banking and built the first household profitability system at the bank.

Prior to Chase, Jablon ran marking research for the American Bankers Association In the mid-1960s, when marketing/marketing research did not exist in most US banks. In the late 1960s and early 1970s, he was involved in the infancy of consumer electronic banking by consulting for many of the large banks, other financial institutions and government agencies involved with early consumer electronic funds transfer systems and services. His last job was at Dime Savings Bank where he helped Dime become a major player in the HELOC business in the NY metro area. Dime was purchased by WaMu—and he retired. Jablon earned his BBA in Marketing at Manhattan College and an MBA in Marketing Management at St. John's University, The Peter J. Tobin College of Business.

Simon Mansfield, Vice President and London Chapter Coordinator


Simon Mansfield holds a regional leadership position with global executive search firm DHR International, after a career in international banking that spanned nearly 25 years, during which time he worked with four major banks (HSBC, Chase Manhattan, Banque Paribas and Standard Chartered), spending 12 years working overseas, based in New York, Hong Kong and Singapore.

With Chase for 12 years, he was a director, investment banking, as regional head for Asia Pacific. His work portfolios included commodity derivatives and advanced financial risk management, product management for securities products (Europe and North America) , cash management and electronic banking (global), institutional banking and cash management (Asia Pacific) and Chase Econometrics & Interactive Data Corporation.

Mansfield serves as a Magistrate on the Westminster Bench and is a Governor of the Moorfields Eye Hospital NHS Trust. He is an active competitor in Royal Tennis and serves on the board of The Tennis & Racquets Association.

Gene Marshall, Vice President and Tampa Chapter Coordinator


Gene Marshall

retired in 2004 after a 35-year Chase career that culminated in his running the massive Tampa credit card operations center for JPMorgan Chase. Marshall was an original investor and initial chairman and is currently a director of a State-chartered community bank in Tampa, FL, Northstar Bank. He is also a consultant for Success Sciences. He is board chair of University Area Community Development Corp (UACDC) and Tampa General Hospital and serves on the boards of: WEDU-TV; Straz Center for the Performing Arts; The Council for Educational Change (Past Chair); The Centre Club and the NYU Alumni Association, West Central Florida chapter. He is also vice chair of the Caribbean American National Development Organization. Marshall earned his BBA in finance from Baruch College/CUNY and his MBA from the Stern School of Business at NYU.



Mary Molloy, Vice President


Mary Molloy is a risk management and finance executive with deep expertise is operational risk management, compliance, finance, audit, operations and technology. At JPMorgan Chase from 1984 to 2006, Mary began her career in the Chase Corporate Controllers supporting Accounting Policy, SEC filings and Special Projects. Subsequently she served as a Senior Vice President in Treasury and served as Secretary to the Asset-Liability Committee. She also served as CFO and Risk Executive for Corporate Business Services, a start-up shared services organization; an Internal Audit Partner leading the initial implementation of SOX, and CFO and Risk Manager for Global Technology Infrastructure. Molloy also worked at AIG for nine years, serving as a Corporate Center Finance and Divestiture Executive and, ultimately, head of Corporate Operational Risk Management. A CPA and Certified Financial Planner (with a certificate from NYU), she began her career as an audit manager at Coopers & Lybrand following her graduation from College of Mount St. Vincent. She also attended the University of Delaware, Stonier Graduate School of Banking.

_____________________________________________________________________________________________________________________________________________
Hans van den Houten, Chairman Emeritus

Co-founder of the Chase Alumni Association, Hans van den Houten has been a senior executive with The Chase Manhattan Bank, Moody's Investors Service, Dun & Bradstreet International, Fitch Investors Service and the Republic National Bank of New York. He has also been active in the non-profit sector, having served as CFO/Director of Finance at the Museum of Modern Art, while on leave-of-absence from Chase Manhattan.

He is a retired reserve First Lieutenant in the Royal Dutch Cavalry. Following his military service, van den Houten graduated from the University of Lausanne, Switzerland with a degree in Business Administration; he is accredited with the title of Doctorandus Economic Sciences in the Netherlands. He began his career with Royal Dutch Shell and spent several years in managerial positions in the Republic of Congo, the Kingdom of Burundi and South Africa.

Van den Houten concluded his business career as an executive recruiter, with E.J. Lance Management Associates, and as a Senior Vice President and Director of the Signature Practice, Senior Executive Coaching Division in New York of Lee Hecht Harrison, an international Outplacement and Executive Coaching firm.

He served as President and Vice Chairman of the Netherland-America Foundation and co-founded the Dutch Financial Cub of New York. Van den Houten served as Chairman of the Artist Choice Museum and as a Trustee of the New York Studio School, both in New York City. Since his retirement and partial return to the Netherlands in 2005, he founded the Dutch Financial Club Alumni Nederland, which he served as President until 2014, and was named President of the Smiling Hospital International Foundation, a charitable foundation based in Budapest, Hungary, promoting activities for children in hospitals, currently in eight countries. He also became a Director of the ReachAnother Foundation based in Bend, Oregon, where he spends part of the year.

On April 30, 2003, he was named a Knight in the Order of Orange-Nassau by Queen Beatrix of the Netherlands for his many contributions to strengthen the relationship between the Netherlands and the United States