↵
A Brief History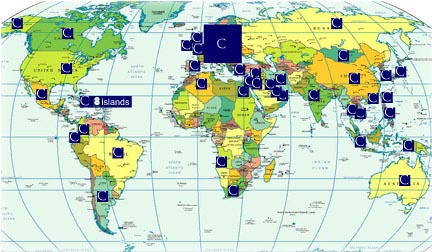 In late 1987, Hans van den Houten (see Hans with David Rockefeller in picture below) and the late Pierre Borel started the Chase International Alumni Association over cocktails in London. Chet Brauch met Hans six months later in New York and suggested they start up a Chase Alumni Association. The fledgling efforts were merged and the Association started to take form.

The organizing team took all the necessary steps to incorporate the Association under the laws of the State of New York. Chet was asked by his colleagues to head the Board, which was voted into place at the first Annual General Meeting.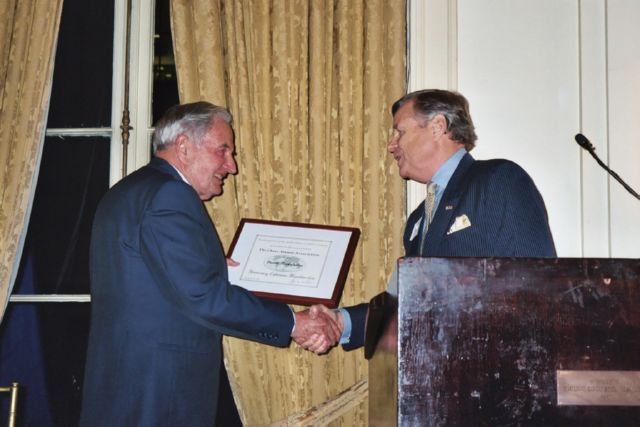 Assembling a membership list was made easier due to the diligence of of another team member in the early days, Tony Lord. Tony had a most extensive data on former Chase colleagues at the time, and the team was rapidly able to contact well over a thousand Alumni worldwide. Many of these quickly supported the efforts and joined the Association!

The first "official gathering" took place in a nondescript restaurant (really a bar) in New York, on Madison off 41st Street, but the camaraderie of that first cocktail party made it clear that there was potential for success.

Soon thereafter Don Richtenburg joined the team. Don designed the first Global Directory, devised the official CAA logo and taught the team the intricacies of bulk mail. The initial publication effort was a four-page newsletter printed under the guidance of David Hakins. Coordinators were soon recruited around the world to spearhead local Chapters to strengthen the rapidly growing ranks of the now fully incorporated organization.

Today, we are happy to report the continued enthusiastic support of nearly 1,500 Alumni. We have seen a broadening of our membership beyond anything we anticipated when we sat around that table in 1988! In the early days our support came primarily from the ranks of former officers of the international department. We now have a very diverse group of members – not only representing most areas of the old Chase Manhattan Bank, but also representing the heritage financial institutions of what is now JPMorgan Chase: Chemical, Manufacturers Hanover, JP Morgan, Bank One, Bear Stearns, Washington Mutual and all of their merged banks and financial institutions.
Part of our growth is also attributable to the introduction of this Web site platform in May 2006. Since then, we have been able to reach out to our members around the world on a more timely and professional basis, and the Web site is a "virtual" clubhouse uniting us. With the growth of social networking sites, however, we remain distinguished by at least three special features: our online membership directory, searchable by numerous parameters; our events that allow members to see each other face-to-face, and our periodic reunions around the world.
Global Growth
Okay, we're counting Scotland as a country rather than as part of the United Kingdom (we're only talking about the Chase Alumni Empire in this story!), and we're counting Hong Kong apart from China, because old habits die hard, and we have a Hong Kong chapter...but however you look at it, ours is a far-flung membership, in some 64 countries, on six continents. (Our members only visit Antarctica.)
Our U.S. membership includes alumni in 47 states (including Hawaii and Alaska), plus the District of Columbia, U.S. Virgin Islands and Puerto Rico, home of our newest chapter. One could surmise that the patterns follow where Chase had branches or where people are now retired or relocated for work.

Following is a list of the U.S. states, commonwealths and territories with CAA members:
Alabama

Illinois

Nebraska

South Carolina

Alaska

Indiana

Nevada

South Dakota

Arkansas

Arizona

Iowa

Kansas

New Hampshire

New Jersey

Tennessee

Texas

California

Kentucky

New Mexico

Utah

Colorado

Louisiana

New York

Vermont

Connecticut

Maine

North Carolina

Virginia

Delaware

Maryland

Ohio

U.S. Virgin Islands

District of Columbia

Florida

Massachusetts

Michigan

Oklahoma

Oregon

Washington

West Virginia

Georgia

Minnesota

Pennsylvania

Wisconsin

Hawaii

Missouri

Puerto Rico

Wyoming

Montana

Rhode Island
Here's a list of countries where CAA members reside, by geographic region:
The Americas (16)
Antigua
Argentina
Bahamas
Bermuda
Brazil
British Virgin Islands
Canada
Cayman Islands
Colombia
Dominican Republic
Ecuador
Martinique
Mexico
Panama
St. Kitts & Nevis
United States
Europe (25)
Austria
Belgium
Cyprus
Denmark
Finland
France
Germany
Greece
Hungary
Ireland
Italy
Luxembourg
Malta
The Netherlands
Norway
Portugal
Russia
Scotland
Slovakia
Spain
Sweden
Switzerland
Turkey
Ukraine
United Kingdom
Africa & the Middle East (12)
Algeria
Angola
Bahrain
Egypt
Iran
Israel
Jordan
Lebanon
Qatar
Saudi Arabia
South Africa
United Arab Emirates
Asia & Australia (15)
Australia
China
Hong Kong
India
Indonesia
Japan
Mongolia
New Zealand
Pakistan
Philippines
Singapore
South Korea
Taiwan
Thailand
Vietnam