San Juan, PR
Welcome a New CAA Chapter!
We are happy to announce the creation of a new CAA chapter, in San Juan, Puerto Rico. Felix "Junior" Morales is the chapter coordinator. (See below for contact information.) The chapter's first event was held – with financial support from the CAA – on Sunday, January 20, 2013, at Hacienda El Josco (aka Zafra del Caribe) in Gurabo, PR.

Former Chase employees gathered (see above) on October 27, 2012, in front of the old Chase-PR headquarters in Hato Rey. The picture tries to emulate a photo taken when the sale of Chase-PR to Banco Bilbao Vizcaya Argentaria, S.A. was announced.
The chapter's Facebook page (Amigos del Chase Manhattan Bank en Puerto Rico) boasts a membership of almost 200 friends, of whom 99 percent were actual employees of CMB-PR. CMB-PR had over 6,000 employees during its life in Puerto Rico, though the average in its last decade was closer to 3,000.
Chapter Leadership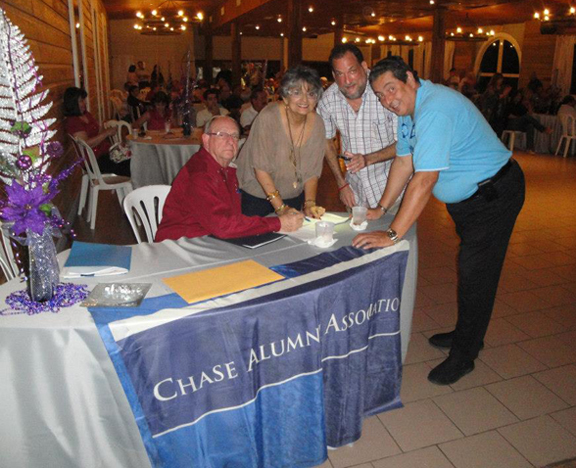 Above, January 20, 2013 (L-R): Armando De Diego (Treasurer), Vickie Green (President), Hector Martir (Marketing) and Junior Morales (Chapter Coordinator)
For more information:
Felix "Junior" Morales
Urb. Turabo Gardens
Calle 13 #Z8-15
Caguas, PR 00725

Tel: 1-787-638-1776
juniormorales57@gmail.com