Life After Chase: Alice Sachs Zimet
Collecting Photographs and Teaching Others How
In Fall 2002, Alice Sachs Zimet wrote a "Life After Chase" that told of her years (1979-1999) at Chase Manhattan as a pioneer in cultural sponsorship marketing, whereby the bank wasn't giving philanthropy to arts groups but doing good while getting some marketing bang back for its buck.

"I don't want 'easy listening' in my photos," Zimet said.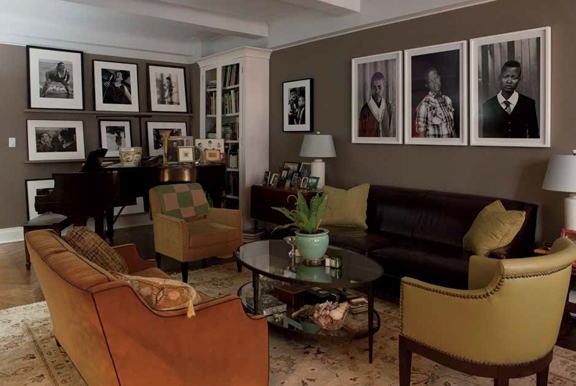 Zimet was an art history major at Syracuse (with a thesis on Picasso's Las Meninas, itself borrowed from Velasquez and morphed in a photograph Zimet has by Yasumasa Morimura , "Daughter of Art History"). Zimet then earned her BA at NYU's Institute of Fine Arts, with a thesis on African art's influence on contemporary art.

She had grown up around great art. Her mother's uncle was Paul Sachs, a collector and partner in Goldman Sachs, founded by his father. Paul Sachs left the family business to become associate director of the Fogg Art Museum at Harvard. Family-owned art by Bonnard, Vuillard, Toulouse-Lautrec, Delacroix, Gauguin and Picasso hung in Zimet's childhood home in Scarsdale.

Five or so years after joining Chase, Zimet went on a field trip organized by the International Center of Photography (ICP) and led by Sam Wagstaff – Mapplethorpe's partner – to Southampton's Parrish Art Museum. She fell in love with a photograph there and bought two from the series: a collection had begun.

"The photo resonated with me. I felt something – there were a lot of French books in the scene and I grew up with a French influence," she said. The photo hangs in a small room off her kitchen.

"I couldn't buy one. I had to buy two. That should have been a signal I was in trouble," Zimet said. "Every year I would get a miniscule bonus, and it would go toward photography. I found the most amazing things for so little. The photography market was still so nascent."

As her collection and the photography market grew, she realized there was a need for buyers and photographers themselves to understand the market. She began teaching what she dubs "Collecting Photography 101" for the Camera Club of New York and then for the Jewish Museum and other institutions in Houston and Arizona, as well as the ICP.

The collecting boot camp includes buying tips, such as where to shop, what questions to ask as part of due diligence and issues to avoid. The class includes visits to galleries, auction houses, art fairs and private collections, often including her own. Class fees can run $395 to $500 per person, and sometimes include breakfast and a cocktail party at day's end.

"I don't represent any particular artist or gallery, so I don't have an agenda. I give tips about discounts and conditions, and teach how to buy at an auction," Zimet explained, adding that sometimes the best deals are to be found at the after-auction, on pieces that didn't sell.

Zimet chairs the Photography Collections Committee for the Harvard Art Museums, serves on the board of the Magnum Foundation and is on ICP's acquisitions committee. She is a committee member for Friends Without a Border, an annual photo auction to benefit the Angkor Hospital for Children in Cambodia. All these involvements, as well as her collection, has landed her on American PHOTO Magazine's list of the 100 most important people in photography. Last year she was featured in Art + Auction Magazine (for which the photos featured in this article were taken).
Her photography consulting has mushroomed. She's become an advisor to help buyers buy and now gives classes for photographers on how to break into the marketplace.

"People want to know if they should buy photographs as investments. If you're going to play around in the market place, it becomes an asset class," Zimet counseled. "Everybody has a budget – but everyone should also have a threshold. How much money are you willing to spend where you may never get your money back?"

At the same time, she said, "Really good quality doesn't have to cost a lot of money in the photography market."

"You buy with your heart and your mind and not with your ears," she teaches. "You don't buy because someone say's 'it's hot'."

* * *

If you are interested in having the CAA organize a collecting workshop with Alice Sachs Zimet, please let us know. You can also sign up for her classes on her web site or by contacting her directly; please let her know you are a Chase alum.