In Memoriam: Bob Gjerlow, 77
Veteran of Chase NY, San Juan, Tokyo and Singapore
Bob Gjerlow, who worked in Chase Asia Finance/Capital Markets and Commodity Finance between 1961 and 1975, died of heart failure on April 1, 2015, about a month short of his 78th birthday. He was a resident of Bedford, NY, and a familiar face at Chase Alumni events in New York.
Born to Norwegian parents on Staten Island, NY, Gjerlow was a graduate of Long Island University in Brooklyn and a tank operator with the U.S. Army. Following his military service, he joined the Chase Credit Training class of 1960. He worked in New York for seven years, in the commodities financing division and as a divisional manager in global credit. He was then posted to San Juan, PR, where he was the youngest-ever branch manager, according to his daughter, Stephanie.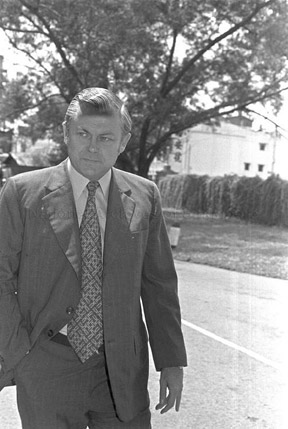 Gjerlow was an assistant general manager running bank branches in Japan and general manager of bank branches in Singapore. He left Chase as a senior vice president in 1975 but stayed on in Singapore, working for International Trust and Finance, until 1983.
He and his family then returned to New York, buying a 20-stall horse farm in Bedford, NY, and launching a practice as a private investment counselor. He was actively involved in breeding thoroughbreds from 1983 to 1990.
He is survived by his wife, Nancy, a son and daughter and four grandchildren.
The Mass of Christian Burial will be celebrated at 10 am on Tuesday, April 7, 2015, at St. Patrick's Church, Route 22, Bedford Village, NY.
Memorial contributions may be made in his honor to the Boy Scouts of America, Troop 37, Staten Island, where Gjerlow had been an Eagle Scout as a young man. Checks should be sent, payable to BSA Troop 37, to: BSA Troop 37, c/o Church of St. Teresa, 1634 Victory Blvd., Staten Island, NY 10314.
(Left: Gjerlow in Singapore, 1972, from the Singapore Press Times)
* * *
Anyone wishing to write a remembrance should send it to news@chasealum.org.
From Dominique Clavel: Bob was an enthusiastic customer man driven by his competitive spirit against all other foreign banks in Singapore. As General Manager for the three Chase branches in the country, he grew the bank's assets and greatly increased its profitability. He was also a very supportive boss for all his staff.
From Ken Arndt: A bit of a shock to hear of Bob Gjerlow's passing. I knew Bob more as a friend after retiring than during our days in the bank. I always found Bob to be a pleasant upstanding individual. He was a dedicated family man and immersed himself energetically and successfully in his business endeavors. He was a well-liked, pleasant and thoughtful person, always expressing an interest in what one was doing. He will be missed.
From George and Jane Keenan: I knew Bob in 1974 while on a "head office" project. My wife, Jane, our daughter, Kristina, and I were always treated as part of the Branch family and were invited to attend many of the Branch functions. We remember their lovely home and their graciousness. We appreciated this and would like to say a belated thank you. We remember Bob as a real gentleman.