In Memoriam: James B. (Jimmy) Lee, Jr., 62
Vice Chairman of JPMorgan Chase –
Pioneer in Leveraged Finance and JPMC Dealmaker Began at Chemical
Click here for Jamie Dimon's Eulogy
James B. (Jimmy) Lee, Jr., vice chairman of JPMorgan Chase, died unexpectedly of a heart attack on Wednesday, June 17, 2015. He had been exercising at his home in Darien, CT, when he suddenly felt a shortness of breath. .

Jamie Dimon, chairman of JPMorgan Chase, said in a statement: "As vice chairman of our company and former head of our investment bank, Jimmy made an indelible and invaluable contribution to our company, our people, our clients and our industry over his nearly 40 years of dedicated and selfless service."
Lee was widely credited with creating the syndicated leveraged loan market.
Lee joined Chemical Bank in 1975 right after his graduation from Williams College, where he majored in economics and art history. Lee worked in a variety of lending businesses until 1980, when he founded and ran Chemical's merchant bank in Australia.

He returned to the United States in 1982 and started the bank's syndicated leverage finance group, which constituted the origins of the investment banking business at Chemical (and, later, at Chase Manhattan).
Following Chemical's merger with Manufacturers Hanover in 1991, Lee founded the bank's high yield (or junk bond) business, which was the bank's first public securities operation. At the same time, he built the bank's financial sponsor coverage business focused on private equity firms, as well as the bank's mergers and acquisitions business.
Lee ran the investment bank at Chase Manhattan from the time of its merger with Chemical until the merger with J.P. Morgan & Co. in 2001 but was back as its leader by 2002.
By organizing high yield with loan syndications and private equity coverage, and the newly formed M&A group, this led to a variety of market innovations that Chase pioneered. Lee also led the team that resulted in Chase acquiring Hambrecht & Quist, which gave the bank its first public equity business and first dedicated technology investment banking practice. He remained active in the technology industry.

By 2007, Lee was placed at the center of a New York Times illustration title "Masters of the New Universe", where he was connected with some of the largest leveraged buyout transactions of the past decade.
Andrew Ross Sorkin of The New York Times wrote: "Mr. Lee...was the behind-the-scenes consigliere to the world's top corporate chieftains, hatching mergers and public offerings for companies as diverse as General Motors, Facebook and Alibaba. He was a constant presence in the lives of moguls like Rupert Murdoch of the News Corporation and Jeffrey Immelt of General Electric.
"He was a throwback, part of a different generation of bankers on Wall Street who were trusted advisers to corporate America based on deep relationships and insights, even as much of investment banking had become commoditized.
"Mr. Lee was a colorful character who was known for calling clients at all hours and signing emails 'your pal.' More important, behind the trappings of Wall Street culture was a keen intellect."
Lee led the JPMorgan teams that executed the $25 billion Alibaba IPO, the largest IPO in history; the $23 billion General Motors IPO, the second largest U.S. IPO; and the $41 billion common stock sale of the U.S. Treasury's ownership of AIG, resulting from the U.S. Government's bailout of the company. He also led the negotiations with the U.S. Treasury for the financial restructuring of Chrysler. Most recently, Lee also advised Comcast on their announced acquisition of Time Warner Cable and planned divestitures of systems to Charter (pending), the Dell Board of Directors Special Committee on the buyout of Dell by Michael Dell and Silver Lake, GE on its $30 billion sale of NBC to Comcast, United Airlines in its merger with Continental Airlines, News Corporation on its purchase of Dow Jones, led the IPO of The Carlyle Group, and co-led the IPOs of Facebook and Twitter.

In 2011, in an interview in Leaders Magazine, Lee was asked who his mentors had been through the years. He cited GE's former CEO Jack Welch and said of Jamie Dimon, "My relationship with Jamie has elements of friendship, brotherhood, and mutual respect. One of the greatest things that ever happened to me in my career is getting the opportunity to sit next to, and learn, from him."

The Magazine, noting that it is pretty rare to "find a guy who has been with the same company for 35 years – no less a Wall Street firm", asked Lee how that happened.

"Three reasons," Lee replied. "First, it's a great company, so wanting to wear the JPMorgan uniform for a long time makes sense. Second, I've had multiple careers within a career; first, I worked in Australia, then I helped build key businesses during the '80s and '90s and then ran the investment bank; now I am back to my roots as the company's dealmaker. Thirdly, the men and women I work with at JPMorgan Chase every day aren't just the most competent, they are great human beings."

Lee served as a trustee of Williams College and sat on several other philanthropic boards, including Big Brothers Big Sisters, the New York Police & Fire Widows' and Children's Benefit Fund, and the Inner City Scholarship Fund.
Born in Danbury, CT, Lee also attended the Canterbury School. He is survived by his wife – his college classmate, the former Elizabeth Brownell – three children and two grandchildren.
The family invites friends to Memorial Mass on Monday, June 22nd at 10 am at St. Patrick's Cathedral in Manhattan. In lieu of flowers, please consider donations to the Inner-City Scholarship Fund.

* * *

Anyone wishing to leave a remembrance should send it to news@chasealum.org.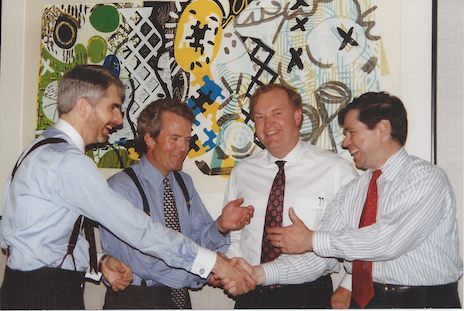 From Jerry Hannon: Jimmy Lee's death is certainly a shock to all who knew him, a great loss to JPMorgan Chase, and a tragedy for his family. For anyone who ever worked for Jimmy, he seemed, somehow, invulnerable with unbelievable energy. Most of the news photos I've seen since the announcement show Jimmy with a big smile on his face, and that is exactly what you would see after a big transaction had been successfully completed. The photo I've attached was on the day, in May of 1993, when we closed what was at that time the largest syndicated loan in the world, the $20.6 billion for GM, GMAC, and a few European subsidiaries of each entity. Jimmy's face says it all. It is, for me, still unbelievable that he is gone.
Among the many published tributes to Jimmy Lee, here's one that summarizes three marvelous lessons Lee taught the writer.
From Sheila P. Gross, in Frankfurt: I was shocked and deeply saddened by the news of the most untimely and tragic passing of Jimmy Lee. I was very fortunate to have met him a couple of times in London and share his vision of the bank's future in Europe.
He will be sorely missed - even now 12 years into retirement, I will remember him as a wonderful officer, leader and fellow human being. My deepest condolences and sympathies to his family and loved ones. May he rest in eternal peace and reap the just rewards of a wonderful life.