Life After Chase: Nick Binkley
Rocking a "Double Life" While in Senior Banking and VC Roles
This is a Tale of Two Binkleys, though they are one and the same.

There's the Nick Binkley who went through the third Chase Credit class in 1973, taught in the training program in London while a senior security analyst and then was assigned as a newlywed to a soon-to-be war- torn Beirut. That Binkley went on eventually to become vice chair of Bank of America, a venture capitalist with his own San Diego-area-based firm, and self-described "international policy wonk" and active member of the Council on Foreign Relations.

And then there's the Nick Binkley who, all the while he was soaring in the business world, was also building a reputation and discography as a songwriter, guitarist and music producer.

Now he's brought together his love of music, decades-long involvement with dissident Russian musicians and interest in foreign policy to co-produce the documentary Free to Rock (aka Rockin' The Kremlin), a feature-length film about how rock & roll helped end the Cold War.

Directed by EMMY Award-winning filmmaker Jim Brown and produced in partnership with the GRAMMY Museum Foundation, the project received substantial funding from the National Endowment for the Humanities and the National Endowment for the Arts.

The film is currently making the rounds of indie film festivals, universities and select venues for other international policy wonks.

Binkley is accustomed to having many burners firing at the same time. Just because he's busy promoting the film doesn't mean he isn't working on and promoting his own music or philanthropic projects.

Binkley began playing guitar when he was a seven-year-old in the Pasadena/Altadena area of Los Angeles. While he went to bed to the Strauss waltzes favored by his father, an attorney, Binkley was caught up in the "Bakersfield Sound" – a California-born response to the slick arrangements that had coated country music in Nashville. Binkley was captivated by Merle Haggard, Buck Owens and the like. Then came rock & roll, and Binkley began listening to recordings by Bill Haley, Buddy Holly, Little Richard and, of course, Elvis.

"My father pulled the plug and said, 'I want you to play classical guitar.'" Little Nick was studying flamenco at age 11.

As a teenager, he got into a folk phase and was "always singing". He went to Colorado College and he – and his guitar – spent a year abroad, playing classical music for graduation processions in Aix, Bob Dylan tunes for French TV. He spent the summer of 1967 in Saint Tropez playing rock with a band.

Apparently Binkley is in touch with both sides of his brain: After graduation, he did a two-year tour with the Peace Corps, teaching English in Tunisia. He then returned to earn his MA in Washington, DC, at the School of Advanced International Studies of The Johns Hopkins University – followed by a chaser playing and teaching guitar in Montparnasse.

"I played music like a baby drinking mother's milk. I never thought of it as a career, though," Binkley said, noting that his brother did: He was the piano bar pianist at New York's Sign of the Dove for years.

"I look at people with artistic talent and there's a whole spectrum…some cannot be happy without working every single day on their music or painting. It's almost as though they're self-medicating," he said.

Binkley, however, had been struck hard by the lack of capital and employment in Tunisia, despite a hunger for connection to the West. He decided to get into international banking.

"Chase was considered the most sophisticated commercial lender in the world in the 1960s and 1970s," he recalled, and that's where he headed.

After the credit training program and stint in London, Binkley arrived in Beirut as assistant treasurer for Chase in August 1974, nine months before Beirut collapsed. He recalls how a Christian taxi driver in Beirut told him that the Muslims were trying to take over the city: "It's too hot now, but when it gets cooler, we're going to kick them out of Beirut," the driver told Binkley. And then a Muslim driver told him, "The Christians are putting the boot on our neck." That driver gave a similar weather report and predicted the Christians would be given the boot.

"That's when I decided not to ship my container of furniture and wedding presents to Lebanon," he said. Although he promised not to leave until his manager, Antoine Courbage, found a replacement, Binkley handed in his resignation in Feburary 1975 on the day before King Faisal of Saudi Arabia was assassinated. He said the collapse of Beirut was "like Caligula's Rome".

Until he left in June 1975, it was a period of hiding under mattresses for fear of mortars. On one business expedition with a colleague, they were held by the PLO for three hours. Binkley said David Rockefeller was understanding of his request to leave Lebanon.

And all the time he wrote music – 60 songs while in the Middle East. Binkley decided to leave banking as well as Beirut.

He and his wife, Diana, moved to New York's Upper West Side, living off the money they'd saved from his working for Chase. He studied with Paul Simon's brother, Eddie, and music industry veteran Barry Kornfeld at the Songwriting Workshop of New York's Guitar Study Center.

Kornfeld, who became a musical mentor, suggested that Binkley pursue both his passions – banking and music.

Binkley headed back to the west coast and joined Security Pacific Bank in 1977 as assistant vice president in the corporate banking group. He was promoted the next year to VP. At the same time, unbeknownst to his bank colleagues, he formed a band that included Mark Hart (later of Supertramp and Crowded House), produced two demos and played The Palomino Club in Los Angeles. By now he had two children. Diana, he said, "was flexible and forgiving."
Around this time he met Soviet musicians who had emigrated to San Francisco and New York and who would change his life – rockers who got out of the Soviet Union by way of the easing of emigration for Soviet Jews in the 1970s. Binkley would eventually go to Moscow – even to the Kremlin – and perform with these emigrees upon their return to Russia.

Binkley continued to write music as his career took off: From 1983 to 1993, Binkley served as a member of the investment committee of Security Pacific Corporation's Venture Capital Group. Prior to leaving Security Pacific, he rose to vice chair and member of the Board of Directors. With the 1992 merger of Security Pacific Bank and Bank of America, he became vice chairman of Bank of America, and served on the bank's Board until he left, disgruntled, in 1993.

"I decided that BoA reminded me of the post office," he said. "After I left, I was finally in charge of my own time. I was no longer a public person without flexibility, without even a vacation."

He formed his own venture capital company, Forrest Binkley & Brown, with two partners. "I love doing deals and winning over an audience – connecting with people in a way that is both verbal and non-verbal," he said.

Now he could also be open about his music making, though he noted, "Bankers were less judgmental of me as a musician than musicians were of me as a banker. There's a saying, 'When bankers get together they talk about art, while when artists get together they talk about money.'"

Though he loved his work, some of his songs – "Pin Stripe Brain", "Heart Attack", "Wooden Indian" – reflect some of his less positive thoughts about the business world.

"Writing is a meditation," Binkley said. "It comes from improvisation, working at your craft in a meditative way. Sometimes it seems to develop out of the ether."

Binkley built a studio near his home in Rancho Santa Fe, CA, and formed PSB Entertainment, which produces his projects and those of some friends. "Studio work is different from the lonely process of writing. You order up the ingredients for each song; it's a very different discipline," he said.

In 2003, his wife died suddenly from the adverse effect of high-dose steroids she was prescribed to counter back pain. The tragedy has not only informed much of Binkley's songwriting for the last dozen years, but spurred him to form The Diana Padelford Binkley Foundation, focusing on women's health issues and pain management in women, and making the public aware of the potentially dangerous adverse side effects of high dose steroid therapies. (Binkley said, for instance, that 70 percent of people who take low dose – even 10 mg – a day for more than two weeks have cognitive impairment.)

Proceeds from the sale of PSB recordings, leading with the recording of songs inspired by Diana ("100 Parts of Heart"), go to the Foundation.

Binkley has a 19-year-old stepdaughter from his second wife, Samantha, and his two biggest fans: an entrepreneurial son in Portland, Oregon, and an actress daughter in New York who, Binkley is happy to say, is married to a managing director at JPMorgan Chase.

"Chase was very generous and had a quality of personnel I never again encountered," Binkley reminisced. "It was a combination of educated, intelligent people who were engaged in life and world affairs. I still feel that way about the alumni."
UPDATE
Chuck Adams, CAA Coordinator for the San Francisco/ Bay Area, attended a screening of Nick Binkley's Free to Rock at Stanford University in Palo Alto, CA, on May 3, 2016, followed by a panel discussion.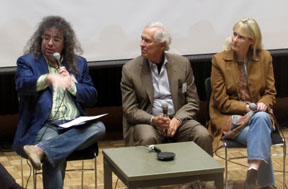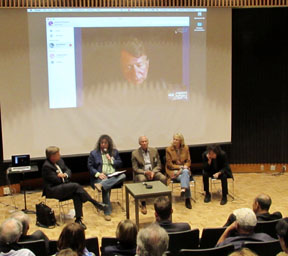 The photos above show the Moderator and panel (Nick is in the center) as well as the film's director, Jim Brown, who participated by video-link from New York. The panel comprised (from left to right):
Moderator Michael McFaul, former US Ambassador to Russia and Director of the Freeman Spogli Institute of International Studies at Stanford
Mark Applebaum, Associate Professor of Music, Stanford University
Nick Binkley
Joanna Stingray, first producer of Soviet underground Rock 'n Roll groups marketed in
the United States
Valery Saifudinov, founder of the Revengers, the first Soviet Rock band
On screen is the image of Jim Brown, winner of four Emmy Awards. Jim Brown teaches at NYU's Tisch School of Film.
Free to Rock will be screening at the State Department in Washington, DC, on May 13, hosted by the Cultural Diplomacy Division, followed by a screening at the Rock and Roll Hall of Fame on June 29 in Cleveland as part of the Rock Hall's 2016 "Rock & Politics" program. The trailer of the film Free To Rock can be viewed at the website www.freetorockmovie.com.
NOTE: It might be possible to arrange a screening of Free to Rock for Chase Alumni in the Fall. If this would be of interest to you, please contact news@chasealum.org.