Laura Effel: Living with Cancer
The Specter of Multiple Myeloma
Laura Effel worked in the Chase Legal Department, Litigation Division, 1980 - 1996. She went to Baker & McKenzie for about three years and then to one of that firm's clients for a while. After her first husband, Marc Patterson, retired, they moved in the summer of 2000 to Roanoke, VA, with their 11-year-old son Stephen. She practiced law there with a firm, Flippin Densmore, which then merged with LeClair Ryan (headquartered in Richmond). Marc died in Roanoke two years after the move. Four years after his death, Effel married her old high school sweetheart, Robert Miltner, who was living in California, and moved there. Stephen returned to Roanoke, after a brief stay with them in California, and she visits him and his wife and two children there as often as she can.
In submitting this story, Effel wrote: "I think it is time for us cancer survivors to come out. We are popping up lots of places."
If your Life After Chase is a story of Life After (or with) Cancer or another major health issue, most particularly with lessons you can share with other alumni, please send it to news@chasealum.org.
* * *
LAURA EFFEL: LIVING WITH CANCER
One Sunday evening in July 2012, after weeks of increasing back pain, I asked my husband, Robert, to take me to the emergency room. There, an attending physician offered me pain medication and a prescription for physical therapy. I said no. For one thing, I said, it seemed unfair to put the burden of diagnosing what was wrong with my back on a physical therapist.

The attending physician did not return to see me. Instead she sent her resident with an offer of two options: the already rejected option of pain medication and prescription for physical therapy – or a CT scan. I took the CT scan.

A few hours later, in the wee hours of Monday morning, the attending physician on the new shift came in with this abrupt diagnosis: You have cancer. Follow up with your physician.

I was devastated. I was 67 but not ready to call it quits. I wanted to push the "reset" button and go on without having cancer.

I left a message for my primary care physician, and he phoned me that Monday evening at home. "You have multiple myeloma," he said, "and it is treatable. I have patients who have lived with this disease for 10 and 20 years." He had been about to give me the diagnosis at my upcoming appointment. He had spotted a problem when I was found to be anemic in a routine blood test, and he ordered additional tests that revealed the diagnosis.

Multiple myeloma (it's always "multiple") is a plasma cell cancer, which destroys bone. It constitutes about one percent of all cancers, though it is also the one cancer whose incidence increased the most in first responders at 9/11, suggesting an environmental cause in some cases. Its most famous victim to date may be Tom Brokaw, who learned of his diagnosis about a year after mine and is apparently in remission after chemotherapy.

Thus began my journey.

Even before starting treatment, I went with Robert to a patient and family seminar in Los Angeles sponsored by the International Myeloma Foundation (IMF). Oddly, Robert knew about this organization because his father and uncle had suffered from multiple myeloma years earlier. When Robert's father had it, treatments were not so well developed as they are now, and his father received no treatment at all at the age of 85. The seminar featured myeloma experts as speakers, and participants could ask questions of any or all of them in breakout sessions. We started learning everything we could about this disease and how it could be treated. The IMF referred us to a local support group. The local support group is not "touchy feely"; it provides and shares real information, though group facilitators are careful not to provide direct medical advice. If we were to take an active role in the treatment of this disease, we had to know more.

I was accepted as a patient by a leading researcher at the University of California at San Francisco (UCSF) Medical Center, but I had been impatient with the slowness of getting started. The UCSF Hematology Center wanted many tests done before starting treatment. While waiting, Robert and I went on with our plans to spend an August week in the Sierras on a hiking vacation at a UC Berkeley camp, the Lair of the Golden Bear. But on that Monday morning, when I went to take a shower, I suddenly could not lift my arms due to excruciating pain in my back. We tried phoning the UCSF Hematology Center but could not get through. We drove to San Francisco and went directly to the clinic. A nurse practitioner whom I had met at an earlier appointment saw me as we were getting off the elevator at the clinic and could see something was wrong. Within a short time I was hospitalized, where all the tests were done in three days, and chemotherapy started the day of my discharge. I also began receiving infusions of a bisphosphonate drug to strengthen my bones.

A compression fracture in my spine – a collapsed vertebra – caused the excruciating pain, I learned. Multiple myeloma can attack the bones and soften them, leading to fractures and bone lesions (holes) and fractures of all kinds. I was later seen at the UCSF Spine Center, and in September an accomplished surgeon there performed a Khyphoplasty, reinflating the collapsed vertebra. Once the surgical pain was gone, all the pain was gone. That is, it was gone until a second but less excruciating compression fracture occurred in December. Surgery was again successful.

Chemotherapy was followed by a bone marrow transplant in March 2013, using my own stem cells. Although a transplant was once the gold standard for myeloma treatment, it is now optional for most patients because new drugs are being developed (and approved by the FDA) at a fast pace, providing options that were never available before. My hematologist recommended it for me because he believes it provides a more durable treatment result, and my health was otherwise good enough to withstand the stress of a transplant. His pitch in the winter of 2012-2013 went something like this: "In the last 10 years we have done 600 transplants, 90 of them in the last year, and we haven't lost a patient yet." I agreed to do it.

Performing a transplant involved first collecting my stem cells. Since stem cells are difficult to extract from bone marrow – these are the ones needed – the stem cells needed to be "mobilized" into my blood with injections of specialized drugs. From the blood they are collected by a procedure similar to dialysis. The collected stem cells would be stored until needed. Once I entered the hospital for the transplant, my own bone marrow would be destroyed by high-dose chemotherapy. A day or so later I would get my stored stem cells back, replacing my bone marrow and immune system with the new.

In fact, the transplant operation at the UCSF Medical Center is a marvel of efficiency. A nurse told me what markers the doctors would look for each day from my blood tests, monitoring the development of my new immune system. Each morning before rounds, the test results from a 4 am blood draw were posted on a white board in my room. Exactly as predicted, I was discharged after 2-1/2 weeks when the markers were reached. I went home to a month of isolation, during which Robert had sole responsibility for shopping and running errands. Frequent hand washing helped him avoid passing on the germs he might encounter from fellow shoppers at the grocery store.

The first year of my treatment was consuming. I missed out on many activities and delayed an appointment to the Marin County Civil Grand Jury. I took a leave of absence from the board of directors of Marin Advocates for Children, a charity that includes Court-Appointed Special Advocates (CASAs). Time with my son and his family was limited due to the potential effect on my immune system.

There were joys, too. My son and two stepchildren, all young adults, showed me affection they had never expressed before. A neighbor walked with me almost every day before she left for work. My hairdresser kept me looking good when I was unable to do so myself until I lost my hair in the transplant process. (It's back!) Old friends came to stay with me when Robert was away and it seemed unwise for me to be left alone. Robert's friends helped keep his spirits up. Robert thinks I am still beautiful.

Now that the first year is long over, and multiple myeloma has not defeated me, I have a new normal. What has remained the same is that I enjoy time with my husband and friends, and I visit my two grandchildren in Virginia, but I savor the moments more. I work sporadically, as I did before myeloma, as an arbitrator and as business manager of the family food ingredient manufacturing business. I began following local politics after my stint on the Grand Jury. I became Secretary and Treasurer for Marin Advocates for Children. I have less energy when I am receiving treatment, and I pace my activities when I need to. I read more books – novels, history, current events, mysteries.

I also have a new community: fellow patients I met at support group meetings and at the UCSF clinic, old friends who have their own survival stories and cancer survivors who turn up almost everywhere. In one book club of 12, five of us are cancer survivors: two myeloma patients, two breast cancer survivors, and one who survived melanoma twice and finally gave up sunbathing. We don't just discuss our treatments, though we do that, too, encouraging each other to take action, complain about new symptoms and ask for what we need. We also luxuriate in our newfound appreciation of what we have.

I have not had cancer symptoms for 2-1/2 years. I am monitored monthly for this disease I cannot get rid of. When the three markers my doctor and I are following rise again, we discuss the next treatment and never let the disease come back enough to cause symptoms. I am grateful for the skill and positive outlook of the UCSF staff, whom I see more often than anyone not in my family. Now at the age of 70, I do not know how long I can continue. Perhaps one day there will be a cure. But no one lives forever. I suspect my doctor's goal is to keep me going long enough to die of something else.

What lessons can I share with you?

If you find yourself suffering from a serious disease like cancer, seek out the best doctors you can find – ones who have treated many patients with your disease. If, for example, your disease is multiple myeloma, don't settle for a general oncologist; Find a myeloma specialist at UCSF, the Mayo Clinic, Dana Farber Institute or other teaching hospitals where a myeloma specialist will treat you and perhaps work with your local doctor if you do not live nearby.
Don't ignore anemia in an older adult; it may not diagnose multiple myeloma, but it should alert your doctor to look for the cause.
Don't be shy about bringing up new symptoms and about asking what they mean. If your rib hurts, for example, assume it might be a fracture.
Learn as much as you can about your disease—if only so you know when to complain.
Laura Effel
© September 2015
* * *
Alumni were invited to share lessons from their own health crises: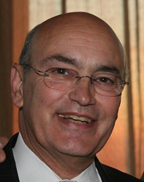 From Ed Coster, SDP Class of 1969, Alumnus as of 1981: May I share some good news and a ray of hope? October 14, 2013 I suffered a heart attack that laid me out flat. Now the good news worth sharing:
1. My wife was with me and dialed 911 immediately as soon as I lost consciousness. Doctors said her prompt action saved my life. If you witness a heart attack or stroke, act immediately. You can save a loved one or a friend or a stranger.

2. The first to arrive was a Chatham Township policeman who started chest compressions even before the ambulance arrived. Honor policemen and women and all those who serve us in uniform. Do not buy into the current destructive mentality that they are the enemy.

3. Ambulance corps volunteers arrived in minutes and hooked me up. Support your local ambulance and first aid groups. These people put their lives on hold to help strangers for no compensation. Nothing is more courageous, more generous or more important to appreciate. Also appreciate those who do it for a living, for they pay a great price in what the job can take out of them.

4. Since the doctors could not tell how long I was deprived of oxygen, I was put under a hypothermia protocol, to cool my body and protect my brain. Five days later I came to and began my rehab. Fight hard to protect the medical system we have and keep it out of the hands of government bureaucrats who want to tell physicians how to practice. It could be a matter of life and death to you.

5. I discovered that I had an important choice to make after the attack. I could either "become" a heart patient and wrap myself in fear and worry, or I could understand that every day is a gift with no guarantees about tomorrow. Embrace the future, Take ownership of your recovery and invest yourself in being healthy and happy. You won't be "perfect" but the grass looks great from this side!

Life is good, fellow Chase alumni. Please live it to the fullest and enjoy your time with loved ones and friends.