In Memoriam: Bob Weeks, 82
Former SVP in Chase Corporate Bank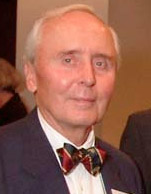 Robert (Bob) Doughty Weeks Jr., a Pelham, NY, resident since 1973, passed away on Tuesday, May 10, 2016 after a long battle with prostate cancer. He was 82 years old.

Born in Manhattan, he was raised in Babylon, Long Island, and graduated from The Taft School and Duke University. Weeks then served in the U.S. Navy Pacific and Atlantic fleets. He remained in the active Naval Reserve for 23 years before retiring as Captain. Weeks lived in Brooklyn Heights before moving to Pelham in 1973.

He held senior positions for many years in Credit & Lending with International Venture Capital Investing at Chase Manhattan Bank. He also participated in opening New York offices for Credit Agricole, Sumitomo Bank and Banque Arab et International d'Investissement, Paris. From 1992 to 1999, Weeks assisted the World Bank and USAID in reconstructing the economies of a number of former Communist countries in Eastern Europe, during which period he and his wife resided for several years in Romania and Bosnia.

Weeks was an avid traveler, visiting over 80 countries. He was a sailor, skier, and choral singer. He leaves behind his wife, Sarabeth, children, Cynthia Lawlor and Robert Weeks III, and four grandchildren.
Donations in his memory may be made to Christ Church, 1415 Pelhamdale Ave., Pelham Manor, NY 10803, or Calvary Hospital Hospice, Bronx, NY.
* * *
Alumni wishing to share a remembrance of Bob Weeks should send it to news@chasealum.org.
From Ed Moran: Bob was a true gentleman from the old school. Over the years we became friends although we never actually worked together. We used to kid each other about his Navy and my Air Force days as we were both active in our respective reserve units. I looked forward to seeing him at the alumni meetings where he was a regular. My last conversation with him was sitting by the window at our last reunion at One CMP 60th floor. Good guy and the type you tend to remember on Memorial Day.