Ed Moran Recalls His Round with Muhammad Ali
Asks: "Is Banking still this interesting?"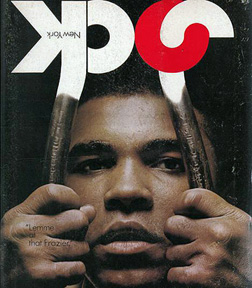 By Ed Moran
After the Credit Training Program, my first assignment was to the Madison Avenue Branch, now long gone. The branch manager was Ralph Riehle. Ralph and I handled the corporate customers which included some of the country's largest publishing houses, advertising agencies and art galleries. One of my more interesting customers was a fledgling magazine called Jock New York.
The title itself was considered groundbreaking as were the authors of some of the first articles; William F. Buckley, Woody Allen, Red Smith and Howard Cosell. It was New York City-centric and quite well put together, but it unfortunately only lasted about six issues before Sports Illustrated bought its subscriber list and put it to rest. I still have the issues autographed by the three gentlemen who sat at my desk and pitched the idea to me as I opened their account. It was an interesting concept and I spent more than a little bit of time in their offices kicking ideas around.
One day I got a call from one of the guys. The third issue (December 1969) was to feature a picture of Muhammad Ali on the cover figuratively behind bars since he had been stripped of his title by the boxing federation for refusing to serve in the Army. The article itself was by Ali and featured a hand drawn picture of what he intended to do to Joe Frazier if he were ever allowed to box again. Late one afternoon, the caller told me that Ali was in their office and they had just given him a check for his services…the princely sum of $700. The champ didn't want a check. He wanted cash. Could I cash the check? Sure. Send someone over and I'll hold a teller open after the branch closes. Have them come to the back door.
About 15 minutes later, the security guard was at my desk, literally quaking. He whispered, "Cassius Clay is at the back door, what do I do?" When Ali was ushered in, I brought him over to the young teller who had late duty that day and she slowly counted out $700 in twenty dollar bills. By this time, we had attracted a crowd. Everyone from the bookkeeping area was upstairs as were the safety deposit people. Ali grinned at everyone and then made a great show of recounting the money. Twenty Dollars Short !!! The teller grabbed the money back and recounted. Twenty Dollars Short !!! I thought she was going to faint and I was feeling a little weak in the knees myself. Ali flashed a big grin and pulled a twenty dollar bill out of the sleeve of his jacket.
After that, he went around to a number of the employees, shaking hands and talking to them. I then walked back to the magazine's offices with him. The two-block walk up Madison Avenue took much longer than usual as he shook hands and joked with passersby. He was a unique individual and he made many memories for people that day.
Several years later, I had the opportunity to meet and observe Joe Frazier at a sports event sponsored by one of my other customers. He was pleasant but very withdrawn. By then though, Ali had fulfilled the vision on that cartoon he had drawn and signed September 1969. Frazier was on the canvas and Ali was the champ.
I often wonder if this generation of bankers have as interesting a career as we did back then. I doubt it.
Cartoon by Muhammad Ali