In Memoriam: Terry Wadsworth, 77
Spent 31 Years in Chase Manhattan's International Division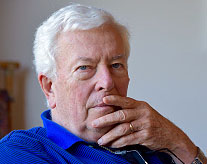 Terrence "Terry" Wadsworth died at his home in Santa Rosa, CA, on June 7, 2016. He was 77 and had battled progressive supranuclear palsy (PSP), a degenerative neurological disease, for several years.
He worked for 31 years in the International Division of Chase Manhattan Bank, with assignments in New York, Bogotá, São Paulo, Rio de Janeiro and San Juan. He retired from Chase in 1994 as a Senior Vice-President.
A graduate of the College of the Holy Cross, to which he had a life-long dedication, Wadsworth also served for three years as an officer in the U.S. Air Force.
Born on November 24, 1938 -- on Thanksgiving Day – Wadsworth was a man of curiosity, a lifelong scholar and student of world history, religion, astronomy and philosophy. His widow, Cristina, described him as an adventurer who could never sit still for long, and who seemed to have travelled to every corner of the globe.
A visit to Haiti, over 20 years ago, profoundly affected him. Following that visit, he and his wife travelled the States over the course of 15 years, raising awareness and financial support for the people of Haiti through weekend parish appeals. He was also devoted to Puerto Rico, helping the less privileged of the island through his work with the Fundación Angel Ramos.
He and Cristina settled in Sonoma County in 2003. In addition to Cristina, his wife of 50 years, Wadsworth is survived by three children and their spouses, six grandchildren and a sister.
A Mass of Resurrection will be held on June 25, 2016 at Star of the Valley Catholic Church in Santa Rosa at 11 am. The family requests that in lieu of flowers, donations be made to the Brain Support Network, PO Box 7264, Menlo Park, CA 94026.
Remembrances
Please send remembrances to
* * *