In Memoriam: John M. Nuzum, Jr., 76
Chase Senior Credit Executive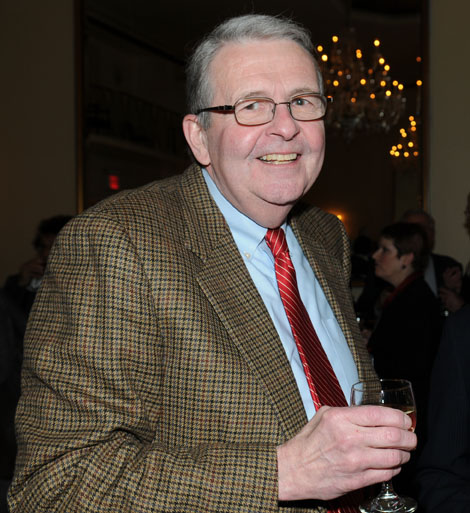 The Chase Alumni Association mourns the passing of longtime member John M. Nuzum, Jr., 76, on June 21, 2016, after what his family described as a "brief but difficult illness".
Starting out in the Global Training Department of Chase Manhattan in 1964, Nuzum retired in 2003 as Senior Credit Executive for International Corporate and Institutional, having reported to Art Ryan.
Nuzum was a longtime resident of Park Slope, Brooklyn, and maintained a home in the Adirondacks. He was active in both communities – serving on the boards of NYU Langone Lutheran Medical Center and the Adirondack Architectural Heritage.
Born in Milwaukee, WI, Nuzum graduated from Princeton University and was a devoted alumnus.
Nuzum is survived by four children and their spouses, and seven grandchildren.
In lieu of flowers, donations in Nuzum's memory can be made to the Lutheran Medical Center or the Adirondack Architectural Heritage.
Remembrances

Please send remembrances to:

From Eric Hasselman: John and I joined Chase on the same day in 1964. We found ourselves in the Global Training Department and even in the same section. John was a pleasure to work and spend time with. When I had problems reconciling net worth, John was there to sit with me and show me how to figure it out.
He was a true gentleman who never lost his temper and was quick with humorous stories and jokes. I have always appreciated his help and good nature as well as his keen intellect.
John and I then went our separate ways at Chase, he to the Corporate Bank and I to the International Department. However, we remained in touch over the years until, in 1990, John was named Senior Credit Executive for international corporate and institutional business, and I had the good fortune of being appointed his deputy.
John was a well-respected member of Chase senior management and was admired and very well liked by all of his colleagues. He was a great asset to Chase, and he certainly will be missed.
From Ken Gentile: I worked with John when I was a CCO in Latin America. John was a great person to work for and brought a balance to resolving issues as they arose. I remember helping John locate the home his adopted children came from when I worked in Korea. He was a good man and will be missed. This is happening too often, losing people of the caliber of John. My deepest sympathies to his family.
From John Ward: A great guy. We will miss him.
From Peter Larr: How to be brief? I worked for or side by side with John from the early 1970s until 2000. He was truly a wonderful asset to Chase and equally a superb colleague. John was smart and had wonderful level-headed judgment (they are not the same thing!!). He was a man of super self-control in the face of stupidity and was simply one damn nice guy!!! The world is a lesser place without him!!!
From Bob Hunter: I remember him with great fondness.
From Gary Glick: Ouch! What a gentle man, in the truest sense of the word.
From Bryan Carter: Much saddened...John was one of the truly good guys, always approachable, always willing to give help or advice.
From Bill Foulke: John was indeed a great guy. John always had a smile on his face. I remember how gallantly he responded to the rare affliction which left him hobbling with a cane after having been in the pink of health.
From Ellen Steinfeld: John was a true leader. I had the pleasure of working with him for many years.
From David Levow: Soft-spoken, kind, never a cross word. A gentleman of a dying breed.
From Jim Beale: John was one of the best people with whom I had the pleasure to work at Chase. He had true grit; I remember how he limped with determination through the Minneapolis airport before he had his hip surgery in the late 1970s.
From Jim Peyman: I was sorry to hear the news about John. As others have mentioned, he was a class act and was always calm under any circumstance. He treated all with the utmost respect and was deeply admired and respected in return. It was always a pleasure to deal with John because of his thoughtfulness and he was a great role model at Chase.
From Tim McGinnis: John was one of the most gentle of people. When he said no to a credit, however, it was truly NO. John will be missed, but not forgotten.
From George Renert: I had the pleasure of working with John for 19 years in the Chase Retail Bank. He was always a Gentleman, responsive and a very good listener. John was also my colleague on the Board of Trustees of NYU Lutheran and showed the same commitment to the Brooklyn community as he did to Chase. John will be missed. RIP.
From Michel Lagoutte: This sad news was a shock to me. I had been working with John for such a long time. Always insightful and above all a well liked and respected coach to all of us on the credit team. We will not forget him.
From Eshagh Shaoul: Chase Manhattan Bank had many great, distinguished and dedicated officers. John Nuzum was on of them. In addition he was graced with a unique human dignity. Whenever you needed him to address a crisis, he was there for you and offered the best s. and most appropriate solution. May he rest in peace.
From Peter Larr: John was my colleague and friend at Chase and after from 1968. Simply put, he was a talented banker, characterized by judgment, integrity and equanimity. A very special man! The world is a lesser place without him. Rest in peace my friend!
From Gary Olson: A great man. Miss you.
From Karl H. Schmidt: I was saddened to hear of John Nuzum's passing; I saw him last at the Fall 2015 reunion and he was his usual cheerfulness. John for many years was my credit officer to go to for approval of customers' credit facilities. Dealing with John as a credit officer was always a pleasure; he was respectful, correct, smart and understanding, and, importantly, he gave good advise. We will miss him.
From Brahm Nirgunarthy: John was a perfect gentleman. I had numerous interactions with him while I was heading Credit Card and Retail Lending Operations in Hong Kong during his credit review visits. My condolences to his family.
From Roger Lieblich: One of the really great officers at Chase – very smart, very fair, very supportive, a true banker's banker. We will all miss him and his sage advice. John, you are in our thoughts and prayers.
From Diane Hasili: Had the pleasure of working with John late in his career on a new, unprecedented product. Always respected his willingness to be open-minded and balanced in working on new initiatives across the firm. His brilliance emanated from his professionalism, intellect, and generosity.
From James J. Hanks, Jr: John Nuzum changed my life. He was two year older than I was and we worked together at Camp Manito-wish in northern Wisconsin. One evening in my senior year in high school in Washington, DC, which was John's sophomore year at Princeton, he and another Manito-wish counselor at Princeton called and suggested that I should consider going there and offered to invite me up for a weekend to see the place. I had never considered going there and, in fact, was seriously thinking of going to the University of Wisconsin. I went up and John and our other friend, a senior, showed me around and, after that, the only question for me was whether I could get in. I did and went there and it changed my life. John and I kept in touch over the years and had dinner occasionally when I was in New York, most recently within the past year. I always marveled at how he seemed to defy the natural laws of aging, so his death came as a great shock. He was a calm, contemplative, friendly, supportive, supremely rational guy with a ready sense of humor, especially of the absurd. It will take a while to absorb this unexpected and sad news.

.