In Memoriam: Al Bahamonde, 73
21-Year Career at Chase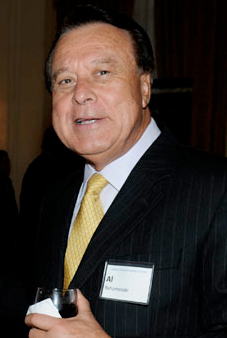 Alfonso Bahamonde, a native of Ecuador who became a U.S. citizen and spent more than 20 years at Chase, died at Memorial Sloan Kettering on July 30, 2016, two weeks short of his 74th birthday. He had been diagnosed with a rare cancer just five weeks before his death – and had played a vigorous tennis match at 3,000 meters of altitude just three weeks prior to the diagnosis and danced the night away at a wedding five days prior.

Bahamonde worked at Chase from 1966 to 1987, serving in Puerto Rico, Chile, Ecuador, Colombia and various Caribbean countries. He later worked at Continental Bank and then Trust Company of the West. He lived in Quito, Ecuador, in retirement, but returned frequently to New York, which a daughter said was his favorite city.

He served in Vietnam with the U.S. Army's 1st Cavalry Division.
Bahamonde is survived by his wife, Magdalena, children and grandchildren.

Contributions may be made in his memory to the United Nations response to Ecuador earthquake relief.
Remembrances
Please send remembrances to:
From Jean-Marc Bara: I was shocked to learn that Alfonso had passed away, but it did not surprise me to learn he had played a vigorous tennis match at high altitude just a few weeks before he passed away. Al and I first met in the Credit Class 3 of 1972 and would catch up at the Credit Class reunions and later at the Chase Alumni receptions, where Alfonso often got the prize for the furthest miles travelled to attend the reception. Alfonso was always full of life and had a can do attitude, and our interactions were always animated and uplifting. A good man. My thoughts are with his wife, Magdalena, and their children.
From Karl H. Schmidt: I am sad to hear about Alfonso's passing. I will always remember Al as one of the most optimistic Chase Officers trying to do deals in the at that time difficult business environment of Latin America. Also, as said before, Al was a very frequent attendant of our reunions despite the long distance from home. You will be missed.