In Memoriam: Joseph Verner Reed, Jr., 78
David Rockefeller's Closest Associate for Three Decades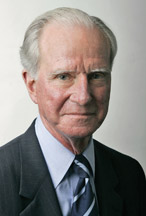 Joseph Verner Reed Jr., who joined Chase Manhattan Bank in 1963 and became a vice president and assistant to the chairman, David Rockefeller, died of a heart attack in Greenwich, CT, on September 29, 2016. He was 78.
"I deeply mourn the sudden loss of my valued colleague and trusted friend of 50 years," Mr. Rockefeller wrote in a statement, "Together we traveled the world, experienced unforgettable adventures and met thousands of people; from kings and presidents to hotel clerks and elevator operators. Joseph cherished and charmed every one of them. He was a man of elegance, grace, wit, flamboyance and razor sharp intellect; a diplomat's diplomat."
In 1985, President Ronald Reagan appointed Mr. Reed U.S. ambassador to Morocco, and he was chief of protocol under President George H.W. Bush. Mr. Reed served four UN secretaries general over a quarter of a century and served the organization as a global envoy. At the time of his death, Mr. Reed was an undersecretary-general and a special adviser to UN Secretary General Ban Ki-moon.
Mr. Reed was a descendant of Edward Doty, who came to America on the Mayflower. After graduating from Yale, Mr. Reed became private secretary to Eugene Black, president of the World Bank. Mr. Reed then moved to Chase, which he left in 1981.
Reed and his late wife, the former Marie Maude Byers, were married December 19, 1959. She died in 2015.
The former ambassador is survived by two daughters, Serena Reed Kusserow of Santa Barbara, CA, and Electra Reed of Greenwich, CT, and four grandchildren.
A private family service will be held in the coming days. A memorial service will be held at a later date.
Remembrances
Please send remembrances and tributes to news@chasealum.org.
From Hans van den Houten: I will always remember Joseph Reed as a true advisor to me when I worked at the Chase Manhattan Bank. During my tenure as Director-Finance of the Museum of Modern Art, I had multiple opportunities to consult with Joseph prior to or after meetings with David Rockefeller, then chairman of the museum.
My contact with Joseph continued after my return to the bank and my subsequent separation from Chase ultimately to join Moody's Investors Service. He was a real counselor during this transition, and his support was a real boost to my career after the bank.
Joseph was always a patient listener and a true gentleman, impeccably dressed and a model for many. He was also open to suggestions and engaging in discussions about the affairs of the museum. These talks sometimes continued over lunch in the Delegates Dining Room of the UN, where he graciously invited me from time to time to talk about the CAA and other subjects of mutual interest. He passed too early and my thoughts about him are revived at this time of his death. May he rest in peace!
From Charles Kovacs: I was saddened to read the news of Joseph Reed's death. In retrospect, I find it difficult to add to Mr. Rockefeller's enconium; Joseph was all that. My contacts with him were sporadic in New York, Washington and during his term as our ambassador to Morocco. We talked mostly about the affairs and state of the world and Josveph's views were invariably edifying and inspiring – he was a great American patriot. Joseph was also kind and helpful, as I had occasion to find when I left Chase for Hungary in 1991.
From John Richey: Joseph's style and intellect could charm a head of state or the person sweeping the street at home, but more importantly, throughout the years he was always prepared to freely and sincerely share his special talents with friends and colleagues in whatever circumstance. What a deeply saddening loss for the world, where not enough men of his calibre are there to carry on the work of nations. Joseph was special.
From Anna S. Gilhuley: I was very sad to read the obituary of our Mr. Joseph V. Reed. During my 10 years at Chase Manhattan Bank, I had many opportunities to represent the Bank with Joseph at the United Nations, using my language skills to greet and speak with foreign diplomats with Mr. Reed. I reflect back on those years as some of the best years of my life, with so many fine leaders like
Mr. Reed and Mr. Rockefeller and Mr. Butcher. I had the pleasure and privilege of speaking with Mr. Reed at a United Nations luncheon about one year ago.
I miss them all very much and am so grateful to have known them as they played such a key role in my young life. May Mr. Reed rest in peace.
From George Antipas: I was privileged to meet with Ambassador Joseph Reed, Jr. many times over the years as I led the Chase International Agencies Banking unit. Always gracious, helpful and efficient, he helped me navigate the complex Chase relationship with the United Nations. Joseph and David Rockefeller attended several meetings that we organized for our UN and diplomatic clients. I also met him once in London at an Antiques Fair where he imparted his deep appreciation and knowledge of Chinese art. Witty and friendly, Joseph was a diplomat who loved his country. May he rest in peace.
From Kate McClintic: Joseph Verner Reed put me on "Project 31" as a young trainee in 1981. It was a program he designed to ensure that all of the international and domestic relationships of the then Chairman David Rockefeller were introduced smoothly to the Chairman designate, Bill Butcher. We went through painstaking detail for each event from the Chair at the University of Chicago to the King of Morocco and everything in between. Joseph was a consummate professional with an eagle eye for detail and a huge heart. My heartfelt condolences to his family. (Kate Murphy McClintic Chase alum 80-86 and JP Morgan alum 86-93.)