Remembrances of Leon Desbrow
From John A. Ward III, President, Chase Alumni Association: The Board of the Chase Alumni Association greatly mourns the passing of Leon Desbrow, a key member of the CAA Board for over a decade. He was instrumental in helping us develop our website, as he had worked on a similar project as president of the Alumni and Friends of the London School of Economics. We always benefited from his generosity of time and guidance, his great patience, his spot on analytical skills and his great common sense. On a personal note, I went to Wharton with Leon and shared the global credit training experience with him. Our paths diverged until we became reacquainted through the CAA, both on the Board and on CAA trips, in which he and his wife, Evelyne, eagerly participated. I will miss him terribly. The CAA offers its condolences to Evelyne, Leon's children and grandchildren, and all who loved him.

From Peter J. Holzer: Leon has been a great friend since the week we both joined Chase's credit training program in 1969. Although we did not work in the same locality until late in our careers, we always managed to stay in touch, whether it was cruising around Paris in Leon's BMW during his bachelor days when I would check in with him on business trips from London, or during the annual Chase "Olympics" in Asia when my Singapore crew would face off against his KL squad.
When Evelyne entered the picture, the relationship was deepened as my wife, Carol, and she became fast friends. As couples, we shared exploratory trips to Florida; a great love for Oregon, where Carol is from and where the Desbrows' son, Mark, resides; and the annual "Old Asia Hands" Chinese dinners that Leon would organize. Our adventures together also included a wild and wacky rafting trip on the middle fork of the Salmon River in Idaho, a ski trip to Jackson Hole where Mark put us old guys to shame, and regular gatherings in New York for dinner and chamber music at the Metropolitan Museum.
Leon also has left behind an exceptional legacy at Chase, as he was one of the key driving forces behind the growth and endurance of the Chase Alumni Association. By the way, Leon initiated his membership while he was not yet an alum. Leon's very legitimate excuse was that he kept trying to retire and JPMorgan Chase wouldn't let him!
So, I feel great sorrow at Leon's much too early departure from this Earth. The intelligence, bravery and calm with which he dealt with his final illness set an example to which I aspire.
Peace, Leon
From Jean-Marc Bara: I first met Leon in the early 80's. We lived in neighboring towns in Morris County, New Jersey, and both of us had worked overseas many years for Chase's International Department, in Leon's case in Paris, Hong Kong and Malaysia. We also had similar interests and we soon became very good friends, as did our wives.
Though Leon and I never had a chance to work together at Chase, we saw each other regularly and did many things together, including trips with our wives to the Cotswolds, Sicily, Japan, Vietnam and Cambodia. We both served on the Board of the Chase Alumni Association, where our terms overlapped by several years. At the CAA we worked together on several projects, and I always looked forward to doing so. Leon was still on the CAA Board when he passed away.
One of our common interests was travel. By the time Leon was 16, he had travelled to more places than most people will in a lifetime. Leon was a true globalist, interested in all cultures and always keeping in touch with news around the world.
Leon was always full of energy. He started every day very early, usually with a run or a bicycle ride. Leon was brave and nothing would stop his daily run, not cold weather, rain, sleet or snow. Once, he had to go to a hospital to thaw out a couple of his valued appendages, frozen on his morning run, not sufficiently protected from the bitter cold weather by his lightweight shorts. For several years he competed in triathlons.
Leon was also full of ideas and was constantly thinking of ways of getting people with similar interests together, whether this was exploring a new hash run for the Hash House Harriers or leading a Boy Scout trip, a bicycle outing, or a visit to a new museum or historical site. Organizations like the Alumni and Friends of the London School of Economics, where he was President for several years, and the Chase Alumni Association benefited from his energy, ideas and thinking. He was very generous with his time to these organizations, having spent countless evenings working for one or the other.
Leon was a disciplined thinker and an articulate speaker and writer. He did not tolerate shoddy thinking or poor use of language and would not hesitate correcting a friend when the level of thinking or use of language did not meet his standards. I did not mind being corrected - I actually valued it - and I very much valued the fact that I could always count on his advice.
We were shocked to learn 18 months ago that Leon had contracted a very serious form of brain cancer. Leon took charge of this battle with the same energy, creativity and clear thinking he had always displayed. On the times we met during his battle with cancer, I never heard one sentence of complaint or self-pity. He continued to look forward to the next gathering, event or trip, and to make sure that everyone was comfortable around him. Evelyne and their children wrote that Leon lived with this disease with bravery, grace and dignity, and I cannot find better words to express it. The way Leon, Evelyne and his children, Alexandra and Mark, pulled together as a family during these very challenging 18 months was an inspiration to us.
Leon was one of my best friends, and I feel very privileged to have had this relationship. My wife, Marianne, and I will miss him tremendously. Our thoughts are with Evelyne and their family.
From Ken Jablon: I did not know Leon when we both worked for Chase, although our time there overlapped for decades. However, we joined the Board of the Chase Alumni Association on the same day in October 2005. At that first Board meeting, we were "assigned" to build a new website for the Association, so I quickly got to know him.
Leon had experience working on a website for the Alumni and Friends of the London School of Economics in the US (AFLSE) where he was President. Ultimately, we decided to use the same website vendor as the AFLSE, and therefore Leon had a lot more experience for this project than I did, which was nil. He always listened carefully to my, and others, opinions, however, right or wrong, which allowed us to build one of the best alumni websites at the time.
As a Board member, Leon was always very insightful, no matter what the topic or decision under consideration, particularly with his perception of the personalities involved.
The Association and I, personally, will miss him very much.

From Hans van den Houten: A good man, a Chase colleague and a fellow Board member has passed. It is with great sadness that I learned that Leon is no longer with us. He was always an engaging friend, fun to be with and dedicated to his work as a banker and as a Board member of the CAA. We enjoyed several trips with the CAA together, we spent time in Bend, Oregon, where Evelyne and Leon were regular visitors in the summer. We will miss these visits with dinners and libations of fine Oregon wines. Rest in peace my friend, and to Evelyne, Alexandra and Mark, also on behalf of Marian, our sincere and deep-felt condolences.
From Michel Lagoutte: Leon was my friend. When I saw him last, in May, he was fine although I knew he had been doing battle with that horrible disease for some time. I left New York for the summer and, as I return, here is the sad news: Leon is gone.
I met Leon as I was starting my career at Chase in Paris and reconnected with him years later. We had lots in common. I enjoyed his company and that of his wife, Evelyne. He was a skier. I was a skier and we skied together. I like opera. He loved opera so much that when I was at the Met I would look for him during intermissions and, more often than not, would find him on the dress circle balcony where we would share our impressions. I understand that although he was then ailing, he went to attend one of the recent performances of William Tell and this warms my heart. But, no longer will I be able to find Leon at the Met and this makes me very sad.
Adieu, Leon.
From Tony Lord: Pam and I were very sad to learn of the passing of Leon. While we came from the same island, and served in Asia, our roots were in Global Credit in the late sixties.
Leon was always the ultimate gentleman and pairing that with being an extremely smart individual, he had a great asset base. And...his extensive contribution to the development and ongoing success of the CAA is so appreciated by all of us, who share the Chase roots.
As a member of the CAA Bend Chapter, it was a delight to welcome the entire Desbrow family to the area. I know Leon felt something many of us feel, and that is a very significant "affection" for our years with Mother. To Evelyne and the family: Our thoughts and prayers are with you, the "kids" and your grandchildren.
From Petrina DiGangi: I am saddened reading the news of Leon's passing. There are many who pass through our lives for just a moment, silently guiding us with their calm demeanor, professionalism and smile. Thank you Leon for your guidance and mentorship. Your smile will remain with me always. Thank you Evelyne, Alexandra, Mark and family for sharing Leon with us.
From Bill Coulter: Leon and I were destined to become the best of friends, but when we first met in Paris in the summer of 1973 neither of us could have imagined what was to follow.
We became good friends when our careers brought us to Asia. But it was when Leon and Evelyne settled in Short Hills and Cheryl and I chose Summit that our lives converged. Leon was always into fitness and running and he made the wise choice to introduce road biking into his routine. After several failed attempts he got me back on my bike and the two of us rode together for more than a decade.
When we weren't part of a larger group the two of us would meet in Jockey Hollow and head off on one of our favorite routes. Leon introduced me to winter rides that required special clothing and his constant encouragement when the daytime temperature was in the 30's.
One of my fondest memories was a week Leon and I spent together in France riding in the Dordogne region. It was the ultimate bike tour organized by Leon from the moment he met my redeye flight until we returned to Paris a week later. The biking was a "10" as was the cuisine we enjoyed at the end of each day.
When Cheryl and I moved to California Leon and I managed to keep in close contact despite the distance between the two of us. You could not ask for a better friend or for a more loyal friend.
From Erhard F. Grossnigg: I read the news of the death of Leon Desbrow with deep regret. For some time, I was on his team, and I was impressed with his empathic character next to his knowledge. All the best.
From Chuck Adams: I was so saddened to learn of Leon's death on November 7. The news was not a surprise given Leon's gallant and inspiring fight against cancer. But it was a shock given the big presence he had in my life and the lives of the many lucky people who were his life-long friends.
I knew of Leon by reputation long before I met him Chase. Chase London seemed to live vicariously through reports from Paris of Leon's banking successes, his sharp intelligence and discerning views, all rounded nicely by reports of his elegant social gatherings and the introduction of his lovely fiancee, Evelyne.
I was fortunate to work closely with Leon on the first jumbo loan syndication for Malaysia done by Chase Manhattan Asia Limited in 1978, a $400 million success that propelled Chase'c Capital Markets group into prominence. Prior to Leon's assumption of the GM position in Kuala Lumpur, Chase had faced a distinctly challenging business climate in the Federation (as Malaysia was then known). Thanks in part to Leon's leadership, professionalism and skill in building Chase's reputation, Chase won the largest mandate for the country until that time; Chase Malaysia and Chase Manhattan Asia Limited delivered beyond expectations to the delight of all concerned, including the Minister of Finance and Central Bank Governor.
Leon and Evelyne were excellent over the years keeping in touch and inviting my wife and me to many events at their home in New Jersey. After our move west, Jane and I could count on hearing from them when they visited San Francisco to visit their daughter, Alexandra, in nearby Napa Valley.
I am so fortunate to have enjoyed a deep friendship with Leon and Evelyne, the warmth of which will never fade. Leon is gone but I will remember him forever with deep respect and affection.
From Mich Araten: I was saddened to hear of Leon's passing. We were involved in a number of projects together, and I always recalled his ready smile and spirit of helpfulness. I used to work out with Leon in the gym, and we traded stories of running— his Hash Harriers crazy trail running and my more conventional road races. He also cued me in on the corp discounts available at the Met Opera, and we ran into each other both there and at NY Phil. What a genuinely nice man!
From Eshagh Shaoul: Leon's death is very sad news for me and many others. Leon was more that a gentleman, scholar and dedicated banker, he was a dear and loving man who never forgot his friends. I worked together with him both overseas and in New York. He was an example of human dignity for all of us. May he rest in peace.
From Stan Germond: I was saddened to read about Leon's passing. Leon was one of the finest gentlemen I ever worked with at the bank. RIP.
From Roger Griffin: Earlier memorialists have said almost everything that could be said about this remarkable man whom I, like Peter Holzer, got to know while working side by side on the credit training staff in New York in 1969 and 1970. Our paths ran in parallel for a while, he to Paris, I back to London, he to Asia and I followed, he to New York and Short Hills and I followed. Always courteous and considerate, always responsive, always a source of wise advice if sought and generous with his time. A good friend. I remember a delightful stay with Evelyne and Leon in the bank house in Kuala Lampur when the latter was still a garden city, I remember his generosity and help in settling in when we moved to New Jersey and most recently a delightful lunch here at the house in Umbria two summers ago when we were finally able to get Evelyne and him here while they were visiting Perugia for the jazz festival. We talked gardens. Like Chuck Adams, I was not surprised by the news of Leon's death following the battle fought together by him, by Evelyne and by Alexandra and Mark, except I was shocked that, at the end, it seemed so sudden. He fought that battle with tenacity and extraordinary serenity and, as Peter Holzer said so well, he set an example to which we can all aspire. Thank you Leon.
In Memoriam: Leon Desbrow, 70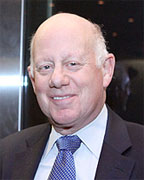 Leon Desbrow, a veteran Chase officer and longtime board member of the Chase Alumni Association, died at his home in New York City on November 7, 2016 after an 18-month battle with brain cancer. He would have turned 71 on November 29, 2016.
Save for six years when the Pension Advisory Group of JP Morgan Investment Bank transitioned to Pacific Life, where he served as chief investment officer of the Pension Advisory Group, Desbrow spent his entire career at Chase Manhattan Bank and, subsequently, JPMorgan Chase.
A Certified Financial Planner, Desbrow was a founding member of JPMorgan's Pension Advisory Group, executive director of JPMorgan's Defined Benefit Pension Plan and 401(K) Plan. From 1969 to 1995, he served Chase Manhattan Bank in investment banking and general management positions in Paris, Hong Kong and Malaysia, and as a corporate budget director and investment portfolio manager, covering international securities and high yield securities.
A British native, he held dual U.S.-UK citizenship. He earned his BS in economics and sociology at the London School of Economics, and served as president of the U.S. branch of the LSE Alumni Association. He also held an MBA from The Wharton School of the University of Pennsylvania.
He is survived by his wife, Evelyne, his two children, Alexandra and Mark, and grandchildren. Memorial contributions may be made to:
the American Brain Tumor Association,
the Metropolitan Opera or