Remembrances
From Hans van den Houten: The sad news reached me through Facebook on November 26 that Ed has passed away. So unexpected to hear about this here in our far reaches of the Netherlands. Ed and I became connected in 1975, when the Corporate Development Group was disbanded and several of the groups officers were transferred to Ed's group in International. Since I had been responsible for the expansion of the bank in the Far East, Ed suggested that we take a grand tour to review the still outstanding possibilities and to meet with those running newly acquired entities, as well as our colleagues in the region. This trip gave me a chance to get to know Ed. He was a pleasure to be around, and we quickly tuned in on a similar wavelength. He was supportive, quick to understand the special circumstances in the region and a cheerful and warm companion on the road. After I had left his area for the Francophone region of Africa, we maintained our contact within the bank. When I left for other horizons, we stayed in touch, and Ed was an early supporter of the Chase Alumni Association, when this was founded in 1988.
I will miss his Facebook postings of his various activities, be it travel, interests or family events. I will miss his cheerful disposition and his sharp and pointed commentary. I will miss Ed as a warm and trusted colleague of those days at Chase. To Pat and his daughter, may you both find strength during these difficult days in the many good memories of a fine man. May he rest in peace.
From Bill Kaufmann: Like many who had the privilege of working with Ed, I was enormously distressed to learn of his passing. What a uniquely capable and nice guy! Fun loving, argumentative, sensitive and smarter than most of us, Ed never sought the limelight, but provided invaluable guidance to executives at all levels of Chase. These are among the many reasons Frank Stankard and so many other top leaders greatly valued his support and friendship. As just one example, it is highly unlikely that Private Banking International ever would have been launched without Ed's serious help. We had come up with the idea of using Air Miles as an incentive to increase cross-selling around the world of our otherwise somewhat mundane but very profitable deposit products at 410 Park Avenue. We needed $1 million (a lot at the time) to implement the marketing program. Having just returned from a six-year leave of absence, I had no clue how to justify it. Ed was intrigued by the idea, stepped in, prepared a full analysis and ROI proposal, and then convinced Bill Ogden to give it a shot. If I remember correctly, in just a few years, the program produced well over $500 million–one important step in increasing Chase's awareness of the potential of international private banking. Simply stated, it would not have happened without Ed. He was among the many, exceptionally talented but less heralded officers who were instrumental in Chase's success over the years. Thanks Ed, and our thoughts are with you, Pat.
From Bob Mitchell: So very sorry to hear of Ed's passing. Ed and I worked together for years in International Planning for Frank Stankard, and I have never worked with anyone I liked better. He was kind, generous, supportive, energetic, smart and creative, oh so creative. I always said, give Ed any task – design an anti-gravity machine or a whole new government from scratch – and he'd pull out a yellow pad and begin sketching a solution. No task daunted him. But despite his talents and accomplishments, he always took the time to mentor his people. He was a team leader, not a boss.
He will be sorely missed by all who knew him well.
In Memoriam: Ed Riegelhaupt, 82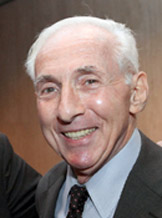 Ed Riegelhaupt, a longtime CAA member, died of brain lymphoma on Saturday, November 25, 2016, the day after his 82nd birthday.
At Chase Manhattan Bank, NA, from June 1971 to January 1981, Riegelhaupt served as Group Executive, Planning & Development in the International Department, directing four divisions responsible for overseas investments and acquisitions, strategic planning, and review of Chase's international affiliates. Previously, he was Group Executive, Finance & Planning and Chief Financial Officer of Chase's International Department. He also served as a director of Chase Manhattan Overseas Banking Corporation (CMOBC) and as a liaison to the NY Federal Reserve Bank on various international matters and investments.

At the time of his death, he was President of Taconic Consultants in New York, NY, a financial consulting, strategic planning and development firm serving financial institutions, private equity firms and industrial organizations. Taconic has acted as financial advisor for nearly $1 billion in direct investments and acquisitions, and in arranging for the management of institutional investment portfolios.
At the American Can Company from 1961 to 1971, Riegelhaupt was Director, Financial Planning, responsible for financial policy and the review and negotiation of most large acquisitions. As Director of Development in the International Division, he directed the evaluation and negotiation of all overseas acquisitions and joint ventures, including financing and technical assistance agreements. American Can was the largest paper and packaging company in the United States at the time,
Riegelhaupt held an MBA from Harvard Business School and a Bachelor of Mechanical Engineering from Polytechnic Institute/NYU. He was a graduate of New Utrecht High School in Brooklyn.
He served on the International Advisory Committee of the Columbia University Graduate School of Business for some five years and was previously a member of the Advisory Board of the Enterprise Community Partners (NY), which has developed over 15,000 units of affordable housing in New York.
He served on the Board of the Harvard Business School Club of New York Community Partners, the program that provides pro bono consulting services to non-profit organizations in the New York area. HBSC Community Partners oversees some 40 pro bono projects per year and served more than 120 nonprofits in a five-year period.
He was also active in the Financial Women's Association (FWA), through which he served as a mentor at Murry Bergtraum High School.
Riegelhaupt is survived by his wife, Patricia G. Morrill, a daughter, Stacey Bloomfield, and a grandson. For additional information, please contact Ms. Morrill.