Remembrances
From Gary Glick: It is with great shock and sadness that I read of Margaret's passing. I had known her from Columbia Business through Chase Credit Training and Institutional Banking before she moved to Citicorp and re-invented herself as a leading equity analyst. As her resume attests, she had a brilliant mind; but at the same she was incredibly personable and determinedly active in promoting her ideas. I can only take consolation for her untimely death in the fact that she packed into her career more than many would in several lifetimes.
In Memoriam: Margaret Cannella, 64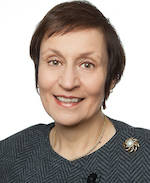 Margaret Cannella, retired global head of credit research for JPMorgan, died of an aggressive form of cancer on Thanksiving morning, Thursday, November 24, 2016. She was 64.
As an adjunct professor at Columbia University School of Business, Cannella also taught hundreds of students about leveraged finance and credit markets. She created the school's successful Private Equity Fellows Program in 2013.
According to Bloomberg News, she joined JPMorgan in 1998 from Citicorp, the predecessor of Citigroup Inc., where she worked for 10 years and was a managing director and global head of research.
"At both JPMorgan and Citicorp, she was an analyst covering retailing, supermarkets, and the food and beverage sectors. Prior to Citicorp, she worked at Chase Manhattan Asia Ltd. in Hong Kong as an investment banker for the financial services industry," Bloomberg reported.
Born Feb. 5, 1952, she grew up in Queens, New York, and earned a Bachelor of Arts from Princeton University in New Jersey in 1973, the first class to include women. She majored in East Asian studies.
She was the widow of Conor Reilly and is survived by her husband, Ronald Brown, children, Katherine and Michael Reilly, and grandson.
Memorial contributions may be made to: Princeton in Asia, 194 Nassau Street, Suite 212, Princeton, New Jersey 08542.