New York City CAA Reception, November 28, 2016
Jamie Dimon Stops By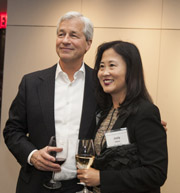 JPMorgan Chase Chairman and CEO Jamie Dimon stopped by to greet CAA members–particularly new ones–at the November 28, 2016 reception hosted by JPMC on the 50th floor of 270 Park Avenue. (The photo shows Dimon with new CAA member Judy Chou.
John Ward, CAA President, and Kate Northrup, in charge of JPMC's alumni relations, addressed the group of about 270 alumni, and JPMC HR staff were available to answer questions about benefits and other issues.
Dues-paying CAA members can see photos from the event in two photo albums. Just click on "Photos" in the menu above or on the Home Page.