Remembrances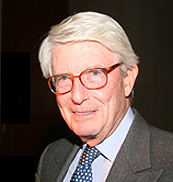 .
From Ken Jablon: When Art Ryan became head of Individual Banking (consumer) around 1985, I became his planning officer. A half-dozen years later, Art became President of the Bank. I continued on with Individual Banking, but for some reason I was also assigned to Institution Banking, which Bob Douglass headed up.
So, every few months, I had to meet with him to discuss his long-term strategic and financial plans, which became part of the bank's overall plan.
I knew that Bob had come from Milbank Tweed, the bank's law firm, became the bank's head lawyer and then became a Vice Chairman with line responsibility. I didn't know all the things he did much earlier with Nelson Rockefeller, including managing his presidential campaign.
Even though Bob and I had not met, he put me at ease from our first meeting. We had interesting discussions about his businesses, the bank in general and even some personal matters. I looked forward to our meeting and we became "business friends." He greeted me when we passed in the Bank as if we knew each other for decades.
Bob went back to Milbank and we lost touch until we both became involved with the Chase Alumni Association, where he was a regular at the CAA events (the photo on his obit is from one of those events).
He stopped coming to those events and now I know why.
I enjoyed our fairly short relationship, and it was because of his wonderful personal manner.
From Ron Mayer: I will be forever grateful to Bob Douglass as I received the job offer to join Chase Manhattan a day or two after I interviewed with him in early 1981. I had the privilege of working closely with him in his roles of General Counsel and subsequently head of National Positioning. When I was Corporate Secretary, I was able to observe then Vice Chairman Douglass in the Boardroom. I was consistently impressed by his excellent judgment and his ability to synthesize facts and spot the most important issue. I want to echo Ken Jablon's observation that Bob had the ability to put people at ease. I know that quality helped me greatly during my career at Chase.
From David Weisbrod: I knew Bob Douglass for more than 40 years and will miss him enormously. I served under Bob while in the Real Estate Group but met him years earlier when he first joined the bank from Milbank, Tweed. I will remember him most for his extraordinary civic-mindedness. Bob loved New York and played a major role in the revitalization of downtown. Within the Bank, Bob took the time to encourage young members of the staff, was patient, kind and generous in giving advice and support. A consummate people person, Bob taught me and countless others by personal example. He had such grace and charm! In this, as in so much else, Bob was in a class by himself. Rest In peace.
From Larry Shields: Bob Douglass always made everyone feel comfortable, as if you were a long term friend, and brought the very best out of each of us. While the financial officer for the Legal Department, I watched Bob significantly increase the size of the bank's in-house legal council to save external legal costs and to expand the bank's presence across the United States (when Glass-Steagall was still in effect). He was a true ambassador and statesman for the bank. Our very sincere condolences to Linda and their family.

From Tony Terracciano: Bob supported us through some very difficult times. In those situations, he helped keep us calm and focused. His advice was always of great value, and he made sure all assumptions were tested. Most of all he was honest in the old fashioned way……..i.e. before "spin."

From Peter Larr: I reported to Bob when I headed DIB. He was a special man and to read of his later years leaves a heavy heart. Some years ago Bob Strong, David Weisbrod and I were playing golf with Bob, who was one "sweet swinger". To our surprise he had to quit after 9 holes, which gave us the clue not all was well. Bob was not just supportive. He had judgement and a quiet way to get things done. He was a gentleman, but nonetheless straight forward. My favorite story involving Bob was when we in DIB wanted to do a lucrative transaction, brought to us by a client, and Milbank Tweed insisted the whole construct was illegal, being, the lawyer opined, a violation of a New York State Gambling Law. In exasperation, I whined to Bob, who said he would take care of the Milbank lawyer. I asked how. Bob said; "Peter - the transaction is NOT a violation of that law. I know because I wrote that law!!" RIP Bob–you earned it!!

From Mich Araten: Bob was always a class act. In every way, he exhibited patience, wisdom and care for others. I worked for Bob for five years in the National Positioning Group, and we went from investing in a UK insurance brokerage to acquiring Lincoln First to Rose & Co, the discount brokerage. He had a good laugh when 20 folks from Finance and HR descended on the entire Rose five-man operation–talk about the corporate bird! I recall the occasions when the only time I could brief him was by riding up with him to his home, and rather than talk about business, he wanted to know how my children were doing. An exceptionally nice man who will be missed by many.
From Gene Swanzey: Bobby Douglass and I were two of the very few people to have worked for two Rockefelller brothers--in our case, Nelson when he was Governor of New York State and David at Chase. He was a mentor, friend, and, of course, colleague. When I first joined Governor Rockefeller's staff, I was one of the youngest members of the staff. Bob was always willing to give me advice on the workings of the Rockefeller Administration and government as a whole. He helped to keep me away from problems. He was THE pro among many professionals--always helpful in the most courteous way. When Bob joined Chase from Milbank, I was able to return the favor in a minor way by helping Bob become acclimated to the Bank. After leaving as head of Legal, Bob became a Vice Chairman. One of the areas reporting to him was Real Estate, and interestingly Bob and I conferred frequently on the Trump relationship with the Bank since I knew Mr. Trump from the New York political arena. Bob eventually headed up the Bank's national expansion efforts when big banks were fighting against Interstate Banking prohibitions. He and I ended up flying around the country giving testimony in many state capitals, meeting with Governors of states, and other major decision makers, including the Congress. Having spent so many years in government as chief of staff to Governor Rockefeller, Bob never needed to be "prepped" on anything having to do with government affairs. He always said and did the appropriate thing, even when we were attacked as big bad invasive New York bankers attempting to buy up banks . He helped make my job much easier. He was always a preeminent pro and the calmest person in any adverse situation. He always displayed grace and style. I will miss him.
From Harry Z. Rosengart: I didn't know Bobby too well and interacted with him only on a couple of occasions, but all were truly memorable even over 30 years later. The first time I met him, I had no clue who he was or his purpose. The time was when the Chase Bank successfully defended Sterling Drug, a longstanding client of the institution, against a hostile takeover by Roche, AG, which was being advised at the time by JPMorgan. He wanted to thank me on two counts–for serving our client in their time of need by showing leadership, creativity and financial innovation when no one else did; and the second reason was that we generated a nice fee for the division without asset exposure. He came quietly to my desk and introduced himself and then asked if I had a couple of minutes and/or time for lunch. After he told me that he worked on the 17th floor, I made time for him. Unfortunately, I had a prior commitment uptown with a client, and he was fine with our brief exchange. He promised that we were going to have lunch in the near future. We had our lunch about two months later when he again called me to thank me for another profitable transaction. Our lunch was delightful and I got a chance to know him a bit more. We spoke on several other occasions during my career at the bank. Each time it was done with a touch of class, eloquence and a gentleman's demeanor. May he rest in peace.
From Rich Bittenbender: I only worked with him for a short time but I found that as a non-banker in a bank, he was one of those people who asked the core question the answer to which was assumed. A great gentleman and a pleasure to work with. Sorry to see his passing.
From Doug Monroe: Bob Douglas was very inspirational to me in my career. As the HR executive for DIB, and Peter Larr, he was the first member of the executive team to ever really listen to me and care about what I had to offer. Like him, I came from upstate New York, and he always mentioned that when he saw me. As a result, I sought him out for career advice at different times, and he had an ability to put my life interests in concert with my career interests. He often took the train to New York in later years, and liked nothing better than to hear how I was doing at my most recent endeavors. He was a gentleman of great integrity. We will all miss him.
In Memoriam: Robert Douglass, 85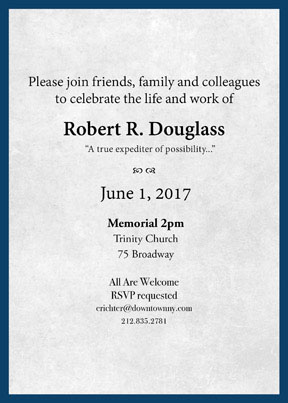 Robert (Bob) Douglass, former Chase vice chairman and counsel and a close advisor to David Rockefeller, died on Tuesday, December 6, 2016 at his home in Greenwich, CT. He was 85 and had been suffering from Parkinson's Disease.
Douglass was also counsel and secretary to Nelson Rockefeller, the four-term Republican governor from New York, and managed his 1968 presidential campaign.
From 1995 until he retired in 2015, Douglass chaired the Alliance for Downtown New York. The organization was organized by the Downtown Lower Manhattan Association, which David Rockefeller founded in 1958, when the Financial District was suffering.
"Bob gave me wise and thoughtful counsel, never once letting me down," David Rockefeller said in a statement after Douglass's death. "He was always an honest broker to our family."
Born in Binghamton, NY, he was a graduate of Dartmouth College and Cornell Law School and served in the U.S. Army. His resume included being of counsel to the law firm of Milbank Tweed Hadley & McCloy, a commissioner of the Port Authority of NY and NJ, and a director of Rockefeller Center Inc.
For a more complete article about Douglass's life and legacy, see the obituary in The New York Times.
He is survived by his wife, the former Linda Ann Luria; sons Andrew and Robert; a daughter, Alexandra Brooke Metcalfe; and seven grandchildren.
A public memorial service will be held at Trinity Church in lower Manhattan in coming months. Memorial gifts should be sent to New Yorkers For Parks' Daffodil Project or NY4P, 55 Broad St., 23rd Fl., New York, NY 10004.