In Memoriam: Thomas Taylor, 62
Alumnus of MHT, Chem, Chase and JPMC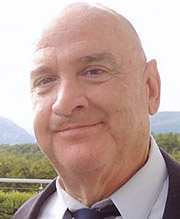 Thomas Taylor, an alumnus of Manufacturers Hanover, Chemical, Chase and JPMorgan Chase, died on December 19, 2016, in Ogdensburg, NY, where he had lived since retiring in 2004. He was 62 years old.
A graduate of Queens College, Taylor started with MHT around 1986 or 1987, according to his nephew Bill Taylor. At the time of his retirement, he was a Payroll Systems Analyst for Chase Bank in New York. He helped serve Mass at St. Mary's Cathedral in Ogdensburg, as well as Notre Dame, often walking there from his home. His family says his "interests and expertise stretched from the earth to the stars, from the seas to the heavens."
His survivors include two brothers and a sister, as well as many nieces and nephews and numerous cousins.

A memorial service will be held in the late spring in Ogdensburg, the date is TBD. Nephew Bill Taylor asks that colleagues reach out to him by e-mail or through Linked In.