In Memoriam: Hilliard Farber, 83
Headed Chase Manhattan's Bond Trading Desk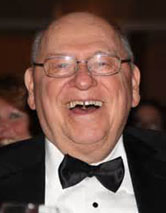 Hilliard Farber, who headed Chase Manhattan's bond trading desk earlier in his career, died peacefully at his home in New York City on Sunday, January 8, 2017. He was 83 years old.
A graduate of Rutgers University, Farber earned his MBA from New York University. He served as an officer in the U.S. Air Force for three years after his college ROTC, as a navigator for an air-to-air refueling squadron stationed in Anchorage, AK.
Farber started his career at the Chase Manhattan Bank and quickly rose to be their youngest Senior Vice President, heading their bond trading desk. While at the bank, he was invited to serve as a Brookings Fellow in Washington, DC, in 1964.
In 1975, Hill founded Hilliard Farber & Co., a premier interdealer brokerage firm, and served as its Chairman and Chief Executive Officer until the sale of the firm to Tradeweb in 2008.
He and his wife were longtime benefactors of Saint Ann`s School in Brooklyn Heights, where Hill served on the board for 31 years. For his dedication to the school, the St. Ann's Lower School building is named in the Farbers' honor. Farber also supported CARING at Columbia, a program to assist at risk children, for which Mrs. Farber serves as Chair.
He is survived by Gloria, his wife of 58 years; two daughters, five grandchildren and a brother.
The family asks that contributions in his memory be made to Saint Ann's School or to CARING at Columbia.