Life After Chase: Jim Elkin
From IT to Acupuncture (with Some Show Biz on the Side)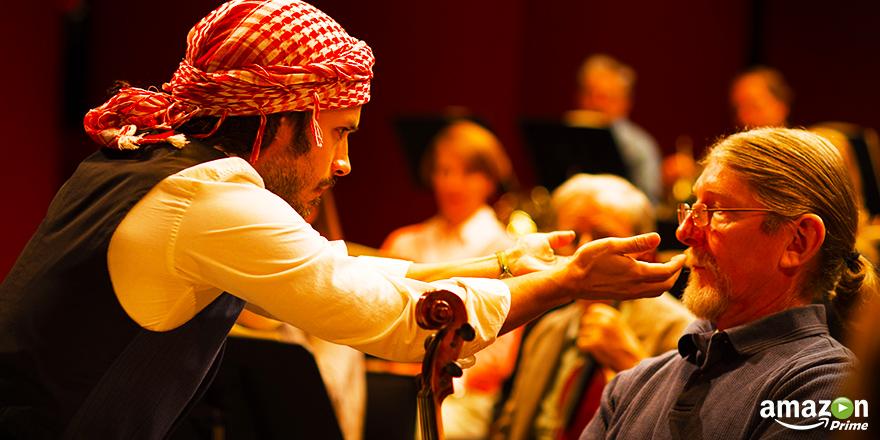 If you watch the new season (the third) of the Amazon hit series Mozart in the Jungle, look for the first violist in the show's fictional "New York Symphony", beginning with episode seven.
That's Jim Elkin, a former Chase vice president who used to manage several desktop support teams in lower Manhattan.
Playing viola in a hit show, however, is not the only interesting turn his life took after Chase. Elkin's main gig is as an acupuncturist in Hartsdale, NY, in suburban Westchester, north of New York City.
His life before and after Chase has taken interesting detours.
A California native, Elkin studied linguistics at Cal State Fullerton after studying music at nearby Santa Ana Community College. He came to New York in 1978 to do his graduate work in linguistics at Columbia University.
"First they said I could come as long as I didn't need financial aid," Elkin recalled. "I found I could fix and maintain any equipment they had, though, so they said we'll give you support if you keep supporting the office."
"I also became a research assistant, for a project in dialect geography. They had interviewed Jewish immigrants who had come to New York after World War Two. I thought it looked as though it should be on a computer, but there were no computers anywhere. So I took programming classes, and soon I was tutoring the classes at the same time I was taking them," Elkin continued. "I was running out of money, though, so I left Columbia and got a job at a small consulting firm."
Elkin became a consultant for Con Edison, a network engineer for Shearson, a network engineer consultant at NYU Medical School and then joined the Chase family. He programmed for Manufacturers Hanover Trust, consulted for Chemical Bank and became a full-time Chase employee in the 1990s. After working on the Y2K project, he was promoted to VP and given an IT team to manage.
Parallel to all this, was his growing interest in eastern medicine. Back in 1993, Elkin had sought relief for shoulder pain via acupressure. By 1997, he was studying at the Tri-State College of Acupuncture, at Eighth Avenue and 14th Street in Manhattan.
He said he felt increasingly stressed at JPMC and even more so after 9/11, remembering the smell that lingered below 14th Street.
He was working at 2 CMP when New York was hit by the blackout in 2003. "I said to myself, 'You've got to leave, you're done,' Elkin recalled. "I met my wife in acupuncture school. She was a civil servant at the time, and I made her quit right after she gave birth to our daughter."
In 2006 he walked away from Chase and opened EastWest Healing Arts & Acupuncture in Hartsdale. The practice now offers treatment via acupuncture, acupressure, Chinese herbs, scraping (Gua Sha), cupping, moxabustion, stones and other modalities.
"Our clients cover the gamut–all ages, all types. We mostly treat people with muscle pain and tendonitis," he said. "We have had to defend it a few times, and in social situations we're often challenged with 'Does that really work?', but The New York Times is good at explaining benefits."
Sounding like the IT professional he was, Elkin observed, "Alternative medicine is like working in different number bases; we're working from a different base than the base 10, which allows us to see a condition from a new perspective…Working from what we see, we treat and we have seen good results. We help with pain, swelling and inflammation, and we help muscles that were weak and tight."
"We teach people to prepare them for what will happen. People don't understand why putting a needle in the foot will fix a headache, Many are on a healing journey because western medicine hasn't worked for them," Elkin said.
His wife, Binghui, focuses her practice on trauma, whereas he focuses on muscular and neurological conditions, i.e. Parkinson's Disease, stroke victims, spinal injuries.
The practice also offers "Structural Dynamics", a technique developed by Binghui's Canadian brother, an orthopedic surgeon described by Elkin as a "massage therapist/acupuncture type of guy". It resolves muscle pain due to slightly dislocated joints. It involves massaging the involved muscles, then manipulating the offending joint to allow it to find a "neutral" location (one where it isn't putting undue pressure on the ligaments and muscles).
Elkin has had his share of aches and pains and yet, thanks to many of these eastern modalities, is able to ride a Harley and play the viola, which brings us back to his musical activities.
A few years ago, the producers of Mozart in the Jungle were seeking amateur musicians to flesh out the on-screen orchestra. Most of the orchestra scenes were to be filmed at the State University of New York (SUNY) Purchase, also in Westchester County.
As a violist in the New Westchester Symphony Orchestra, an amateur group, Elkin responded to the request for musicians and found himself on set. He started growing his hair and beard about a year before, and this has become his character image on the show. He has had more exposure than most of the non-acting musicians.
In the second season, Elkin was one of five non-actor musicians flown to Mexico for a scene. He said it was mostly memorable for having to wear a tuxedo in 85 degree weather, and the great food.
In the photo accompanying this article, from the first season of Mozart in the Jungle, Elkin is stared at by Gael García Bernal, who plays Rodrigo, a charismatic conductor modeled on Gustavo Dudamel.
"In the scene, Rodrigo walks off the podium and pretends he's unfastening my face. He pretends to pull it off and says 'There is no you!'," Elkin explained.
It would seem, though, that in many aspects of his life Elkin is now definitely a soloist.