Life After Chase: Martha Sherman
NYC's "Audience Queen of Dance"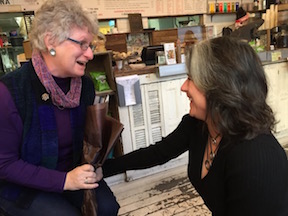 From 1986 to 2006, Martha Sherman worked at Chase as an organizational consultant in HR for the global bank, earning a PhD from Fielding Graduate University during her time there.
In 2015, Sherman was given a title she treasures quite as dearly as her PhD: "Audience Queen of Dance in New York City". It was bestowed on her by the Chocolate Factory Theater, a leading experimental theater based in Long Island City, as an honoree at its 10th anniversary benefit evening. (Photo, left)
Sherman began immersing herself in the world of contemporary dance in 2002 and has spent the decade since leaving Chase fully plunged into contemporary and experimental dance and performance art.
She serves on boards, acts as an advisor, gives free half-day consultations to non-profit companies and writes exquisitely for two websites, danceviewtimes.com and the newly launched dancelog.nyc.
And she goes to every edgy, way-out-there performance that might intimidate a lesser dance enthusiast. She estimates that she attends more than 300 performances a year. "I'm almost always the oldest person in the room, and I never feel as young," she said, acknowledging dance performances' ubiquitously young audiences.
Sherman spent 12 years on the board of Dance Theater Workshop (DTW) and is now on the advisory board of NewYork Live Arts, which came out of DTW's merger with Bill T. Jones/Arnie Zane Company. In 2007, she was a founding board member of and is now president of Mount Tremper Arts, a multi-disciplinary haven for performing artists in the Catskills, offering residencies for the creation of contemporary works.
Both formally and informally, for pay and out of friendship and admiration, Sherman advises such groups as Chez Bushwick, Center for Performance Research, Big Dance Theater, a canary torsi, and Fist and Heel Performance Group.
She still spends about a third of her time as a highly remunerated organizational consultant for big-name clients and makes sure there's time for a daily Skype session with her 94-year-old mother who lives in Rockville, Maryland. Sherman visits her mother about three times a month. The American Dance Institute is just down the street in Rockville, so Sherman can take in some performances there.
Sherman was an English major at University of Pennsylvania and earned a masters in student counseling at University of Maryland, College Park, describing it as "a degree for people who want to be deans." She began her counseling career at Columbia University but soon moved to CitiBank, where she developed a course on consulting skills.
She was hired by Chase in 1986 for a new position in manpower planning, reporting to her "career godfather" Stan Schrager, then head of HR for corporate industries.
"I never had a job at Chase that had existed before," she said. Whatever the title, the jobs had to do with change management, leadership development and "building interesting practices based on problems identified by business managers".
Sherman spent a year in Hong Kong helping executives at Jardine Fleming after Chase acquired Robert Fleming. At the end of the year, she received a call from New York headquarters: "We bought JPMorgan. You need to come home tomorrow," she recalled.
Back in New York, she was an early beneficiary of a work-life program she had helped develop, allowing her a flexible work arrangement in order to obtain a doctorate. She worked four days a week while earning her PhD in Human and Organization Behavior at Fielding Graduate University in Santa Barbara.
"I completed my PhD in six years, and agreed that I would use what I learned at the bank, but my long-term goal was to go independent," Sherman explained. She left when she was 51.
"A few years before I left, I started wanting to give back," Sherman said. She mentioned to a colleague that she wanted to consult for a dance company. The colleague was on the board of DTW and said they needed help. "They had all the same organizational issues that big Chase and big Chemical had. It was wonderfully fortuitous – I could have said I wanted to help a theater company or social services agency."
There were 30 artists on the board of DTW, representing the "bedrock of contemporary dance", and in the course of a year she went to see all of their work – "interesting, exotic, bizarre, some of it ugly, challenging." She was then asked to join the board, and then became its vice president.
"I knew Tricia Brown, Lucinda Childs, Merce Cunningham, but not the edgy dance I'm now around," Sherman stated. Asked whether watching the rule-breaking, spatial rearranging and explorative nature of contemporary dance influenced her organizational consulting, she replied, "It may be the opposite. Bankers are not all the same. All people have different patterns and issues.
Having an open mind in my consulting practice helped me see things in the dance world. If I had come wanting expectations met, I'd never had gotten into it."
"People think of coaches and consultants as magical, but the best thing we do is get them to talk, and no thinking is bad thinking," she said. "Organizations that are going well need someone like me. Organizations that aren't really need someone like me. I can help make it better - not perfect, but better."
She also consults for non-dance companies, for example developing a strategic plan for the board of Volunteer Lawyers for the Arts or facilitation training for the Morningside Heights Community Coalition.
"One project leads to the next," Sherman said. "There are so many ways my lives connect and collide. I feel very lucky."
She won't work on more than four corporate projects a year, and some of it is with a colleague at MIT, with whom she teaches at the Sloan School Leadership Institute.
How would she advise someone who wants to venture into the world she now so thoroughly inhabits?
"My caveat is that my tastes are really broad and deep," she said, but among her recommendations are works by: Brian Brooks with (former New York City Ballet prima ballerina) Wendy Whelan; Jonah Bokaer; Reggie Wilson/Fist and Heel Performance Group; Susan Marshall; Annie-B. Parson and Big Dance Company, Sara Juli and Eiko & Koma.
"There's a breadth of ways to see dance. Don't have any expectations. Feel what it does to your body and let that be your truth — see, listen," she advised, admitting that sometimes even she sees things that scare her.
As for the edgy music that often comes with edgy dance, Sherman said, "Sometimes I walk into a performance and I'm given earplugs. That's data. There's a lot of electric music. If you need to look for scores that are more romantic, but often with things I don't expect to tolerate well musically, I just let it exist – let the music be the music
"But be kind to yourself — start small. Don't go to edgier pieces in the edgiest space at first," Sherman said. "If what you read about a dance company makes you think 'yuck', don't start there, but six months later, give it a try."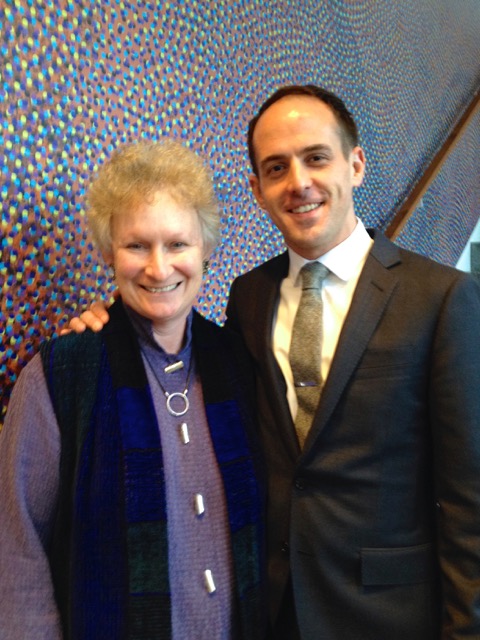 Martha Sherman with choreographer and dancer Brian Brooks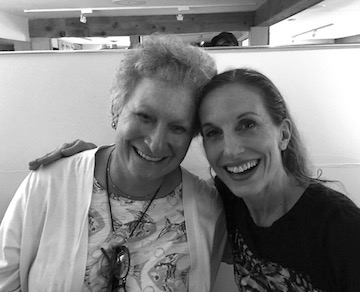 Sherman with Wendy Whelan