Remembrances
Please send tributes to news@chasealum.org.
From Mike Esposito: It was with considerable sadness that I received the news of George Mah's passing. I had occasion to work with him for over 25 years at Chase Manhattan Bank, and I will never forget his diligent hard working style that was present in any job he ever undertook. In addition, he was very caring and thoughtful and respectful to all he talked with throughout the Bank.
I first met George when he was working in the Cost and Standards Division of the Controllers Department. He was very proficient and knowledgeable in the field of managerial cost accounting. Later on he transferred to the Financial Project's Division of the Controllers Department where he performed over the years on many high level and complex projects, including corporate governance and special analyses related to litigation, and from there he went on to the Regulatory Compliance Division as the Manager.
Regulatory Compliance can be a very difficult task to manage and disseminate rules that can be used throughout an organization the size of Chase. George was able to effectively deal with this for many years without the Bank ever incurring a penalty or fine that I can recall. By today's standards, this was a remarkable achievement.
From Brahm Nirgunarthy: I had worked with George in early seventies in the Corporate Controllers team. He was a true professional leading his team under Mike Esposito. I learned a lot from him during those days. He used to address me as Brahms although my name was Brahm. He always used to circle around the ground floor in Chase Plaza along with his colleagues during lunch break. May his soul Rest In Peace.
From Gary Glick: I had the great pleasure of working with George on a daily basis on an intense special project in Bangkok in the summer of 1979. Through days and nights, George was like a sage tutor to a junior officer like me, who was still wet behind the ears. George seemed to have been everywhere and seen it all. Yet he remained unfazed and unflappable. For all the years after, he has remained my ideal of a true professional.
From Paul Hemminger: I worked and traveled with George Japan and Hong Kong on a number of projects from 1978 to 1980 when we worked in the Financial Projects in the Controllers Department. I considered George a mentor and friend, and we spoke often until he retired. He always provided sage advice and had a unique ability to look at issued from all sides before providing solutions. He will be sorely missed.
From Kerry Scott McDonnell: I had the great privilege of working with George on numerous training programs through my Chase career, and calling him a friend and mentor. George was both a true renaissance man and an incredibly tapped-in 'behind the throne' figure during his career. He seemed to know everything going on on the 17th floor, seemed to know virtually every manager in every country–and, above all, he was trusted.
I first met George when I was working in Karen Brethower's corporate training department in the early 1980s. One day she told me she wanted me to help Mike Esposito develop and run a three-day training program for Corporate Controllers worldwide. Espo appointed George as my point man. That began a friendship with George that lasted the remainder of my Chase career.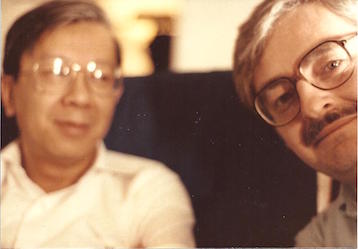 I think George adopted me as an international neophyte. George had many languages, and was the most culturally sensitive person I think I ever met. When we would fly around the world together for training programs, he seemed obsessed to use the time on Pan Am to teach me cultural norms in the countries we were going to and give me a few basic phrases in the language.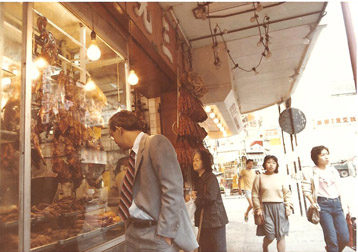 George knew where to get a bite to eat in London at 10 o'clock on a Sunday when your landing was delayed. He knew the best dim sum places in HK. He knew the schedule for the Macau hydrofoil. He walked me through alleyways in HK to find jade shops so he could buy his wife presents on his trips. He had HK's Harry the Tailor's phone number memorized.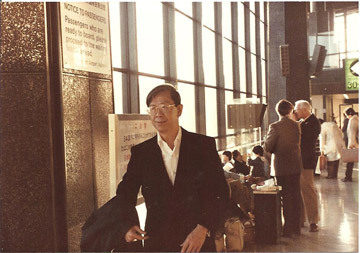 Back at 1 CMP, George was a political mentor to me, and he was indispensable in helping me navigate the 17th floor when I ran the Manager's Awareness Training Program, which used Thomas G. Labrecque and his direct reports (including Espo) as speakers.
One day, when we were flying to London for the Manager Awareness Program, I asked him a question about one of the senior officers I was having trouble with supporting the program. George gave me a bland, politically correct answer. Then he looked at me with that impassive face and said something I never forgot – "Mac, don't listen to what I said. Listen to what I didn't say." I have used that line with my various staffs for the rest of my career.
George d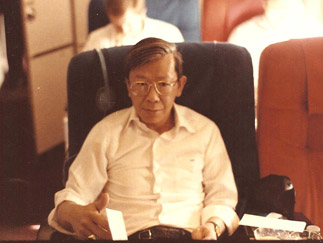 ecided to move to Princeton Junction, where I was living, towards the end of his career. So I drove him around the developments and got my friend, a real estate agent, to help him buy a house. So we would commute together. Many times at 5 o'clock at CMP, the phone would ring and it was George saying, "Let's have a beer on the way home." So we would go drink Kirins at a Japanese restaurant he hung out in with his Controller buddies.
George was a true professional. And if there was anyone who exemplified the 'code' of 'legacy Chase' it was him.
From Hughlyn F. Fierce: He was an outstanding colleague. Smart, engaging, friendly, commited to high integrity, savvy, supportive was a credo that influenced George's relationship with our colleagues. He died too early. We continued after retirement to share views of the market, political activity, world events and the progress of the bank. I will miss this truly valuable person.
From Bob Deak: George was the 'go to guy' for all matters financial. Completely unflappable, he made the impossible easy with a smile and kind word.
From George Antipas: It was with deep sorrow that I learned that George Mah passed away. George hired me at Chase in the 1970s in the Controller's Department. Working with George I benefited from his knowledge, clear strategic thinking and advice. George Mah was a highly ethical person who always showed patience with his colleagues, perseverance in his endeavours and dedication to Chase. Over the years, I was very lucky to be one of his friends. My sincere condolences to his family.
From Phil Sorace: When I was heading the Government Finance Division, Chase Treasury in the early Eighties, I was introduced to George who quickly became a confidant, mentor and "go to" problem solver. Easy going, laconic in the best sense,and unflappable, one could approach George with almost any financial matter and realize there was no bottom to the well of his knowledge, largely because if he didn't have an immediate answer for a posed problem he quickly found one; the right one. I am sure there were many others in the Bank, at the time, who knew this, too. He was indeed the Secret Sauce (spelled "Source") of the Bank. My condolences to his family.
In Memoriam: George Mah, 80

George Mah
, a 32-year veteran of Chase, died on February 1, 2017 at his home in Honolulu. He was 80.
Mah was a Vice President, Corporate Controller and worked until his retirement in 1995 with Mike Esposito.
Mah grew up in Union City/Weehawken, NJ. He joined Chase in 1963 after serving in the Air Force. He graduated from the Rutgers Executive Management program and Dartmouth College Tuck School TEP Summer Program.
He is survived by his wife, Yuriko, his daughter, Amy Sangiolo of Newton, Massachusetts, and three grandchildren.
Memorial donations can be sent to UMASS Boston Institute for Asian American Studies, the Kidney Foundation or the American Liver Foundation.