Remembrances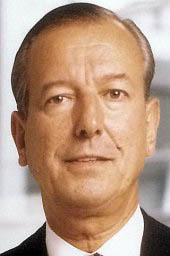 From Peter Belmont: Very sad news. Francis, since my earliest days at Chase in the early 1960s, was directly or indirectly my immediate boss until his own retirement. He was for me a mentor and taught me a great deal about international banking, dealing with people, negotiating, looking at risks with plain common sense as well as encouraging initiative and the taking of responsibility. He was also a friend who took care of his people, following and encouraging their careers. Good to be with socially, too!!
I was lucky to be assigned to his area of Latin America after the SDP, with almost seven years in Brazil over a 10-year period as Assistant Representative, then Representative and then as Director of Corporate Banking at the Banco Lar Brasileiro financial group, and then at Libra Bank in London where I eventually became its CEO. Great fun!
With Francis' passing, an era has also passed for me and for those colleagues at Chase who worked closely with him. Good years!
From Carl Gustavson: I can not agree more with the comments by Peter Belmont and his feelings and opinions of the late Francis Mason.
Without a doubt he was one of the most unforgettable, supportive and influential individuals in my career.
He was extremely intelligent, tough, fair and very loyal to his people.
In addition to his being my senior at Chase for many years, we both shared a love for Shelter Island and had homes there. This different relationship helped us developed a close friendship.
When local merchants and acquaintances would ask, "Were you a big shot at the Chase like Mr. Mason?", I would reply, "To put it in prospective, he was in charge of the Western Hampshire and I was the manager for the Dominican Republic." Francis would always get a chuckle when he heard that.
Rest in peace, Francis. You were a very good man.
From Ulises Giberga: I knew Francis had been seriously ill for some time, but the news of his passing still came as a shock. I reported directly to Francis for many years in the 1970s and early 1980s, first when I was General Manager of Chase's Caribbean branches (ex Puerto Rico), and later when I was in charge of International Private Banking in the Western Hemisphere. Francis was very much a hands-on boss: very knowledgeable, very fair, and very supportive. He also relished thinking out of the box; I particularly remember his occasionally asking "Why are we here?", to which there wasn't always a ready response. Rest in peace, Francis. And sincere condolences to Colette, and to his children, Catherine, Claire, and Patrick and their families.
From Toni Geyelin: Francis Mason was an amazing man. He was a commanding presence with a sophisticated manner and outlook. He also had a lovely sense of wry humor evidenced by a certain twinkle in his eye. His language skills were formidable.
I first knew Francis and Colette as a friends of my parents. Francis was also a Chase colleague of my father's. Subsequently I knew him as a boss and mentor.
He was a risk taker and provided me the opportunity to join the Mexican Team as the first female corporate calling officer Chase had ever sent into the region. Subsequently he invited me to assume the role of Manager of the Financial Controls Unit for the Western Hemisphere Banking Group. (That was a challenge as it came with the responsibility for consolidating Banco Lar into the Chase balance sheet–an event Banco Lar resisted mightily.)
Frances was demanding, fair, supportive and encouraging. He liked unconventional and creative solutions. He and Colette were a wonderful couple who enjoyed life and each other and had fun. My condolences to Colette and the family, but I do feel certain there is solace in many, many wonderful memories.
From Yakir Lubowsky, Francis Mason's son-in-law: I was a young associate at Milbank Tweed in the mid-1980s, working on the 48th floor at One Chase. My work was principally with the firm's Project Finance Group, and so frequently with my project counterparts at Chase (including on the monumental Worsley Alumina Trust in Australia).
Francis was then already working on the Venezuelan debt restructuring, which swallowed up my colleagues Bob Morin and Kathy Moore, and our superiors Peter Rowntree and Frank Logan. I watched Francis pass my office frequently on his way to the large 48D conference room, where the international bank advisory group meetings were held, directly across the hall from my office.
One day I returned with a sandwich from the cafeteria on 47 to find my door closed. I never closed the door, so I opened it gingerly to find three men in an obvious state of exhaustion: Frank Logan, my Banking Department's boss of bosses, sitting at the cluttered desk; the finance minister of Venezuela, fingering through the history volumes in my bookcase; and Francis, looking out the window at the dramatic view of the Brooklyn Bridge. No one was speaking, and the tension was so great that a pressure wave hit me as I opened the door.
Frank Logan spoke, "Yak, we were just borrowing your office for a bit, to confer, is that alright?" Francis turned to look at me… he was clearly unhappy -- and famous both upstairs and down at One Chase for being someone whom you generally regretted rendering unhappy. But he offered a small, barely perceptible, twinkle of the eye as I closed the door. (I had been courting his daughter, Claire, for two years at that point.)
Among lawyers at Milbank, Francis was the object of considerable respect (and, for some, no small amount of fear). But in the nearly 30 years he would be my father-in-law, he was an affable partner in frequent martinis (vodka) and political discourse (conservative), who supported any undertaking I believed in (including six years as an elected official).
There was much more "father" than "law", in our relationship, although I was also his attorney after he retired from Chase, served on assorted corporate boards and consulted on international business.
One last recollection: not long after he and Colette moved to Warrenton to be near Claire, the girls, and me, Francis and I went to the Smithsonian to hear David Rockefeller speak about his fascinating, just-published, memoirs. Afterward, we waited patiently in line to approach the table where he was pleasantly but methodically signing books. As we neared him, Mr. Rockefeller glanced up and saw Francis. "Look who's here!" said DR, as he rose from the table to come around and engage Francis in a wonderful, heartfelt embrace.
Knowing Francis' strong feelings for Mr. Rockefeller, my eyes welled up suddenly as I watched these two grand old lions, in an extended grip of mutual affection and respect. It was a privilege to be there in that moment, and remains a powerful memory of them both.
From David Burns: I worked closely with Francis Mason in New York as part of his team during his time as Chairman of the Venezuelan debt restructuring committee in the early 1980's. It was an interesting and formative experience for me.
Francis was quite a special person with a broad knowledge and experience of the world in general and Latin America in particular, and I was always impressed by how much he knew and how happily and clearly he was prepared to share his knowledge. Travelling with him, as I did on a number of occasions to Caracas, allowed me to know him quite well and appreciate his personality and unique ability to relate with government officials, business leaders and fellow bankers.
He could be a tough and sometimes difficult manager, but he was always fair and very supportive. He was a tremendous professional and real gentleman.
My thoughts and prayers with his family. I will remember him with respect and gratitude for his friendship and for what I learnt from him and how he taught me.
From Gabriel P. Caprio: A great leader when it came to the economics of Latin America, especially the Southern Cone. His knowledge and instincts of Brazil, Argentina, Paraguay and Chile proved to be correct. If we hadn't loaded up on so many USD loans, the mess we got into would not have happened to the extent it did. I am proud to have worked for Francis, and my days at Chase in Latin America and the Caribbean under his leadership are to be cherished forever.
From Douglass Carver: He was Managing Director of the Banque de Commerce in Antwerp for the two years when I was a member of management. On first contact, Francis seemed distant and severe. But once a working relationship was established, he turned out to be warm, supportive and good company. He certainly ranks as one of the best people I ever worked for. I have often wondered whether the people in New York could ever appreciate such a sophisticated and cosmopolitan individual. I am delighted to see by his subsequent career that my concern was ill-founded. If his wife sees this note, may she know of my respect for her husband (and the couple, for more than once Colette graciously hosted Banque de Commerce functions where I was present) and my belated condolences.
In Memoriam: Francis L. Mason, 93
Francis Lucien Mason, who ran Chase's Latin American business for many years, died in Warrenton, VA, on March 14, 2017. He was 93 years old.
Born in November 1923 in Le Havre, France, his family resettled in Santos, Brazi in 1934. Mason attended French boarding school in Sao Paolo and traveled extensively throughout South America.
Mason worked for Continental Grain, a French commodities company in Brazil, which in time moved him first to Paris and then, in February 1956, to New York City.
His financial acumen and fluency in four languages were noted in transactions by The Chase Manhattan Bank, earning him a job there. He caught the eye of David Rockefeller, the future bank chairman then leading Chase's major international expansion. Rockefeller sent him to run Chase's initial European bank acquisition, Banque de Commerce in Brussels. It would prove the first of a series of important international assignments Rockefeller gave Mason, culminating in his position as senior vice president with responsibility for managing the bank's Latin American affairs and chairing its country risk committee, where Henry Kissinger was his longtime advisor.
As part of his Chase portfolio, Mason also chaired the international restructuring committee renegotiating Venezuela's obligations in the debt crisis of the late 1980s, an effort requiring his coordinating the various interests of more than 500 banks globally with the activities of the IMF, all under watchful pressures of the U.S. secretaries of State and Treasury.
Mason especially enjoyed the respite of his homes in Manhattan's West Village and waterside on Shelter Island, NY, where he loved to garden and sail.
In retirement he added civic and other activities, serving as president of The Shelter Island Association, co-founder of the Island's educational foundation and as a board member of the SI Yacht Club, among other responsibilities. In 2003, Mr. and Mrs. Mason moved to Warrenton, to be near their daughter and her family.
Survivors include his wife of 59 years, Colette Martin Mason, their three children and six grandchildren.