CAA NYC Reception, April 25, 2017
Remarks from Espo. A moment of silence for DR.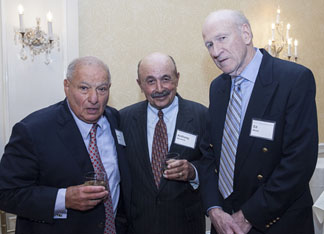 Eighty Chase alumni braved a particularly rainy and windy evening on April 25, 2017 for a spring reception featuring remarks from Mike Esposito, former Chase CFO. (He's in the photo at left with Anthony Salvatore and Ed Moran.)

The group also offered a moment of silence in memory of David Rockefeller, who died in March at the age of 101.

Chase Alumni President John Ward described "Espo" as one of the true legends of Chase. Esposito began at Chase on July 10, 1961. "I loved the business of banking and above all, I loved the people," he said. Clearly, his former colleagues loved him back.

Two of the three door prizes were won by new CAA members. Jim Keenan won a copy of CAA co-founder Hans van den Houten's book, A Year in Africa. D. Dayneen Caldwell won a book by another CAA author: Howard Hallengren's Reminiscences of an Accidental Embezzler. CAA veteran Marion Moeller won a $50 amazon gift card.