In Memoriam: George W. Dougan, 77
Banker, Lodgekeeper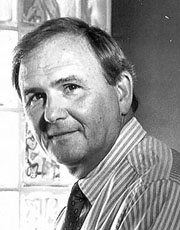 George W. Dougan, who worked for Chase in Albany, Boca Raton and St. Thomas, USVI, died Friday May 5, 2017, after a long illness, from complications due to a fall and subsequent traumatic brain injury eight and a half years earlier. He was 77.
George was born in Queens, NY. He met on his future wife of 57 years, Camille, while on his daily paper route. He worked days and went to college at night, starting with his undergraduate degree from New York University and continuing at Columbia University, St. John's Law School and The Stonier Graduate School of Banking.
After starting his banking career at Citicorp, he was with Chase Bank from 1972 through the late 1980s. At Chase, after the credit training program, he was with the Retail/Individual Bank, first in the branch system both Upstate NY and Downstate, before moving to Personal Financial Services in Boca Raton, FL, and finally the International Individual Bank (IIB) in the U.S. Virgin Islands. He moved to Bank Boston in Boston and Palm Beach, FL. In 1994 he took over the banking operations for the former First National Bank of Glens Falls, eventually combining the separate entities under the Evergreen Bank title. He served as president, CEO and chairman of the board until his retirement.
The Dougans eventually purchased 'Seminole Lodge' on Brant Lake in the Adirondacks, and ran it for 25 years as a business and continued to live on the property for almost 20 years, until his fall.
He is survived by his wife, Camille, three daughters, four grandchildrenand a great-grandson.
Relatives and friends may call from 4 pm to 7 pm Monday, May 15 at Barton-McDermott Funeral Home, Inc. 9 Pine St. in Chestertown, NY. A prayer service will be held at 7 p.m. following the calling hours.
A celebration of Dougan's life will be held at a later date.
Remembrances
Please send remembrances to news@chasealum.org.
From Marty Katz: ​I have fond memories of working with George when we were both involved in managing Chase's Upstate Banking in the early 1980's. He was an excellent manager and great person to work with. He will be missed.