Remembrances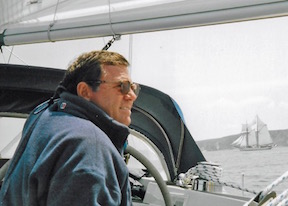 From Eileen D. Robbins: Bill's career with Chase spanned more than three decades of international and domestic executive assignments, both in corporate and entrepreneurial settings. I was very fortunate to have met Bill in June 1973, early on in his career at Chase and at the beginning of mine as a member of CC6, a rather colorful group of trainees in the Bank's training program for commercial lending officers. Bill was on the training staff and had the dubious distinction of having to teaching us how to perfect a security interest under the UCC. He managed to do so with the wit, patience, thoughtfulness, humor and grace that characterized everything he did.
Bill was always the consummate professional who built strong relationships with colleagues and clients based on his intellect, skills, integrity and drive to find the best solution for the need at hand. He was a wonderful colleague, mentor, and friend always ready with words–often wry and humorous - - when needed of encouragement, thoughtfulness and kindness. Most of all, Bill was devoted to his family, commuting for many years from Wolfeboro, NH, to New York, a six- to seven-hour trek, often round trip in the same day late in his career. This one choice to live in such an idyllic place, I think, sums up the character of the man. Bill was someone who always put the needs of others ahead of his own and was there wherever and whenever needed whether for clients, colleagues, friends, and above all family. He will be sorely missed by all.
From Yoram Kinberg: I met Bill in the late 1970s in London when he was responsible for Chase Investment banking for the Middle East Area.
We stayed in touch for over 20 years and worked together in building Consumer Businesses in Asia and Latin America in the 1996/98 period.
When we both left Chase, Bill was my partner in Atid Capital and Allegiance Capital, and we shared many experiences working on various projects together.
Bill was a role model for professionalism and hard work and always stayed calm and projected optimism.
Moreover, I will never forget that Bill offered us his apartment in New York when our apartment near Ground Zero was damaged in 9/11 and we had to evacuate it.
He will be surely missed by all.
From Rajesh Singh: Bill and I worked for Rick Geissinger in the 1980s in commercial real estate. I still remember him making the commute from Wolfboro. I consider Bill a good friend and am shocked to hear of his passing away. Many heartfelt condolences to his family. With fond remembrances, Raj.
From George Keenan: I worked for and with Bill while opening the Chase Branch in Oslo. Good guy, great sense of humor. I clearly remember his comment that Oslo was a terrific place for sailing except for the ice!
From Eytan J. Lombroso: Bill was a great professional, partner and friend. I met Bill 21 years ago when we were putting a team together in order to build an International Consumer bank unit for the new, post-merger Chase Manhattan, and was told about this great guy who built a name at the old Chase for being able to get things done in complex situations. From that point, our path was intertwined in attempting to build big projects and pursue big dreams while always focusing on the small day-to-day things that really matter. During the early days at the International Consumer bank, we traveled extensively to countries in the area–Hong Kong, Singapore, the Philippines, Indonesia– and I always marveled by how quickly he was able to assemble local experts and Chase alums to support our mission. Bill always operated with limited resources, on a strict budget, being away from his family for extended periods of time. After the collapse of the Baht, the bank put the expansion project on hold and our team was moved to the Credit Card business where he excelled in card portfolio acquisitions and other business development activities.
During the winter of 2000, we were asked to "volunteer" and join the newly formed tech unit of Chase.com, with a mission to lead all technology and Internet investments for the Retail bank. It is here that Bill demonstrated his strong investment skills, analyzing business plans, technology platforms and, as importantly, the management team's character and skills. During that intense period of 12 months, we met with over 200 start-ups that all wanted to make a mark at the great Chase Manhattan. Bill always kept a fact-based approach and never allowed personalities or internal bank pressures to get in the way of an honest evaluation of a new company.
In the spring of 2001, we were told that our mission at Chase.com was surplus to the bank and, despite potential opportunities within the bank, we elected to leave and started Atid Capital Partner, which later became the New York office of Allegiance Capital. This is where Bill excelled and his experience and wonderful style came to full fruition. Together, we worked a crazy variety of M&A transactions that included a sand mine in Delaware, an electronics company in upstate New York, a rubber manufacturer in Alabama, a high-end engineering company in Delaware, a forest products company in Virginia, payment companies from Arizona to New York and many, many more . All had a common denominator of being family owned, privately held businesses that were built by tough, hard-working owners over the years, and all of them were immediately impressed with Bill's calm confidence, his professional demeanor and his ability to work with their legal and financial advisors who many times did not seek our company. Many of those clients opened up their personal lives and home challenges to Bill because they trusted him. Sounds like a simple thing, but in reality, Bill had this unbelievable ability to establish trust with strangers because of who he was–always focused on the facts, always focusing on the rational side of the story and always sticking to the mission at hand without any personal agenda or ego impacting events.
During that period Bill also help found Magnetecs, a medical robotic company in Los Angeles, a platform with amazing technology and potential great impact in the area of cardiology. He was a key director during Magnetecs' early days and negotiated the investment of St. Jude Medical into the company.
During those 21 years, Bill and I went together to at least a dozen countries and two dozen U.S. states (more than I have been with my wife), and I mostly recall the little moments when his kids would call, and he would stop everything and provide them with advice, coaching and support.
I have learnt much from Bill and have become a better person as a result.
May he rest in peace.
From Peter Dodds: Bill was a true friend. When we got together, too infrequently, it always felt as if we had been talking only the day before. He was one of the most creative, energetic and positive people I have ever met. We would get together in Boston when he was on his way from New Hampshire to New York City to close another deal, and he always had deals to talk about. We would reminisce with pleasure about our careers at Chase and all the people that we had worked with and the experiences that we had in common.
From David Weisbrod: I first met Bill in 1973. Little did I know at the time, but this would be the beginning of a friendship that would endure for 44 years.
Bill was a very effective teacher in my Credit Training class, managing to make the credit modules sing. His calm, constructive style played such a big role in my life. Bill's enthusiasm contributed to the successful launching of my career in banking and for that I will be eternally grateful. Before joining Chase, Bill had played football in college as a linebacker. When I noticed Bill frequently carrying a copy of the current issue of the The New Yorker, it blew apart my first stereotypical misimpression. Here was not a shallow banker/footballer, but a curious and engaged thinker, who cared about social issues that spanned far afield from the world of finance. As I got to know Bill better, I appreciated his depth of character, his deep caring and his work commitment that reflected deep values of helping others, sharing knowledge and experience and contributing to others' personal growth and development.
Years later when I ran the Credit Audit Group, and during a period after Bill had left the Bank, I was able to recruit Bill back to Chase to become a Team Leader, managing a group of very bright young analysts. I knew that Bill would be the perfect choice for such a role and indeed he was. Bill was one of the most highly respected people in the Group, with analysts seeking him out and volunteering to participate on assignment with him. Bill led a number of our most challenging audits in locations throughout the world, and his style and substance helped many young bankers grow their professional skills and develop a deeper understanding and appreciation of the work of finance.
Bill, we will miss you. You have helped change many lives for the better, and your legacy is one all of us should be inspired to replicate.
From Warren Lasch: I was a client of Bill's as we went through the years long process of selling my company.
His love of sailing and the sea and the lessons he learned therefrom were clearly assimilated into his business career.
Bill was the calming force that settled the raging seas and the beacon who guided us around treacherous hazards.
He was unflappable and thoughtful, and invaluable in helping plot changes to our course that eventually bought us safely to our destination.
Bill truly was a gentleman and rarely would he utter a discouraging word. He was a friend; counselor; coach; navigator; advisor; and teacher – in fact, he played whatever role necessary to keep the negotiation moving forward. His calm approach and measured responses saved the day on many occasions.
As so often is the case, I wish he was still here because I would have liked to tell him these things personally. Since he is not, I can only wish "Fair Winds and Following Seas".
Bill, you are the best and thank you for all you have done.

From Barbara Leon: Truly a lovely person. He did many wonderful things for others. Among the most memorable for me was opening up his home to us after 9/11 when our home was destroyed.
Bill will always be remembered by those of us touched by his kindness and friendship.
In Memoriam: Bill van Wagner, 72
William Neale van Wagner, better known to colleagues, friends and family as Bill, died on April 23, 2017 in Bristol, Rhode Island after a valiant battle with brain cancer. He was 72.
Van Wagner was born in 1944 in Montgomery, Alabama. He spent much of his childhood traversing the United States as his father's service in the U.S. Air Force necessitated frequent moves. By the time he reached high school, the family had settled in Atwater, California, where van Wagner graduated from Atwater High School. He then attended the University of California Santa Barbara, where he was on the school's football team.
After graduation, van Wagner worked in the Bahamas, where he met his future wife, Erica (Bonnie), and soon thereafter was assigned by the U.S. Army to the Redstone Arsenal in Alabama. There he taught ordnance to NATO military members as a First Lieutenant, while studying advanced mathematics at the University of Alabama in Huntsville. After earning an MBA at American University in Washington, DC, where he was also a teaching fellow, van Wagner joined Chase Manhattan Bank in 1971. After completing the Credit Training program, and then subsequently joining the Training Staff, his first international assignment was in Osaka, Japan. This was followed by stints in London and Oslo, where he set up a de novo Chase branch.
Upon his return to the States, van Wagner settled the family in Wolfeboro, New Hampshire. This idyllic spot became his family's home for over 30 years, even as he continued to work in Manhattan and overseas in such roles as managing credit audit teams, heading the Asia Pacific expansion team for consumer banking working throughout the region in Thailand, Hong Kong, Singapore, the Philippines and Indonesia, acquiring both international and domestic credit card portfolios, and leading business development efforts within the newly formed tech unit of Chase.com. Van Wagner then joined the Investment Bank, where he was actively engaged in sourcing, evaluating, structuring and negotiating various transactions in the M&A and capital market financing arenas.

In 2001, van Wagner left Chase to help form Atid Capital Partners and later joined Allegiance Capital as Managing Director. In 2014, he and a colleague managed a transaction that received the 2013 Energy Deal of the Year from the New York Association for Corporate Growth, as well as the prestigious 2014 M&A Atlas Award for the Energy and Service Deal of the Year.
Van Wagner was a devoted father and grandfather who valued spending his free time with his family and faithful Labrador. He shared with family his love of skiing and hiking and was a 16-year member of the Appalachian Mountain Club. He enjoyed hundreds of hikes in the ancient granite mountains of New Hampshire. On his trusted bicycle he peddled the shores of Lake Winnipesaukee many times over, participated in the local Granite Man Triathlon and took century rides in the White Mountains. Van Wagner was perhaps most in his element aboard the small sailboat of dear friends who frequently invited him to sail the coasts of Northern Europe.
He is survived by his wife, four children and four grandchildren.
Memorial gifts can be made to the Appalachian Mountain Club to support the 'A Mountain Classroom' Program, a hiking-based learning experience for students from New Hampshire. Donations should be made with the name William van Wagner noted and sent to: Appalachian Mountain Club, Attention: Development Office, 5 Joy Street, Boston, MA 02108.