Life After Chase: Rosemary Stidmon
From Banker to Garlic Farmer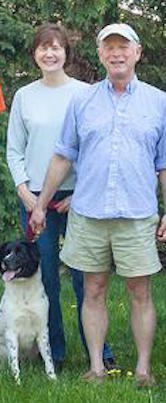 Rosemary Stidmon has all the credentials of a worldly banker, including working for more than 24 years for Chase in New York and Hong Kong. She was a relationship manager for the newly formed office for Global Securities Services. As a vice president for Treasury Services, she was responsible for the profitability of Australian and New Zealand corporate clients. Her husband, Ron, did economic modeling for Chase Econometrics, McGraw-Hill and DRI.
Now they're organic garlic farmers on their 90-acre farm in Pennsylvania.
"I don't think garlic is any different than financial services," Rosemary said. "The things you learn as a sales person, marketer, product developer – those principles apply to garlic as well. You have pride in the company you work for and the products you're markeing to your clients. Same in private business. We want to have the best product out there."
Shaken by 9/11, the Stidmons reexamined their priorities Self-described "refugees from midtown Manhattan", the Stidmons purchased a scrappy organic vegetable and herb farm in 2003 in Enon Valley, PA -- a town of fewer than 350 people, less than an hour northwest of Pittsburgh, close to the Ohio border.
"We were not sure which direction we would take with the farm," Rosemary said. "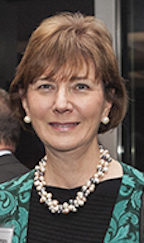 We wanted to grow things for ourselves but find an idea that would differentiate ourselves and make a difference healthwise. My husband is an interesting guy – an idea man – and he said, 'I think garlic is the way to go.' The more we did research about garlic, the more we discovered about garlic. Most health benefits are from eating it raw – in tapenade, in hummous, on a bruschetta."
Rosemary stayed with Chase until January 2009, her last few years with Chase working from Pittsburgh, her home town. Then she and her husband gave all their energy to the farm. They now have 11 individuals from five families living and working on the farm. Ron notes: "Each individual has a different skill set: photographer, wine maker, wild edible expert, composter, musician, herbalist, artist, mechanic, businessperson, and dreamers all."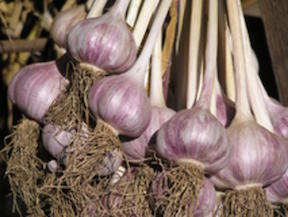 There are more than 54 varieties of garlic. The Stidmons' Enon Valley Garlic Company grows 19 of them, with such wonderful names as Romanian Red, Bogayr, Porcelain Beauty, Music, Korean Red, Leningrad, Metechi, Silver Rose, Symphony and Purple Glazer (see photo at left). Varieties differ in spice and heat as well as the quantity of allicin, which gives garlic its health benefits (which is destroyed, Rosemary notes, when garlic is roasted). Enon Valley has begun growing black garlic, a fermented garlic healthier even than raw garlic. When heated over time, it becomes almost like a candy, explains Rosemary, who sells that garlic dipped in dark chocolate.
The Stidmons sell their garlic to leading restaurants, in Pittsburgh and beyond, at farmers' markets, local stores and festivals, and online."Because we're so specialized, we have turned a profit," Rosemary said. "The first few years we needed to buy supplies and equipment. In the last two to three years, we have turned a profit. As we're doing more and more of this, we become more efficient as well. We're conscious of the cost of goods sold, including labor.
"We didn't do this to make a lot of money. We did it because we thought it was a good thing to do – not only for the product but for us as we are aging. We need to stay active – not just in body, but in mind," she continued. "When you're a farmer, you don't have to go to the gym. From May to November, you're active many hours a day – out at 10 am, lunch break, then out of there between 5 and 6."
"I feel so lucky and blessed at how my life has turned out. What it's brought me is a new chapter in my life," she added. "I never imagined I'd live like this, but I have learned a lot about food and nutrition and made so many new friends and contacts."
Living in Hong Kong for 10 years, she said she saw the United States from the outside looking in, with friends from different countries. Now she's living in a "very rural, not upscale" community, though she still gets the Wall Street Journal daily. "Current events and world affairs have an impact on us here."
She says that many of her former banking colleagues are "blown away" by her new life. "Never can I see you on a farm – you were the corporate person," they tell her. "Now I feed and water the chickens and ducks," she said. "I was a shopper. I'd always go to Lord &Taylor or Talbots. The chickens don't care what I have on."
How to Order Enon Valley Garlic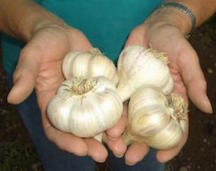 Enon Valley Garlic is taking orders online but will not ship until August, after the garlic is harvested in July and cured. To order garlic and such garlic products as scapes, garlic grinders and pickled garlic (hot or not), click here.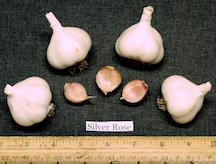 Enon Valley sells at farmers' markets in Pittsburgh and towns in western Pennsylvania. It will also participate at the Phipps (Conservatory) Tomato and Garlic Festival in Pittsburgh on Sunday, August 27, 2017, as well as the Mother Earth News Harvest Fest in Seven Springs, PA, September 15-17, 2017.