Remembrances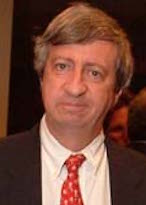 From Ken Jablon: I first met Russ more than 30 years ago when Chase's International Consumer area became large enough to have a dedicated financial officer and Russ filled that position. Soon after, I became Art Ryan's planning officer, and we continued our business and personal relationship.
When I think of Russ, what comes to mind is "nice guy." One might think of this characterization as pejorative, as "he's a nice guy but not too competent," which was far from the truth. However, with all of the political infighting that went on in this large bank environment, I always looked forward to meeting with Russ to solve things.
In recent years, I spoke on the phone with Russ or saw him at CAA events. I wish it had been more often.
From Joe Murphy: Simply stated, the brains of the outfit. Rest In Peace.

From Bob Geary: As sad as I am on hearing of any of our colleagues passing, none has been more saddening than hearing about Russ. I first met Russ in 1978 in Hong Kong, and we have been friends for 39 years. Russ was a gentleman, a gentle person, a nice man and a consummate professional. I was fortunate to have the opportunity to work with Russ for a number of years at Chase on different occasions, and they were great working relationships. Russ, you will be missed, but not forgotten.
From Vernon Moore: It is sad to hear of Russ's passing at such a very young age. I first met Russ in the late 1970s when he was the financial officer for Asia-Pacific, and I was in London. It is to Russ I owe the direction of most of my life, for when he resigned from Chase in 1978 to join his family limousine business (in New Jersey, if I remember correctly, and of considerable size) the then Corporate Controller Mike Esposito asked me to move to Hong Kong on a two-year assignment to replace Russ. Thirty-eight years later, I am still in Hong Kong. Russ and I kept in touch over the years both by meeting in New York, New Jersey, even Hong Kong and more latterly by e-mail. He was indeed a kind, gentle and thoughtful person, whose advice or observations were always valuable. He was devoted to promoting the Hopkins-Nanjing Center, about which I often received messages. I will miss him.
From John Guess: I am so sorry to hear of the passing of Russ Passarella. Before we both were Chase Alums, I knew Russ when we were undergraduate students at Johns Hopkins. He was the epitome of grace and integrity. One of the most decent people you would have meet.
In Memoriam: Russ Passarella, 69
Russell (Russ) Passarella, who rose at Chase Manhattan to become CFO of Global Private Banking and Asset Management, died of cancer on July 8, 2017, in Tucson, AZ. He was 69 years old.
Born in Milford, CT, Passarella was a member of the Johns Hopkins University Class of 1970 and, in 1971, the first person to serve in the position of young trustee on JHU's board of trustees.
At the time of his death, Passarella was an independent financial consultant and member of the advisory board for the Hopkins-Nanjing Center.
Passarella had a long and distinguished career in international finance. He earned his MBA at Harvard Business School in 1972 and began working for the asset management firm Paine Webber.
He joined Chase Manhattan Bank in 1975. He left in 1998 to join American Express International in Hong Kong, where he served from 1999 to 2001 as the CFO in the Pacific Rim. He returned to the United States as CEO of Phoenix Biometrics, Inc., a biomedical startup in Tucson, before ending his career as an independent financial consultant.
He is survived by his daughter, Chase, and his former wife, Margo Harrison.
Donations in his memory should be sent to the Hopkins-Nanjing Center.