Life After Chase: Neale Godfrey
Go-to Source on Kids and Money, Financial Literacy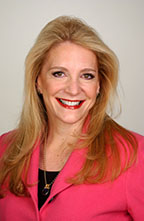 If Neale Godfrey ended up at Chase Manhattan "by complete utter accident", there's been nothing accidental about her trajectory post-Chase as an acknowledged and award-winning expert on family and children's finances. She practically created the topic of kids and money – the focus of many of her more than 26 books. She's a columnist for Forbes, appears on Huntington Post and juggles multiple media in her financial literacy empire.
Not that she wasn't ambitious when she graduated from American University in 1972 with a degree in international studies.
"I wanted to be a diplomat or Secretary of State, at least
," she recalled. "I ended up in New York at a career agency that only sent me out for secretary or receptionist jobs, but I flunked the typing test
. One evening the recruiter was at a cocktail party and literally took out my crumbled resume from her pocketbook and got me an interview at Chase."

After a stint as a platform assistant, she entered the global credit training program although, she said, "Chase wasn't really keen on women back in 1974," and the women in the training program earned $6,500 per year versus the men's $11,000 salary.
Chase paid for her to learn Portuguese before sending her to a job in Brazil, but when she got there, "they said 'you're supposed to be a man' and the Brazilian bank sent me back to New York."


Eventually she ran a division at Chase as one of its first female senior executives and played a senior role on the DuPont/Conoco merger.
 "I had been given huge opportunities, but I knew I had topped out."
"I was married during this period, with two kids. I was pregnant when I was recruited in 1985 to be president at The First Women's Bank," Godfrey said, "but then I got divorced."
In 1989, she left First Women's Bank and formed her own company, Children's Financial Network, Inc., whose mission is to educate children and their parents about money. Her stints at Chase and as a bank president had given her credibility in the marketplace.

"It seemed goofy to me that we never taught women, much less little girls – or little boys – anything about money. There were no books
. My three-year-old daughter said to me, 'Why don't you write a book instead of looking for one all over the place. Are you afraid?' 
So I created cartoon characters that have financial personalities
."

She took her concept to Simon & Schuster, where the editors responded that since there were no books to teach kids about money, it was clearly not a topic of interest. Godfrey 
needed proof of concept and thought she provided it when she opened a Bank for Kids at FAO Schwartz.
 When Princess Diana visited the store in NYC, she even opened an account for her boys
.
Simon & Schuster still wasn't convinced. So Godfrey bought Checkerboard Publishing, a division of Macmillan, and became chairman of the board. Checkerboard published her book on kids and money, and it sold 50,000 copies.


In 1994, Simon & Schuster finally published her first adult book, Money Doesn't Grow on Trees: A Parent's Guide to Raising Financially Responsible Children, and it reached #1 on the New York Times Best Sellers list. That brought a call from Oprah Winfrey. Godfrey worked with her and her team for four and a half years, appearing several times on Oprah's tv show.
Children's Financial Network also produced a national program, LIFE, INC: The Ultimate Career Guide for Young People, which includes a Teacher's Guide, Student Journal and website, all sponsored by the Deloitte Foundation. This program serves over one million middle and high school students.
In ECO-Effect®: The Greening of Money, Godfrey combines ECOnomics and ECOlogy to show adults and children how they can save money while also saving the environment. The program consists of a book, website, blog, lessons for school, lessons for home, games and activities.
Neale was the first to develop money curricula for children and young adults Pre-K through High School, entitled The One and Only Common Sense/Cents Series, as well as a CD-ROM called Money Town.
Under the brand GreenStreet Commons, her IOS video gaming apps GreenStreets: Unleash The Loot! and GreenStreets: Shmootz Happens! both hit #1 in the Educational Gaming Category.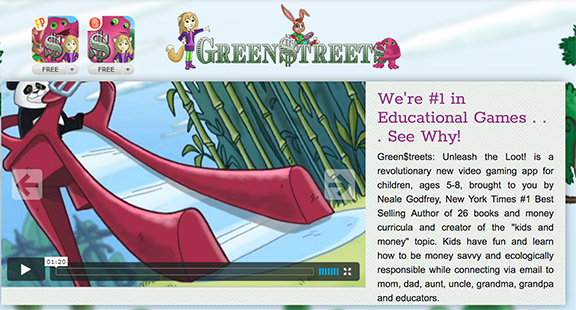 Godfrey says she has been an entrepreneur since the age of 10 ("or maybe at age six, but that was probably more of an extortion ring": Growing up in Caldwell, NJ, she charged kids 10 cents each to show them a storm sewer and then turned out her flashlight – charging each kid a quarter to get them out). 
At 10, she got rocks and did custom designs on them and sold them to a local boutique. She earned $300 in a summer. "I loved earning and saving money," Godfrey said.
She had to put herself through college. She worked at Bloomingdale's, modeled, delivered Washington Post newspapers at 4 am, picked up garbage in a cafeteria and wrote speeches.

"My mother instilled in me an amazing trait that I've passed on to my children: not to have a fear of rejection — go out and do it. What's the worse that can happen?" Godfrey counselled. "For human beings, the biggest fear is rejection. We kill ourselves to please everyone in our lives, so we live for other people.
"
Some of Godfrey's Lessons for Parents and Kids
Make sure the legacy you leave your kids and grandchildren include lessons about how you earned your money, saved it, shared it. 
Your money is your footprint. You want the kids to know what that is. Get them involved in your passions and your values.

Let them know if you want certain money to get them through college…don't let it be such a secret, that when you die someone else has to tell them.
 You tell them.

They don't want stuff - they want time. 
Stop spoiling the grandkids. If every time they come to the door they ask, "What did you bring me?", you set it up that way. 

I hated the stock market game. It should not be about accumulating the most money but about building a future.
"Here's the amount of money you can have"...make it finite. That's hardest for kids to absorb.
 And when they start working, they say, "
I worked really hard and didn't get much money." It's paycheck shock.
As for work/life balance, I had to make choices as an entrepreneurial mother. You make a list of what really does matter and throw the other stuff out
. Carve people out of your life who are not supportive of your dreams."
"My kids bought me a bracelet that said 'I'm in the moment'. It's easy to be on a screen but not in the moment
, but you need to check the guilt at the door."


Godfrey married her third husband, an architect, last year. Each of her children is an entrepreneur. Her daughter, who has two children, is in the healthcare world, while her son works in "the international world of sustainability — with 10,000 farmers in India." 


When they were growing up, she made story boxes for her children, little Limoges boxes that included items from the trips they took. The kids (and Godfrey) treasure them. "We look back at the boxes, and the kids can make up anything to tell the story behind they box, and then I tell them the real story. I want them to know from these 
memories the value of life skills, not about money."

Selected Books by Neale Godfrey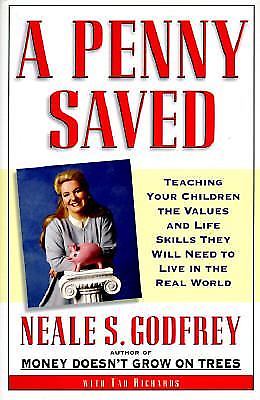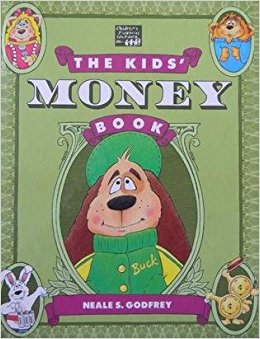 Money Doesn't Grow on Trees: A Parent's Guide to Raising Financially Responsible Children
Neale S. Godfrey's Ultimate Kids' Money Book
Mom, Inc.: Taking Your Work Skills Home
A Penny Saved: Teaching Your Children the Values and Life Skills They Will Need to Live in the Real World
Money Still Doesn't Grow on Trees: A Parent's Guide to Raising Financially Responsible Teenagers and Young Adults
Teen Code
Why Money Was Invented (One and Only Common Cents Series)
From Cradle to College (And Everything in Between): A Parent's Guide to Financing Your Child's Life
Here's the Scoop
The Money Adventure