CAA Frankfurt: Matisse and Bonnard at the Städel
Follow art with food and conversation, September 21, 2017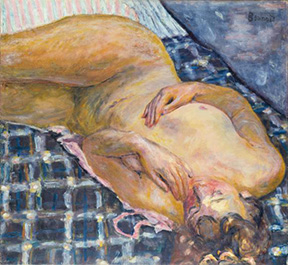 From Rolf Stokburg:
This year's CAA Frankfurt autumn event is once again dominated by art.

We will meet in front of the Städel (Schaumainkai 63, 60596 Frankfurt am Main) on Thursday, September 21, 2017 at 16:45.

Pascal Hess, a well-known and esteemed artist, will lead us on a 60-minute tour of the special exhibition "Matisse and Bonnard".

Afterwards, everyone can sit down for a while in the museum and devote themselves to the numerous masterpieces.

At 19:00 we meet all in the Main Nice, Untermainkai 17, 60329 Frankfurt am Main (about 600 m walk or car park Willy-Brandt-Platz). If it is good weather, we can sit on the terrace and pamper ourselves à la carte.
Please register by writing to my assistant, Mrs. Birgit Wilde, at birgit.wilde@boyden.de, by September 8, 2017 at the latest.
All Chase alumni are invited to participate.
About the Exhibit: Vive la peinture!
From 13 September, the Frankfurt museum will be presenting two outstanding artists – Henri Matisse (1869–1954) and Pierre Bonnard (1867–1947) – in an exhibition that is the first in Germany to bring these key modern masters together.
At the heart of the comprehensive presentation is the friendship between the two French artists which lasted for over forty years. Both painters shared a preference for the same range of subjects: interiors, still lifes, landscapes and the female nude. With a selection of more than a hundred paintings, sculptures, drawings and prints, the exhibition opens a dialogue between Matisse and Bonnard and offers new perspectives on the development of the European avant-garde from the beginning of the twentieth century to the end of the Second World War.
After the successful conclusion of the extensive loan negotiations, the Städel is looking forward to presenting outstanding works from internationally renowned collections, among them the Art Institute of Chicago, the Tate Modern in London, the Museum of Modern Art in New York, the Centre Pompidou and the Musée d'Orsay in Paris, the State Hermitage in Saint Petersburg and the National Gallery of Art in Washington.
The selection of works is complemented by a substantial group of photographs by Henri Cartier-Bresson who visited the artists on the French Riviera in 1944. A particular highlight of the exhibition are the two paintings the artists owned by one another, which will be shown together for the first time. Another highlight is Matisse's "Large Reclining Nude" of 1935 – a key work which has not been on display in Germany for more than thirty years and which will be on loan from the Baltimore Museum of Art.
Picture: Pierre Bonnard, Reclining nude against a white and blue plaid, ca. 1909, Städel Museum, Frankfurt, © VG Bild-Kunst, Bonn 2017, Property of the Städelscher Museums-Verein e.V.
Supported by: Société Générale, Städelscher Museums-Verein e.V.
With additional support from: Georg und Franziska Speyer'schen Hochschulstiftung