In Memoriam: Dwight Coffin, 79
HR Executive at Chase Manhattan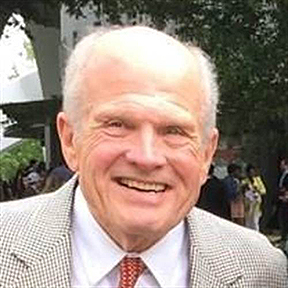 Dwight Clay Coffin, 79, a former human resources executive at Chase Manhattan Bank, died on September 1, 2017, in Santa Barbara, CA, of natural causes.
Coffin grew up in Illinois, attended DePauw University and graduated from University of Pittsburgh. After his tenure at Chase (1964-1967), he spent 40 years at Continental Grain Company in New York City. He had resided in Upper Montclair, NJ and Greenwich, CT and was actively involved in a broad array of community organizations and church activities in numerous leadership and board capacities.
He retired to Santa Barbara in 2001 and has been very active in the community serving as president of the Ensemble Theatre Company board, a docent at the Santa Barbara Museum of Art, a sponsor for the Music Academy of the West, member of the Resident's Council at Casa Dorinda and an active member of All Saints by the Sea Episcopal Church. He was passionate about the arts and helped lead significant building projects at Ensemble Theatre and All Saints.
Coffin is survived by his son John C. Coffin (Mary) of Atlanta, GA; stepsons Thomas M. Day (Maggie) of West Hampton, NY and William C. Day (Aimee) of Boulder, CO; and five grandchildren. He was preceded in death by his wives Charlsa Gaskin Coffin and Carol (Tina) Elsaesser Coffin.

The family suggests that memorial contributions be made to Ensemble Theatre Company or All Saints Church.