In Memoriam: D.P. Ahuja, 75
Chase Veteran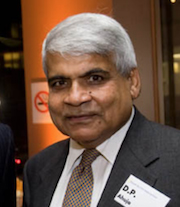 Dharam Pal Ahuja, 75, of Scarsdale, New York passed away peacefully on Friday, September 22, 2017 at White Plains Hospital. Ahuja, lovingly known as D.P., is survived by his wife Chander Kala Ahuja, his daughter Shalini Ahuja Tendulkar, her husband Sumukh, his son Sameer Ahuja and his wife, Sima, and four grandchildren.

Born in Dera Ghazi Khan in pre-partition India, Ahuja grew up and studied in Delhi where his family made their home after fleeing Pakistan in 1947 upon India's partition. He was the eldest of seven children and is survived by his siblings. He was proud to have helped his parents raise and educate his siblings and achieve prosperous and fulfilling lives.
He studied at Institute of Management Technology, IMT, Ghaziabad, attaining a bachelor's degree in commerce. He began his career in financial services in New Delhi at Citibank and worked in senior banking positions throughout the Middle East in the 1980's. His work eventually landed him in New York with The Chase Manhattan Bank.
Ahuja and his family made a home in Scarsdale, NY. He was known for his work ethic as well as his significant leadership contributions to the Indian cultural community in Westchester. He was a founding member and served on the Board and Executive Committee of the India Center of Westchester. He was a long-time volunteer and development coordinator at the American India Foundation in New York City. He loved tennis, singing Indian Ghazals, doting on his friends and family, eating his wife's cooking, and bragging about his kids.
Ahuja fought illnesses over the years, most recently aggressive dementia. But he was a fighter, vivacious and loved life – he will be remembered for his gracious and loving spirit. In lieu of flowers, the family would appreciate donations to the Hindu Temple of TriStates.
Remembrances
Please send remembrances to news@chasealum.org.
From Surinder Singh: DP and I started our careers at Citibank in India, where I first met him in 1970. Years later, we were both at Chase living in New York. The news of his passing has been very sad for our family. He was kind, generous and always ready to listen. He kept in touch with his friends and his hospitality was legendary. I never, in all the years I knew him, saw him upset, he never raised his voice. He was a gentle soul. Though I must say, every ball he hit on the tennis court was always 'in'! He would stand at the net waving his racket and arguing his case like Perry Mason in our native language.
As a couple, DP and Chander were always gracious and welcoming. Chander was the perfect foil for him. Softspoken, and a wonderful hostess, an invitation to the Ahujas was always an outstanding experience. DP and Chander raised two wonderful kids in Scarsdale. Hardworking and successful, they are 'mirrors' of their parents with the same values of family, friendship, integrity and academic excellence.
I will miss picking up the phone and hearing him say, "Surinderji, ki hal hai."