In Memoriam: Dr. Hartwig Bartels, 90
Executive at Chase Frankfurt in 1970s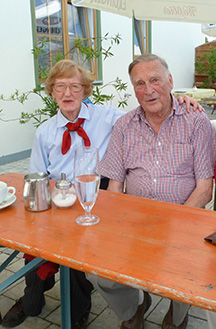 From Rudi Bogni: I just learned with great sadness that Dr. Hartwig Bartels (at left, with his wife), who was my boss at Chase in Frankfurt in the seventies, passed away in December 2016. He was 90 and living in Feldafing, Germany.
He was a delightful and witty man. We used to exchange mails regularly, then silence. His American wife, Arlean, has unfortunately developed serious cognitive problems, but she is apparently well looked after by a Polish lady (bless the migrants! Without them our elders–and we soon–could just not cope).

Hartwig came from Eastern Germany (Danzig, I believe) and became a lawyer, then a banker at Dresdner Bank and Chase Manhattan where he was a Member of the Vorstand of Chase Ag. After the Wall fell, he returned to visit his family home and discovered the hidden family silverware, which he generously gifted to the new residents.

When he retired from Chase, he became Chairman of Natwest and then Nomura in Germany. That allowed him to continue using the services of a chauffeur. Hartwig was always driven to Chase Tower in Frankfurt, in the customary style of German bankers, but then used to climb every day the 14 floors to the top.

We used to joke about his many pensions. Arlean and he had no children, but – I believe- many relatives in the USA, whom they used to visit almost every year.

I, for one, will miss him very much.
Remembrances
Please send remembrances to news@chasealum.org
From Juergen Wittayer:
Dear Mr. Bartels,
I found it appropriate that the CAA remembered your death and dedicated an article to you. Like so many others I miss you very much.
You were a "banker of the old school" and contributed so much to the success and image of The Chase Manhattan Bank and Chase Bank AG in particular. You left the bank much too early.
I was hired by you in 1968, you have always been a role model in respect to ethics and professionalism. Until 2016 we still stayed in contact.
When I wanted to congratulate you on your 89th birthday and I learned from your wife that you had passed away, I was shocked.
We had so many shared experiences, which could easily fill a book; they will always remain in my memory. I met you very often in the staircase of the Chase tower in Frankurt when you climbed stairs up to the 14th floor. You have inspired me to do so as well, ever since I avoid elevators if I can.
During mutual business trips in the USA and Switzerland I had the honour to be your guide. You taught me that a budget is only a budget, as ambitious as it may be. I complained that it was too ambitious, but by the end of the year together with my colleagues we made it.
You were the most punctual, tidy and organized person I ever met.
During a business trip we agreed to meet in the hall for the departure at 10 am – sharp – as you used to say. I didn't make it and you knocked at my door asking, whether I had a problem. I had one, my suitcase was not yet packed. You threw everything out of the case and showed me how to pack it in an orderly way as you had learned in the army.
This sounds very trivial, more important was, when you made a promise, you kept it.
I shall miss your guidance and your laughter and I bow to a great man.
From Blanche Swan: Condolences on the death of Hartwig. I worked with him at Imede Switzerland in 1960.
From Andrew Hardacre (6/7/21): I worked with Dr Bartels when I was Vorstandsassistent at Deutsche Westminster Bank in the mid 1980s. He was the elder statesman of the Vorstand, yet he treated everyone as an equal. Always with a twinkle in his eye, regaling us with stories, always a warm heart. After two years or so, I was posted back to London but always remembered my days in Frankfurt very fondly. I am saddened at his passing and the world is poorer. A wonderful man.