Remembrances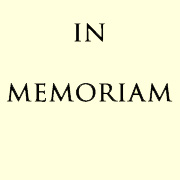 From Ralph Aiello: Bill was a very strong manager, highly regarded by upper management and his staff. He could be relied upon to tackle any problems that required both human interaction and/or posed a problem/threat to the Bank.
In Memoriam: Bill Menger, 82
William (Bill) A. Menger, 82, of New Castle, NH, died on Saturday, October 28, 2017.
Prior to his retirement, Menger was a Senior Vice President for Chase Manhattan Bank, having worked in the HR department from 1964 to 1994.

Born on April 9, 1935, in Queens, NY, Menger attended Columbia University and graduated from Pace University with a Bachelor's Degree. He served in the United States Army.

Menger was a member of the American Legion, was an automobile enthusiast and loved to drive. He enjoyed music and was an avid sports fan.
Survivors include his beloved wife of 60 years, Jeanne, two children and four grandchildren.

Memorial contributions may be made to: Wounded Warrior Project, PO BOX 758516, Topeka, KS 66675.