In Memoriam: Frank Horack III, 75
Ran Corporate Finance at Chase Manhattan Limited in London during the 1980s

Frank Edward Horack III died in London, England on September 23, 2017 of complications from cancer diagnosed only a few days before his death. He was 75.
He was born in Bloomington Indiana, where his father was a longtime professor of law at Indiana University.
Following graduation from the old University School, Class of 1960, Frank studied briefly at MIT before earning a BA in economics and psychology from Indiana University. He went on to attain an MBA in finance from New York University.
After two years in the army, he returned to New York where he joined Chase Manhattan Bank in 1968. In 1975, he moved with Chase to London as an executive with Orion Bank, then Chase's investment banking arm. He left Chase in 1988 to set up a venture capital firm in London.
In later life he worked as a financial journalist and was reunited with former Chase and Orion colleagues whilst working for AGI Corporate Finance and Knightsbridge Advisers.
Horack is survived by his children, Ben and Anna, and by two grandchildren. His marriage to Sarah ended in 1996.
Horack was a keen supporter of Kew Gardens in London. Any donations to the Kew Gardens Temperate House Appeal would be greatly appreciated.
Below: Reunion photo of the Leasing Group, with Horack on the right in black, next to Dr. Brian Terry.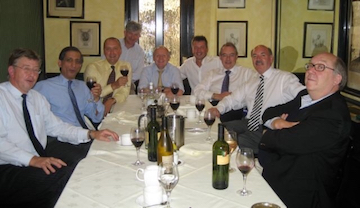 Remembrances
Please send remembrances to news@chasealum.org.
From Dr. Brian Terry: Frank was head of the Corporate Finance department at Chase Manhattan Limited in London during the 1980s. He built a remarkable group of which I was proud to be one. Frank was a great lover of jazz, a brilliant photographer, perennially jovial and enthusiastic, and an epicurean who never failed to suggest the very best restaurant in any town you were visiting. It was a pleasure to work with this fine banker, and he will be missed enormously at our team lunches.
From Janin Campos: Frank was responsible for building the Corporate Finance business of Chase in Europe when the bank set out to establish an investment banking presence in the region. With vision, determination and enthusiasm, he was able to attract and recruit a team of both seasoned professionals and young aspiring bankers, who went on to have successful careers in the financial industry, at Chase and elsewhere. I was very fortunate to be one of them and will always remember Frank as the person who gave me the opportunity to start my career in investment banking.
Frank was an excellent mentor, always approachable he took the time to coach, motivate and inspire. He made himself available when you needed advice which he gave in a way to make you think and work it out for yourself. He always set out to do what was best for the bank, with great creativity whilst maintaining a strong sense of ethics and values. He was fair and thoughtful in dealing with others.
Working on assignments and travelling with Frank was a great experience. He demanded the highest quality of output, deadlines had to be met but he always took time to study the local culture and share his knowledge of the national cuisine and historical sites with you.
Frank was a fine banker and an excellent person and his passing will be sadly missed by many.