Remembrances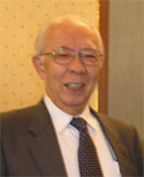 From Cushman May: Very sorry to learn of Takahashi-san's passing. He was an inspiration to many of us gaijin and very successful at marketing Chase services to the Japanese. We learned a lot from him and the Bank certainly benefitted. He will be sorely missed.
From Roger Griffin: Seiichi Takahashi was the heart and soul of the Chase Alumni Association Japan – or Old Boys Club as they called it regardless that many members were women. They very sensibly folded it up while they were still able to muster numbers and the leadership knew that it would simply fade away fairly soon if they didn't. Tim and Martha McGinnis, Judy Dupee (Forrest) and I went to the last event. It was a rather melancholy event but enjoyable for all that. Takahashi san was the leader even when not carrying the title. He was a wise man, understated, always straight forward, friendly, very reliable and a source of good counsel to the gaijin as he was able to straddle both. He was one of those people, regardless of where he was and what he was doing, who could be relied on and I admired him.
From Rick Geissinger: He was always willing to help and did so professionally every time. He bridged the gaps between gaijin and the Japanese extremely well. He helped me with many of the HR issues that came up and was especially insightful where there was a cultural issue or a union issue. Often union issues stemmed from gaijin not understanding cultural issues or "loss-of-face type" issues. Takahashi-san always could explain them well to us gaijin, and that usually went a long way to settling any problem almost immediately.
Another issue we had was to develop females into good credit analysis employees. We could attract excellent female college grads and so could use them effectively in this role if we could get past the cultural issues. We did and Takahashi-san played a major role in helping make that happen. Remember this was the late 70's, and the culture was much different then than it is now.
From Rich Bittenbender: He was a quiet, highly effective leader–both formally in the many tasks he undertook at Chase and informally as one of the people who made the place run behind the scenes. A great guy, quiet, thoughtful, flexible and a true natural leader. Sorry to hear of his passing.
From Tim McGinnis: Takahashi-san (ST) was the man for all season and for all reasons. He served in many positions within the Bank including Tokyo, Osaka and New York. ST was clearly the go-to person within Chase Japan when the task was to rebuild a service or to start something new.
ST was the one person both Japanese staff and the expats would go to for advice and counsel. ST truly was the definition of a gentle-man.
In 1988 ST founded the OB/OG club for retired Chase Japanese staff and was instrumental in ensuring all of the retired staff could attend its functions. He even closed the club when many of the retired staff were no longer physically capable of attend.
God speed ST. You will be missed by all of us.
From Hans van den Houten (CAA co-founder): With great sadness I received the news yesterday from Ellie Masumoto, also a former Chase employee, that Seiichi Takahashi had passed away on November 23, after a period of extensive health problems. While I never had an opportunity to meet with Seiichi personally, we first connected, during the creation of chapters for the Chase Alumni Association. Seiichi was already involved with the "Old Boys" network of the Chase Manhattan Bank in Japan. Therefore, we were rapidly involved in starting the Chapter Japan for the CAA. He was an inspiring leader of our Chapter and regretfully advancing age of many of the members resulted in a decline interest and activity.
When Albert Royaards in Hungary approached me, however, to see if we could start a chapter of the Smiling Hospital Foundation in Japan, I approached Seiichi for help to locate a potential manager. Seiichi did not need much time to find Ellie Masumoto, who very soon became, and still is, the inspirational leader of the Smiling Hospital Japan. She was a great find for the organization, which continued to be advised by Seiichi. Ellie has visited with Sanae, Seiichi's widow, and passed condolences on behalf of Albert and myself. Seiichi was a delight to work with in both instances, as he was during his time working at Chase, where many of his former colleagues have expressed their praise for this fine gentleman. May he Rest in Peace!
From Chris Carlin: I am so very, very sad to hear of the passing of Takahashi-san. There came a time early on in my assignment at Chase Tokyo when I was clearly floundering. I wasn't smart enough to seek ST's assistance but fortunately he saw something worthwhile and took the time to send me a rather lengthy personal note suggesting areas where I could improve. His support and advice over the years were fundamental, and critically important, to the success I experienced in the nine years I spent at Chase Tokyo. On reflection there was no other person that I didn't report to or work directly with that had such a meaningful positive influence on my 40-year career with Chase.
One of the highlights of my retirement years was a 2014 reunion dinner in Tokyo with a group of Chase Japan colleagues that ST was able to attend. He appeared to be in good health then and still had that engaging twinkle in his eye. It was such a joy to be able to thank him in person once again for his assistance over the years and to witness his ongoing dedication to the Chase Japan family. His passing is a loss for us all.
From Ed Cooper: Very sad to learn of the passing of ST. My experiences with ST were the same as previous comments. He was the person I went to for advice on how to get things done in the Japanese context. There were major changes in Chase Japan in the mid-1980s. ST played an important role, no matter his job title at the time, helping implement changes, not always at gaijin speed of execution, but objectives were achieved. He was a real gentleman.
From Robert Binney: ST was very highly regarded and trusted by everyone, Japanese and gaijin. He was the Rock, and someone who became a confidant to all that worked with him. He had many major roles during his outstanding career at Chase, but for me the most important was as Head of Human Resources, where his extraordinary skills found a truly natural fit. He was low key, very modest and unassuming, but always was able to implement the changes that Chase Japan required to grow and prosper. A fine gentleman who will be much missed.
From Eshagh Shaoul: If there was one Japanese in Chase Tokyo who was loved and respected by everyone around the world it was our dearest friend: Seiichi Takahashi San.
He welcomed everyone to Chase Tokyo and Osaka and retained his friendship for years after they left Japan. He was, in my opinion, "the father of Chase Japan" for many of us who worked with him in different capacities. May he rest in peace.
From Bill Foulke: I was very sad to learn of Takahashi-san's passing. In the early 1970s in Chase Tokyo, he was incredibly helpful to those of us from New York. He was extremely competent and dedicated, and in addition, he was always kind. I will always remember his wonderful smile.
From Anne Benbow: I was greatly saddened to read of the recent death of Takahashi-san, who was guide, mentor and friend to me throughout my assignment in Japan. Tokyo was my first foreign assignment, and it was not just the culture, but also the business expectations and practices that differed from those I had known. He gave me a very warm welcome, never interfered with the objectives I had been sent to accomplish, but was always available with a smile and gentle counsel when I needed him.He has gifted me with many wonderful memories, and I am sure that my sentiments are shared by many. To his family, friends and colleagues, I offer my deepest sympathy on the loss of this wonderful gentleman.
In Memoriam: Seiichi Takahashi, 85
Major Figure in Post-War Chase Japan
Seiichi Takahashi, an essential executive in post-war Chase Japan and for many years coordinator of the CAA Tokyo/Osaka chapters, died on November 23, 2017 in Japan. He was 85.
Writes Bill Flanz:
Seiichi Takahashi was a truly special person.
He joined The Chase National Bank in Tokyo in 1953, at the beginning of his career. During his 35 years at Chase, he became one of Chase Japan's most loved and respected officers.
When I arrived as Country Manager of Chase Japan in 1973, Sei-san, as he was known to his many friends, was deputy manager in the Treasury Department. During the course of his long career at Chase he also went through Global Credit Training on "The 7th Floor" at 1CMP, was Osaka Branch Manager and served as head of HR during some very challenging times.
As head of HR he performed the very important duty of respectfully encouraging dozens of unneeded staff to take voluntary early retirement. He helped them find new and more productive roles where their experience could be put to better and more satisfying use. In a society accustomed to "life-time employment", where it was more common for unneeded staff to coast along and "wait it out until retirement", this role Sei-san played was very difficult. This work was critically important to restoring health and vibrancy to Chase Japan, and opening opportunities for fresh staff to grow into more responsible positions, instead of having their advancement blocked by someone who was just coasting along, awaiting a distant retirement.
His work was equally important for the well-being of those he encouraged to accept early retirement. A number of people he counseled out reported to me years later that they were far happier in their new roles. Some took jobs in other, newer, foreign banks, while others started their own small businesses.
Ultimately Sei-san retired from Chase in 1988 and became Japan Representative for Prudential Asia, a private equity firm I co-founded after leaving Chase in 1986. In that capacity, Sei-san served as a director of Simmons Japan, a business acquired in 1987 by PruAsia in what the Financial Times described at the time as "Japan's first LBO".
Retiring from PruAsia, Sei-san established his own HR consultancy, ST Associates, where he ran training courses for banks and corporations, and he continued to help many Chase alumni to make productive career moves. He also took the time to establish Chase Japan's own Chase Alumni Club, initially called the "Old Boys' Club" (despite having many female members). He served as its leader for many years.
Sei-san is survived by his wife, Sanae, his son, Satoshi, and two daughters, Yurie and Yoko.
He will be missed by the many people who interacted with him, but the contributions he made to the well-being of so many of us will always be remembered and treasured.
Condolence notes can be sent to:
Mrs. Sanae Takahashi
3-65-4 Ikebukuro
Toshima-ku, Tokyo 171-0014
Japan