Subway Series
Mets host Yankees at CitiField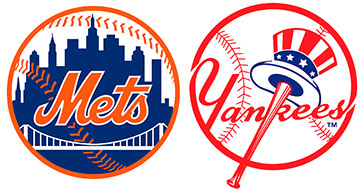 We have secured 40 seats (Baseline Box, Section 106) for the June 10, 2018 game between the NY Mets and NY Yankees.

The first pitch is scheduled for 8:05 pm.
You must be a dues-paying CAA member to buy tickets. Each member is allowed to purchase up to four tickets. (If you want more, please contact Andrea Axelrod at
news@chasealum.org
.
Tickets are $99 each and are now available. (Be sure you're logged in before trying to make your purchase.) There are no refunds.
Look Who's Coming
As of Tuesday, April 24 at 9 am,
47 of 47 available tickets have been sold.
Monica Altmann (8)
Andrew Aran (4)
Andrea Axelrod (4)
Tom Bailey (2)
Rick Geissinger (2)
Mary Anne Imbriale-Holubec (3)
Ronald Mayer (4)
Regis Quirin (2)
Manny Roberts (4)
Joseph Slater (2)
Gillian van Schaick (3)
Pat Wilson (5)
Janet Wynn (4)