Meanwhile...
Chapter Coordinator Simon Mansfield received
the Freedom of the City of London in November 2017.
Mansfield is a magistrate in the City of Westminster, but received the award for "being himself".

"A fellow magistrate, who happens to be my mentee, and who happens to be the new Lord Mayor of the City of London, happened to propose me, 'for redemption from servitude'. So, I am a Free Man!" said Mansfield (pictured below on the right).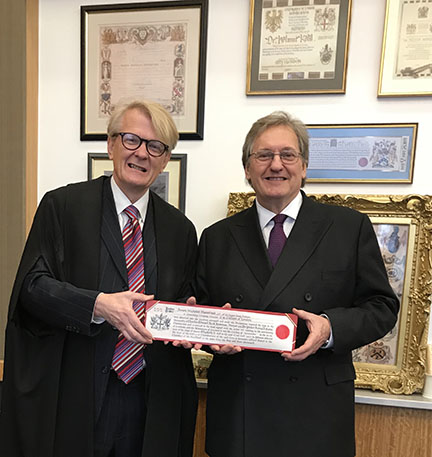 CAA London, December 7, 2017
CAA London had a holiday drinks party on December 7, 2017 at Bow Wine Vaults. Sixteen alumni polished off 19 bottles of wine!
Dues-paying members can see the photos by clicking here.
Attending were: Robert Binney, Richard Breton, David Burns, Janin Campos, Chris Church, Steven Faulkner, Richard Ingham, Julie Ingram, David Katich, Simon Mansfield, Betsy Nelson, John Oakes, Ken Picknell, Anthony Prince, Richard Tray and Rudy von Eisenhart-Rothe.
Next spring's event will be at a new venue: the Queen's Club.