In Memoriam: David J. Lenihan, 67
Worked at Chase Manhattan, Saudi Arabia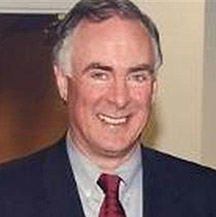 David Joseph Lenihan, 67, passed away unexpectedly on December 27, 2017 at the family's vacation home in Skytop, PA in the Poconos. He began his business career with Chase Manhattan Bank in New York City and was transferred to Jeddah, Saudi Arabia in 1975 and later became president of Oryx Bank, Ltd. in Riyadh, Saudi Arabia. He joined McLeod, Young & Weir in London covering the Middle East and later was with Merrill Lynch, also covering the Middle East.
Born in Bridgewater, Nova Scotia, Canada, he was raised in Garden City, New York. He graduated from Hobart and William Smith Colleges with a Bachelor of Arts degree in Economics in 1972.
For the past twenty years, he resided in Princeton, NJ.
Following his work in Saudi Arabia and London, Lenihan joined the Canadian Consulate in New York City where he was responsible for expansion of cross-border business between the United States and Canada. He then became a serial entrepreneur, forming health care industry start-ups, most notably CareGain, Inc., which was sold to Fiserv. At the time of his death, he was chairman and CEO of Healthper, Inc. a health care software company that helps people engage in healthy behaviors, and UVT Therapeutics, a medical device company focusing on Lupus and other autoimmune diseases.
Lenihan was also on the Advisory Board of SpectraMedix. He worked to ensure the 2006 passage of the U.S. legislation for Health Savings Accounts, and was a frequent industry speaker on consumer-directed health care. He served as a trustee of his alma mater, Hobart and William Smith Colleges, from 2009 to 2014.
He is survived by his wife, JoAnn Heisen; two children, four stepchildren and two grandchildren.
In lieu of flowers, contributions may be directed to the Princeton Healthcare System Foundation, 5 Plainsboro Road, Suite 365, Plainsboro, NJ 08536.