PFS* Reunion: NEW YORK, NEW YORK April 27-29, 2018
Agenda, accommodations and registration information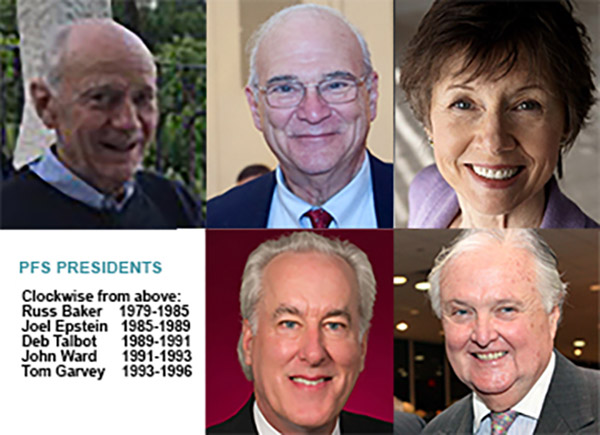 Please note: You must be a paying CAA member ($40/year) to attend any of the PFS events. To become a CAA member, click here. (Spouses and partners are considered guests.)
ACCOMMODATIONS
We have a special discounted PFS rate at the historic Union League Club in midtown Manhattan. A limited number of rooms are being held for Friday, April 27 and Saturday, April 28. Click here for more information about the rooms and how to reserve. Saturday's cocktails and dinner will also be held at the Club. (The price is still being negotiated.)
ACTIVITIES
Friday evening:
Welcome reception at JPMorgan Chase, 270 Park Avenue (between 47th and 48th streets), NYC, 5:30-8:30 pm. Only PFS alumni are invited to attend (no spouses or partners), and proper business attire is required.
Saturday day/evening:
Group downtown Manhattan tour (optional additional tours of the 9/11 Museum and Observatory will be offered) and group dinner (with a special program you will not want to miss, taking you down PFS memory lane). Spouses/partners are invited to participate in all Saturday events. Costs to be announced shortly.
Sunday:
Open for you to make your own personal plans and/or meet with former colleagues.
Again: CAA membership is required for all PFS alumni attending any of the official events, since the CAA is subsidizing the reunion. (Spouses and Partners are considered guests.) CAA membership entitles you to attend other (often subsidized) Chase events planned throughout the year, see online photo albums and use the online membership directory.
SPECIAL REQUESTS
1) We would like to honor any of our colleagues who may have passed away. Please send us any names and if possible the year and photos to pfs@chasealum.org.
2) If you have any PFS photos or videos, please forward these to Kpurdon@cox.net.
3) Please drop us a line at pfs@chasealum.org and let us know: Why were your PFS years special for you? What made them different? What are your best memories? (We might share these thoughts at one of the evening events.)
Please continue to look out for additional details in upcoming CAA newsletters, so that you can reserve your spot at the PFS reunion.
We hope you will join us for an unforgettable celebration with unforgettable PFS colleagues from around the country.
*PFS was Personal Financial Services, a wholly owned subsidiary of The Chase Manhattan Corporation. It had 50 offices in very affluent markets throughout the US. It specialized in Jumbo Mortgages and achieved #1 market share, #1 in customer satisfaction among all jumbo mortgage lenders, and #1 in employee satisfaction at Chase. PFS was a finalist for the Malcolm Baldrige Award.
Remember...
If you think of former PFS colleagues who aren't on our mailing list, please send the name, e-mail address and, if possible, years/location of PFS involvement to Sonia Dias at pfs@chasealum.org.

_________________________________________________

Click here for ACCOMMODATIONS INFORMATION.
____________________________________________
Look who has registered to attend
the Friday welcome reception
(102 alumni + 2 guests as of 4/26 @ 1 pm):
Ron Andujar
Russell Baker
Don Barry
Ed Baum
Rick Bechtel
Constance Betley
Rita Blacker
Linda Latargia Bohner
June Bolger
Ed Bratton
Stephanie Cayne
Ada Ciniglio
Donna Clay
Laurie Connors
Mary Ann Corkery
David Corkins
Terri Costello
Robert Cowley
Peter Darata
Debbie del Corro El Chayeb
Sonia Dias
Janice DiMarino
Peggi Einhorn
Joel Epstein
Brent Feigenbaum
Pat Finaldi
Darin Fink
Alison Gold Flynn
Laura Garner
Tom Garvey
Lynn Giuffre
Gary Glick
Jackie Goldblatt
Eric Gotsch
John Guido
Chase Gundlach
John Gunther
Meri Hannon
Donald Hayek
Tom Hennessy
Joy Hinshaw
Muriel Holland
April Humblias
Maria Hunsicker
Tom Hurlbrink
Shirley Hwang
Sue Jacobs
Trish Jeffers
Wendy Justice
Robert Kettenmann
George Koo
Lauren Kopsick
Amy Kovar
Debbie Lasota
Valerie LaSusa
Monica Lavin
Beth Lawlor
Steve Lemanski
Christina Lenihan
Josefina Lessey
Jim Linnane
Lance Mackey
Maryann Malzone
Fred Mannausau
Stephen Markscheid
Brad Martin
Clare McCoy
Thea McDevitt
Kerry McDonnell
Jim McFadden
Dean McFail
Mary McGorry
Luis Mechoso
Scott Medrow
Dave Moffitt
Jim Mooney
Geri Murphy
Rick Nirk
Rosemary Palazzo
Marilyn Perez
Eric Phillips
Ray Pool
Kelly Powers
Len Proscia
Sophia Prountzos
Kathy Purdon
Regis Quirin
John Rao
Manny Roberts
Patricia Rowell
Richard Sanford
Russell Schrader
Jim Sharp
Paul Simpson
Lisa Ann Siranovich
Krisann Sutherland
Deb Talbot
Ron Tankiewicz
Steve Vargas
John Ward
Juliana Wirshing-Jones
+ Ken Jablon, CAA
+ Andrea Axelrod, CAA