Join CAA Frankfurt for Rubens and Refreshments
Special Exhibition at the Städel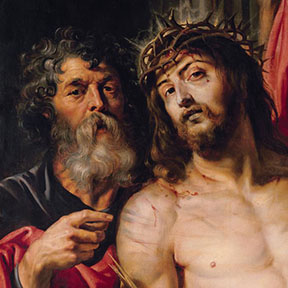 All CAA alumni are invited to join CAA Frankfurt at 4 pm on Wednesday, March 21, 2018 for a special visit to the Städel Museum to see its comprehensive special exhibition dedicated to Peter Paul Rubens (1577–1640).
Everyone will buy his or her own ticket, and CAA Frankfurt will pay for the cost of the guide. Please meet in the foyer next to the ticket office. Everyone will go together to the starting point of the tour, in the upper area of the museum. The tour begins at 4:15 pm.
At 6 pm, the group will adjourn to the restaurant Emma Metzler in the Museumsufer (Schaumainkai 17, 60594 Frankfurt am Main) to exchange ideas about the art and other news. Dinner will be a la carte and on a self-pay basis.
Nevertheless, if you want to participate, please contact Birgit Wilde in writing no later than Thursday, March 15, 2018. Your reservation is binding.
The Exhibit
"Rubens: The Power of Transformation" comprises about 100 items—including 31 paintings and 23 drawings by the master—and explores a hitherto little-regarded aspect in his creative process. The presentation reveals how profound the dialogue was into which Rubens entered with his predecessors' and contemporaries' achievements and fathoms the scope of their impact on the five decades of his production. Rubens's extensive oeuvre reflects the influences of ancient sculpture as well as that of the later art from Italy and north of the Alps, from the masters towards the close of the fifteenth century to the artists of his own day. Frequently, only a closer look will reveal how Rubens drew on the work of artists of different epochs: the exhibition offers an opportunity to comprehend the sometimes astonishing correlations in detail.
The cross-genre presentation brings together paintings, drawings, prints, sculptures, and objets d'art. In addition to original sculptures dating from classical antiquity to the Renaissance, the show also encompasses paintings and prints by Rubens's precursors and contemporaries, among them key works by Titian and Tintoretto, by Goltzius, Rottenhammer, and Elsheimer, as well as by Giambologna, Van Tetrode, and Van der Schardt.
The exhibition is organized by the Städel Museum, Frankfurt/Main, and the Kunsthistorisches Museum Vienna.
Illustration: Peter Paul Rubens, Crown of thorns (Ecce homo), Detail, c. 1612, The State Hermitage Museum, Saint Petersburg, © The State Hermitage Museum, Saint Petersburg 2018