PFS Reunion: Saturday Cocktails & Dinner
"The Main Event" – April 28, 2018 | Spouses/Partners Invited
Register by 11 pm on March 26, 2018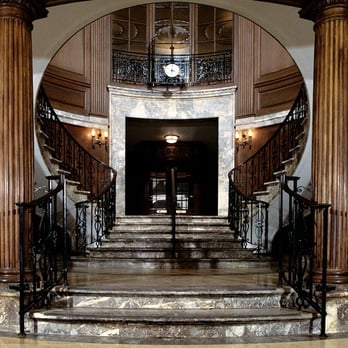 Saturday, April 28, 2018, 6 pm to 9:30 pm
At the historic Union League Club (38 E. 37th Street)
Price per person: $139 – includes cocktails, 3-course buffet dinner with wine and beer (tips and taxes included) and entertainment.
Spend some quality time with colleagues at the prestigious Union League Club, and enjoy a culinary experience from staff who have prepared meals for presidents, prime ministers and royals from around the globe.
The entertainment will include some surprises and a walk down PFS memory lane*.
We hope you will join us for this celebratory occasion. Dress Code: Business Casual (no jeans and men's shirts must have collars). Spouses and partners may attend.
Click here to buy tickets. If you are planning to bring someone, please enter your guest's name where it says "special instructions". Remember, you must be a CAA dues-paying member and logged into the website to register and pay. Registration deadline is 11 pm March 26, 2018.
To read about/register for Saturday daytime activities, please click here.
* To make the evening even more special, please consider these requests:
1) We would like to honor any of our colleagues who may have passed away. Please send us any names and if possible the year and photos to pfs@chasealum.org.
2) If you have any PFS photos or videos, please forward these to Kpurdon@cox.net.
3) Please drop us a line at pfs@chasealum.org and let us know: Why were your PFS years special for you? What made them different? What are your best memories?
Look Who's Coming
As of 1:10 pm on Thursday, April 26, 75 people.
Don Barry
Richard Bechtel
Rita Blacker
June Bolger
Ed Bratton (+ Diana Bratton)
Donna Clay
Maryann Corkery
Debbie Del Corro El Chayeb (+ Angelica Del Corro)
Sonia Dias
Janice DiMarino
Peggi Einhorn
Joel Epstein
Pat Finaldi
Laura Garner (+ Roger Hardon)
Tom Garvey
Lynn Giuffre
Gary Glick
Jackie Goldblatt (+ Dan Goldblatt)
John Gunther
Don Hayek
Joy Hinshaw
Muriel Holland
Maria Hunsicker
Shirley Hwang
Susan Jacobs (+ Gene Jacobs)
Wendy Justice (+
Judy Rixner)
Lauren Kopsick
Amy Kovar
Debbie Lasota
Steve Lemanski
Christina Lenihan
Jim Linnane (+ Lois Linnane)
Maryann Malzone
Fred Mannausau
Stephen Markscheid
Clare McCoy
Jim McFadden
Dean McFail
Mary McGorry
Luis Mechoso (+ Juliana Barrios)
Dave Moffitt
Geri Murphy
Charlie Nilsen (+ Jill Nilsen)
Rick Nirk
Rosemary Palazzo
Marilyn Perez
Kelly Powers
Len Proscia
Kathy Purdon
Mike Quick (+ Laura Quick)
John Rao
Patricia Rowell
Bob Seemer
Jim Sharp
Lisa Ann Siranovich
Russ Schrader
Paul Simpson
Deb Talbot (+ Rachel Lazure)
Ron Tankiewicz
Mike van Praag
John Ward
Juliana Wirshing (+ Ronald Jones)