Remembrances
Please send your remembrances/tributes to news@chasealum.org.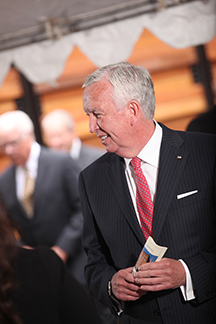 From Steve Hirsch: John was the Human Resources manager for the Merchant Services Division in 1983. I served as Division Executive. No one could have been more dedicated to his role. John was a thoughtful, caring executive who always faced the tough issues head in. I respected John and very much enjoyed my working relationship with him. My condolences to his family; particularly to his sister Gloria and brother Charlie, with whom I had the privilege of working. John will be missed by many many of us.
From Surinder Singh: I worked with John during my assignments in NY Operations and Direct Response Services. My remembrances of John are all about professionalism, courtesy and that wicked sense of humor. He was excellent in his job. It was very easy to trust him, and his advice was always pertinent and direct. When I left Chase, he would periodically call to 'check in'. Eventually, we lost contact with each other. I regret that very much.
From Joseph Mezzo: I work for Charlie Farrell and John helped me at least one time in my career.
The Farrells will always be remembered as solid men.
From Al Krtil: With deepest sympathy and prayers...May he rest in peace.
From Jim Peyman: My wife and I had the opportunity to visit with John last summer and we are saddened and shocked at hearing the news of his passing. Throughout my career at Chase, John was a great colleague and provided outstanding support to so many people. He spoke enthusiastically about his charitable efforts and that work speaks for itself. He will be sorely missed and my condolences to his entire family.
From Hughlyn Fierce: Condolences to his family including his brother and sister both of whom worked in Chase. It was a very fine family.
From Don Chaffee: I was saddened to hear of the passing of John. He was a top notch human resource professional who played a leading role in the molding of the cultures from the merged banks. Equally impressive was the work he did for the New York community after leaving the bank. I will keep John and the Farrell family in my prayers.
From Gabe Caprio: Sincere condolences to entire family. Absolutely shocked and saddened by this horrible news. John was a super terrific guy all around. I am really shocked as I write this. Very sad.
From Brahm Nirgunarthy: I had the pleasure of working on a project in Credit Card Collections operations in the 1980s and interacting with him on a few of his visits to Hong Kong while I was credit card and retail lending operations head in Hong Kong. He was a true professional and will be missed. My condolences to his family.
From Kevin McCabe: Very saddened to hear of John's passing; heartfelt condolences to John's family. John was the best HR exec I've ever worked with – total professional, expert at his functional area while maintaining a great sense of the larger business picture. He was a straight shooter, no BS, but very smooth and adept at navigating the political minefields that always abounded at Chase, as evidenced by the many senior executives who valued his counsel over the years. John was a master and a first-class human being!
From Bill Nipper: I am deeply saddened to here that John passed away. John hired me into the Bank in 1989 and remained a very good friend throughout my career. Once I retired in 2010. I lost track of John, so it is especially sad for me to learn of his death.
There was not a finer person, a more fair person, or a more genuine person on the planet than John. He served as my mentor for many years, along with Tony Schultz and Art Ryan.
I am sending my heartfelt condolences to John's Family, and even though we hadn't spoken in several years, he will always remain a part of my life, an for that, I am eternally grateful.
Rest in peace my friend.
From Bridget-Anne Hampden: I am saddened to hear the news of John's passing. For the years following the Chemical-Chase merger, John was very instrumental in moving my career forward. I left JPM in 2001 to accept a position with Wachovia Corporation. Not only did John sponsor a huge farewell party on the 49th Floor at 270 Park Avenue for me, but he also called the CEO of Wachovia to let him know that he was not happy they had poached me! I owe John a huge debt of gratitude. May his soul rest in eternal peace.
From Charles J. Maikish: John was my Immediate boss when the 911 attack rocked New York, Lower Manhattan and Chase. At the time, Chase was the single largest employer In Lower Manhattan, with 10,000 employees in multiple locations, among which was a large portion of the iconic Chase Plaza. John provided the leadership and dedication needed by Chase employees to guide them through a remarkable recovery of our businesses, through sustained employee dedication. He was indeed our unsung hero.
From Frank Rivera: I worked for JPMorgan Chase since it was Morgan Guaranty Trust Bank. In 1983, there was a time they assigned me to drive Mr. John Farrell around to and from, and we spent many hours in the company vehicle together and his words and conversation were always as pure and honest as can be. He would always talk about his family which was important to him and his love for his job. I loved him as a beautiful man that I respected very much. Very professional. God bless him and his family always. I will never forget him and I have not forgotten him. He's always been in my heart. What a great Man Friend and Boss.
In Memoriam: John J. Farrell, 66
John J. Farrell, former Director of Human Resources of JPMorgan Chase and a member of the firm's Executive Committee, died on Monday, March 19, 2018 at the age of 66. Born and raised in Brooklyn, NY, he was a resident of Woodcliff Lake, River Vale and Montvale, NJ.
Mr. Farrell joined The Chase Manhattan Bank in 1975 and held various human resource positions in Corporate Human Resources, Credit Card, Global Banking, and Operations and Systems.
As Director of Human Resources, he managed the organizational aspects of three major mergers, including Chase Manhattan and Chemical Bank, Chase Manhattan and JPMorgan and the 2004 merger of JPMorgan Chase and Bank One.
Mr. Farrell served as Chairman of Corporate Philanthropy for N.Y. Cardinal Dolan.
Mr. Farrell was a longtime supporter and board of trustee member of Catholic Charities.
In 2015, Catholic Charities Brooklyn and Queens officially renamed its Most Holy Trinity Single Room Occupancy (SRO) Apartments in Brooklyn the John J. Farrell Residence. The residence provides 75 units of housing for single, formerly homeless adults. It reflects a philosophy that encourages individual self-sufficiency within the context of a supportive community. Mr. Farrell also received the Bishop's Humanitarian Award and was named a Knight of St. Gregory the Great.
He was also a board member of the New York Inner-City Scholarship Fund, Inc. and Structure Tone.Formerly, he was a member of the Corporate Board of The University of Michigan School of Business Administration and managed United Way for the Tri-State.
He is survived by his two daughters: Maureen Farrell Herzog, her husband Scott; Lynn McCarthy, her husband Michael; son John Farrell, Jr.; their mother Eileen Farrell; six grandchildren, a sister, Gloria Dwyer, and two brothers: Charles Farrell and Paul Farrell.
Funeral services were held privately.
Contributions in Mr. Farrell's memory may be made to Catholic Charities Brooklyn and Queens and Food Allergy Research & Education, 7925 Jones Branch Drive, Suite 1100, McLean, VA 22102. Please indicate it is in his memory.