In Memoriam: David Sambar, 87
Chase Executive from 1965 to 1977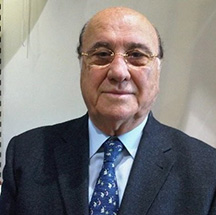 CAA mourns the passing of its longtime member David H. Sambar, who held various positions in different financial centers for Chase for a dozen years. He died on May 7, 2018 in London of colon cancer at the age of 87.
The British-American-Lebanese international investment banker, financial advisor and investor was a Senior Advisor at UniCredit Banking Group A.G. London and sat on the Board of Directors of several institutions, like QIB-UK (alias European Finance House) and CAT Holding Luxembourg (Contracting & Trading).
Dr. Sambar was born in Haifa, Palestine, where his father was Consul General for Lebanon at the time. The family moved to Lebanon in 1948 on account of the Jewish-Arab hostilities. He was educated at British, American and French schools and universities. He held a doctorate "cum laude" from Universite de Lyon, France – School of Law, Economics & Business.
Dr. Sambar's early professional career was in the oil industry (Bechtel/Tapline/Aramco). In 1955, he moved into a financial career with Chase Manhattan Bank, New York. He worked for Chase in Beirut, Paris, Geneva, London and New York. His last positions were Vice President for The Middle East and North Africa in New York and Executive Director of CML (Chase's Merchant Bank in London).
He parted with Chase in 1977 to take over as head of international operations for the Sharjah Group—a large investment pool owned predominantly by Gulf Ruling/ Royal family members and a substantial number of individual and institutional investors from the Persian Gulf.
He served as Honorary Chairman of Banque de la Mediterranee, Paris from 1983 to 1986 and as Executive Chairman of Mediterranee Investors Group Luxembourg & UK. He was also Non-Executive Chairman of British American Properties and a senior consultant to Kroll Security Group UK.
Dr. Sambar worked with non-profits in his capacity as Fellow of The Institute of Directors, UK and Associate of The Security & Defense Forum. He served as a trustee and counselor to a number of international institutions, including Women's World Banking. He was a Freeman of the City of London.
In September 2014, Dr Sambar was appointed Senior Advisor to the Executive Board of STOXX Ltd., wholly owned by Deutsche Börse and SMI (Swiss Stock Exchange).
Dr. Sambar was also active on the lecture circuit, frequently delivering papers on financial subjects in front of such bodies as the Council on Foreign Relations, the Stanford Research Institute and the U.S.-Arab Chamber of Commerce. He was a trustee of the Center for International Business, in Dallas, Texas.
He is survived by his wife Salma Zakka, and his two children, Syma and Habib, both of whom reside in the United States. He is also survived by two brothers and two sisters.
---
When CAA was collecting reminiscences of David Rockefeller on the occasion of his 100th birthday, David Sambar sent in the following: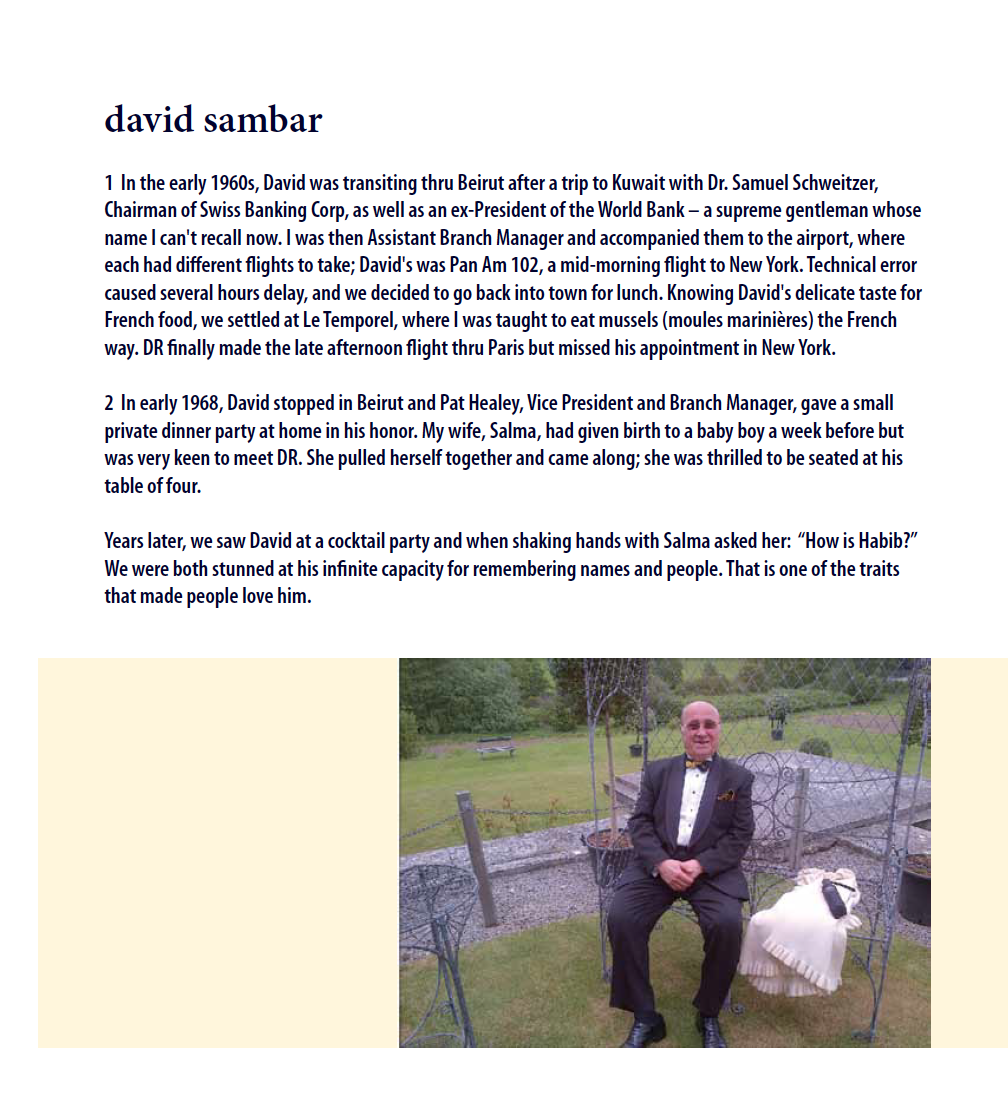 Remembrances
Please send remembrances to news@chasealum.org.
From Peter Larr: I first met David when I joined the Chase Branch in Beirut back in 1963. He was an Assistant Manager and the only Lebanese officer in the branch, which placed great responsibility on his shoulders. He carried that responsibility well and with ease. He was very generous to this "nubie". Some may not know that, at that time, David was a formidable tennis player. I was fortunate enough to stay in touch with David over the years, seeing him in New York from time to time. David was one of the "good guys". The world is a lesser place without him.