PFS Reunion: Saturday Night Roundup
"The Main Event" - April 28, 2018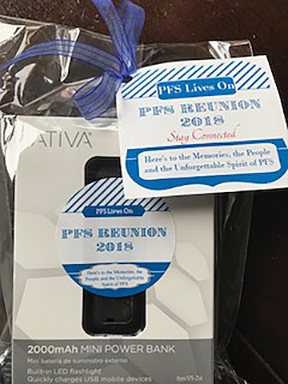 Here is the link to all of the photos that were taken by the attendees of the PFS reunion.

As the main event of the first-ever PFS reunion, some 72 PFS alumni attended a dinner on Saturday, April 28, 2018 at the Union League Club in New York.
There were two tables of memorabilia, a PFS Trivia Quiz and a video by Kathy Purdon that received a standing ovation. Bob Seemer, the consultant who helped PFS become a finalist for the Malcolm Baldrige Award, spoke, and four of the five former PFS presidents were toasted and roasted -- thoroughly! (The fifth could not attend the dinner.) Roasters included Dean McFail, Ron Tankiewicz, John Rao, Ed Bratton, Rick Nirk, Janice DiMarino and Jim McFadden, who also served as emcee for the evening.
The tables were given names that meant a great deal to PFS: TQM, Baldrige, WATYV, ACES, 5 Points of Light, Biggest and Best, PAM, Quality Council, SSAS, 5 Star Profile, Black Book and Deployment Matrix.
The reunion's theme – "Here's to the Memories, the People and the Unforgettable Spirit of PFS" – came from Don Barry's response to a request for PFS memories.
The good-bye gift was a charger, with a tag saying "Stay Connected". Word has it that attendees want another reunion, and sooner than 20 years!

Special thanks to:
These PFS alumni volunteered to do the work that made the reunion the wonderful event it was:
Sonia Dias
Kathy Purdon
Lynn Giuffre
Mary McGorry
Rita Blacker
Donna Clay
Pat Rowell
and
John Ward