Remembrances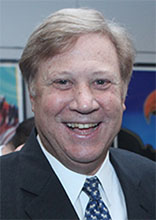 From Stan Schrager: I met Michael when he joined Chase to manage the Executive Recruiting Function. One of those functions that I refer to as "Plumbing" – when things go well, few notice; when there is a problem, everyone notices. To Michael's credit, things did go well and many of us who used Michael's services did notice. Michael was bright, personable and effective.
Over the years I had the opportunity of working with Michael in a number of capacities: his manager, his subordinate, his partner. Always professional, inciteful, fun and respectful. He was a terrific colleague and a terrific friend. My sincere condolence to his wife, Kathy, his daughter, Rachel, and the rest of the Berkowitz family. I will miss him greatly .
In Memoriam: Michael D. Berkowitz, 68
Michael (Mike) D. Berkowitz died of a fast-moving brain cancer on Thursday, May 24, 2018. A former Senior Vice President in Human Resources at Chase, he was 68. A Manhattan resident, he died in hospice in the Bronx.
He worked at the bank from 1985 to 2005. Starting in July 2012, he was Senior Vice President in Human Resources and Workforce Development for Phoenix House and most recently its Chief People Officer .
Between leaving Chase and joining Phoenix House, he worked at Merrill Lynch, Sixth Gear and SilverPoint Advisors, where he was a managing partner.
Mr. Berkowitz served on the Leadership Council of The Schwartz Center for Compassionate Healthcare, Boston, and chaired the Strategic Planning Committee of The Wellspring Foundation. From 2007 to 2013 he was an advisory board member of the New York City Ballet.
Mr. Berkowitz earned a BS in Business Administration and an MBA from Drexel University. Years later he received an Executive Masters in Public Administration, specializing in health, from New York University.
He is survived by his wife, Kathy, and daughter, Rachel Gately. The family asks that memorial contributions be made to Phoenix House, Wellspring or Calvary Hospital.