Remembrances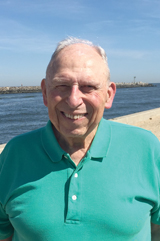 From Stewart Cahn: While working with Chemical Bank's Entertainment Industries Group, I first met Whit when he was a senior officer with Chase's Entertainment Industries Group, and then I worked closely with him when he became VP-Finance with the United Artist Theatre Circuit. He was a quality person. It was always a pleasure dealing with him. As a former banker, he knew what a banker required to structure and close term loan transactions, and his abilities were always appreciated. He was as good a Finance person as you could find.
In Memoriam: Whit Whitman, 91
Gladstone "Whit" Whitman, who spent nearly 20 years at Chase and was a mentor to many, died peacefully at his home in Manasquan, NJ, on June 9, 2018, at the age of 91.

He attended South Mountain Elementary School, South Orange Junior High School and Columbia High School in South Orange, NJ. After serving in the U.S. Army from 1944 to 1946, Mr. Whitman graduated from Lafayette College in 1949 with a BA in economics. He earned an MBA from New York University in 1957.

On a dare from his brother, he became a purser on a freight ship and made two voyages to Calcutta after college. It was during this time that he developed a love for world travel and curry dishes.

Mr. Whitman's distinguished professional career included a position as analyst at Dun and Bradstreet (1950-1953). From 1953 to 1974, he served as commercial loan officer and vice president at Chase Manhattan Bank. In 1974, he was named chief financial officer and director of United Artists Communications, Inc., and held the position until retiring in 1986. He simultaneously served as chief financial officer and director of Academy-award winning Todd-AO sound studio and chief financial officer of Magnum Pictures Inc.

Mr. Whitman was a passionate proponent of free market economics. His legacy includes the Gladstone Whitman Summer Fellows Program at Ursinus College and the Gladstone T. Whitman '49 Fund at Lafayette College, which provides internship opportunities and other programming for students. He was inducted into Lafayette's Société d'Honneur in 2000.

Survivors include his wife of 55 years, Sally Guthrie Whitman; two daughters and three grandchildren.

His life will be celebrated at Spring Lake Bath and Tennis Club in Spring Lake, NJ, on July 26 at noon.
Please make memorial donations to The Gladstone T. Whitman '49 Fund at Lafayette College, Markle Hall, Easton PA 18042.